Sure, if you simply think of what you envision "beer" to be, you probably think of a simple lager, pilsner, pale ale, or IPA if you're a fan of a hoppier, bitter beer. Other drinkers might imagine a stout, porter, or some other darker ale. But, while these are some of the most popular styles, if you merely stick to these styles, you're barely scratching the surface of what beer can be. It's time to up your game to hazy, New England-style IPAs, barrel-aged stouts, milkshake IPAs, sour ales, and all manner of fruit beers.
While we could spend pages going through every beer style (and maybe someday we will), today we're turning our attention to a great, sometimes less valued beer that's perfect for spring weather. Whether it's sunny and warm, cloudy and cool, or freezing and rainy, spring (and summer for that matter) is the perfect time of the year for fruit-based beers.
But what exactly is a fruit beer? While all of the other beers listed above have a pretty clear definition, the fruit beer doesn't. That's because, to be called a fruit beer, the beer simply must be flavored by one or more fruits. That's really it. When you see the word "fruit beer" sometimes it's hard to actually know what you're in for when you open the beer bottle or crack open the can.
Fruit beers can vary anywhere from a fruited sour, a lambic, or a smoothie-style IPA, to a pilsner, pale ale, wheat beer, or lager that contains some generic-tasting, artificial fruit flavoring or actual, natural fruit. Some are delicious, balanced, and flavorful and others are cloyingly sweet sugar, and taste more like what we imagine Homer Simpson's Skittlebrau tastes like than actual beer.
Lucky for you we're here to help. We've done the difficult work for you. And believe us when we tell you that we've sipped on a few duds here and there to compile this list of the ten best fruit beers you should be drinking this spring. Keep scrolling to see all of our picks so you can add them to your spring (and summer) drinking list.
Jack's Abby Blood Orange Wheat
Jack's Abby is a lager fan's dream brewery. That's because the brand is mostly known for its well-made, thirst-quenching, balanced lagers. But, when it comes to spring drinking, it's difficult to beat its Blood Orange Wheat. Also, this beer is still technically a lager as it's the brand's wheat lager infused with blood orange flavor making it more of a shandy or a German-style Radler. Loaded with bright citrus flavor, this beer began as an exclusive at the brewery's beer hall and has become a popular staple over the years since its introduction.
Origin: Massachusetts
ABV: 4%
Price Range: $9-10 for a four-pack of 16-ounce cans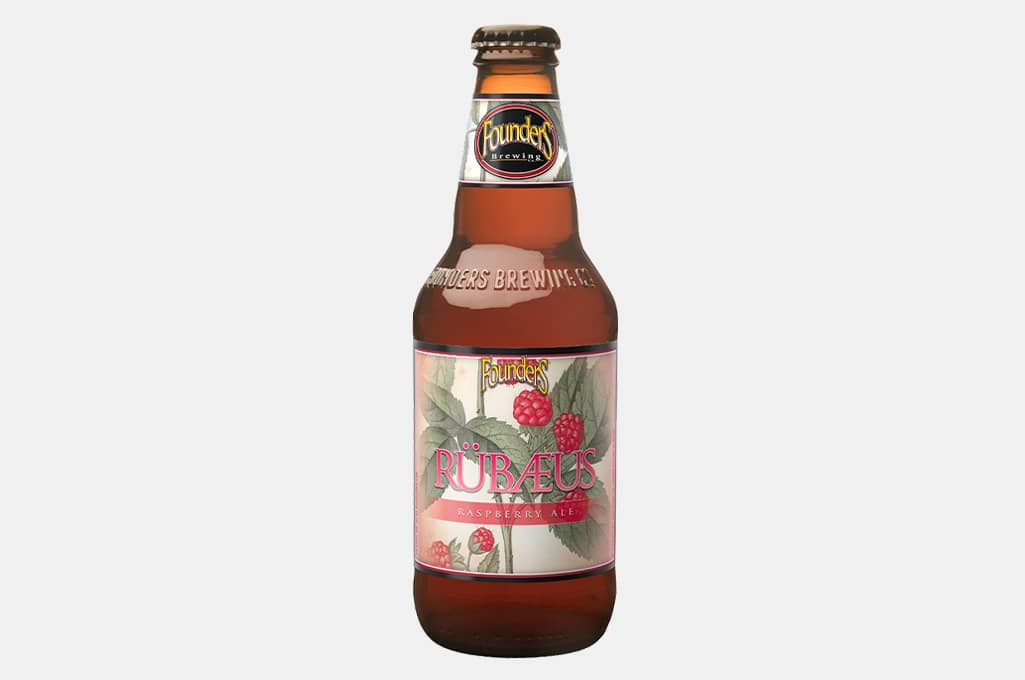 Founders Rubaeus Raspberry Ale
One of the highest-rated fruit beers ever made, Founders Rubaeus Raspberry Ale is well-known as a great spring and summer beer (even though it's available year-round). This 5.7 percent raspberry ale is known for its bold, slightly tart, sort of sweet, ripe raspberry-fueled beer. While we hope you try as many of these beers as possible, if you can only try one, make it Founders Rubaeus Raspberry Ale. It's definitely a can't miss beer.
Origin: Michigan
ABV: 5.7%
Price Range: $9.99-10.99 for a six-pack
Schöfferhofer Grapefruit Hefeweizen
If you're a fan of ripe, tart, sweet grapefruit juice, but you also enjoy beer, this is the wheat beer for you. It's touted by the brand as the "world's first grapefruit wheat beer", but this year-round beer is actually the epitome of a shandy as it's a 50/50 blend of Schöfferhofer Hefeweizen and natural, carbonated grapefruit flavor. The result is an effervescent, slightly tart, juicy, grapefruit-filled drinking experience perfect for any time of year.
Origin: Germany
ABV: 2.5%
Price Range: $8.99-10.99 for a six-pack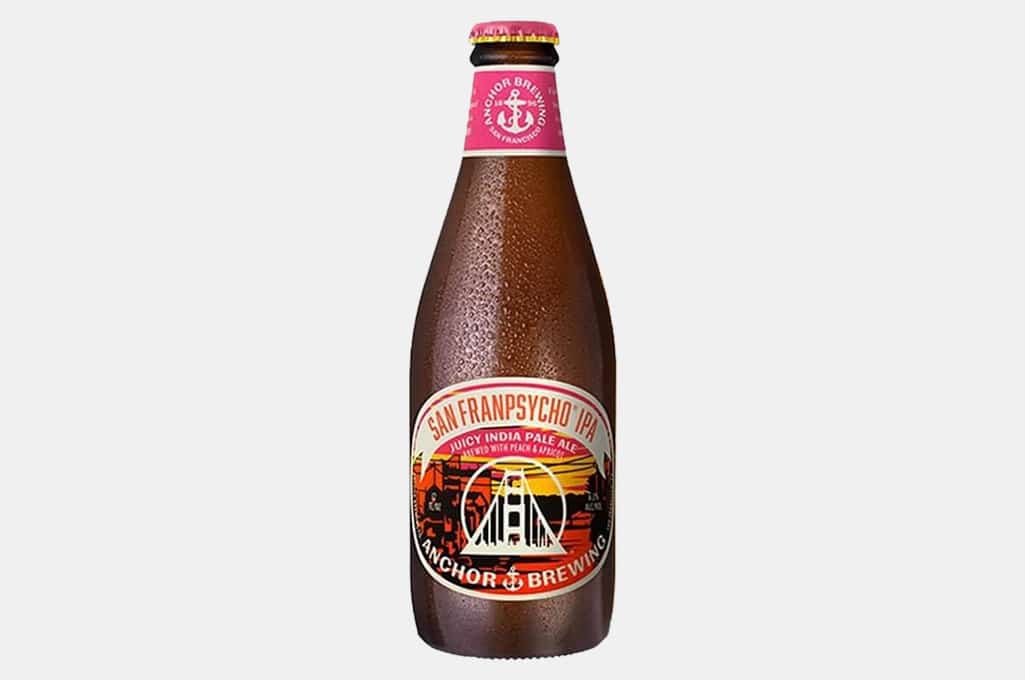 Anchor San Franpsycho IPA
San Francisco's Anchor is one of the oldest brewery's in the country and one that's heavily invested in its historical beers like Anchor Steam Ale and its iconic Anchor Christmas Ale. But every now and then, even timeless, history-filled breweries want to have a little fun. And the brewery's Anchor San Franpsycho IPA is fun in a bottle or can. Brewed with 2-row and acidulated malt, red wheat, and fermented with a "mixed culture of yeast", it gets its fruity, slightly funky, tart flavor from the addition of peach and apricot puree in the secondary fermentation.
Origin: California
ABV: 6.3%
Price Range: $11.99-12.99 for a six-pack
Ballast Point Grapefruit Sculpin IPA
There are few IPAs more well-known than Ballast Point Sculpin. This citrus and fruit-driven, floral, and stingingly bitter IPA consistently tops highest rated lists. If you're a drinker who'd rather try this beer with a little bit of citrus fruit added to it, Ballast Point Grapefruit Sculpin should be your new go-to.  It's filled with ripe fruit flavor, floral hops, and the expected bite named to pay homage to the stinging Sculpin fish, it has tart, ripe grapefruit flavor to propel it into a whole new level of refreshment.
Origin: California
ABV: 7%
Price Range: $12.99-14.99 for a six-pack
21st Amendment Hell or High Watermelon Wheat Beer
Sometimes it feels like the only fruit flavor brewers want to add to their beers is citrus. But, when the folks at San Francisco's 21st Amendment brewed its now iconic Hell or High Watermelon Wheat Beer, drinkers realized that they were missing out on other fruit flavors. This wheat beer brewed with watermelons is known for its crisp, refreshing flavor that's propelled by ripe, juicy, fruity watermelon. It tastes the way we imagine late spring and summer would taste if you made it into a beer.
Origin: California
ABV: 4.9%
Price Range: $8.99-9.99 for a six-pack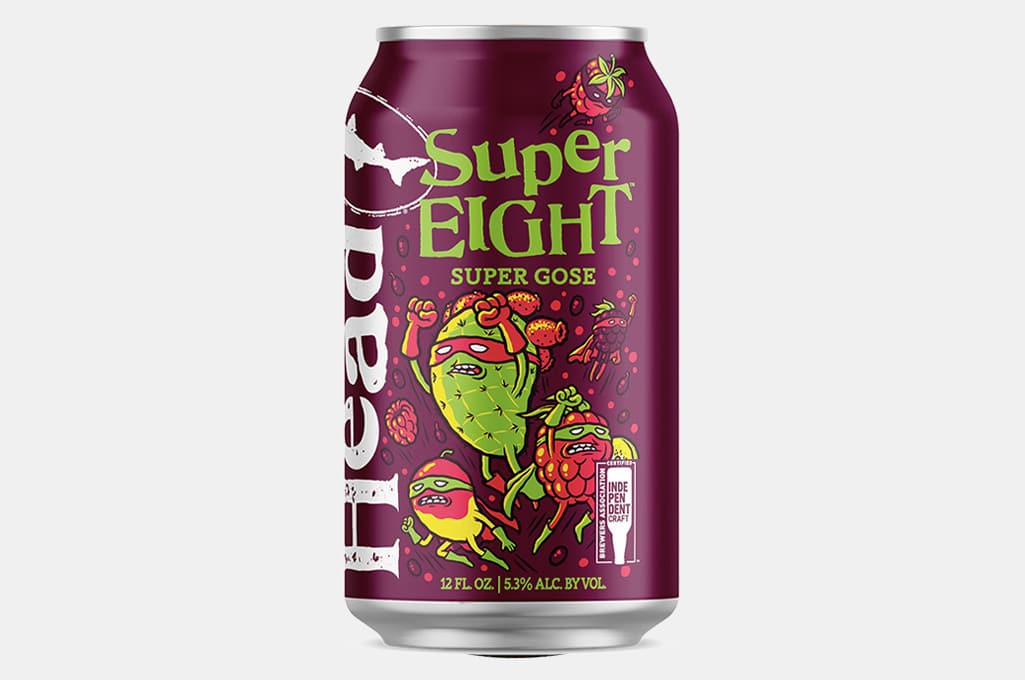 Dogfish Head SuperEIGHT Super Gose
Every fruit beer list deserves a gose or two. The style, known for its crisp, dry, salty flavor is a perfect complement for fruit flavors. This crushable, sessionable, tart, fruity beer gets its flavor from the addition of mango, boysenberry, prickly pear, raspberry, blackberry, elderberry, kiwi juice, quinoa, and Hawaiian sea salt. It's as complex in the flavor palate as the ingredients suggest and that's a great thing. You'll have to drink a few cans before you find them all.
Origin: Delaware
ABV: 5.3%
Price Range: $11.99-12.99 for a six-pack
Golden Road Mango Cart Wheat Ale
This popular warm-weather beer is the first in a series of beers created to pay tribute to the fruit cart vendors in Los Angeles where Golden Road is brewed. This wheat ale is brewed with 2-row malt, wheat, Bravo hops, and fresh mango flavor and aroma. This creates a truly flavorful, juicy, wheat beer with notable flavors like mango, orange, tangerine, sweet wheat, and rich malts that tie everything together nicely.
Origin: California
ABV: 4%
Price Range: $9.99-11.99
Abita Strawberry Lager
While you can't go wrong with Abita's popular, fruity Purple Haze Raspberry Lager, we think the real winner of spring is Abita Strawberry Lager. This 4.2 percent lager is brewed with Pilsner and wheat malts, various hops, and Louisiana-grown and sourced strawberries. The result is a crisp, light, refreshing lager with the fruity, sweet flavor of summery, ripe strawberries.
Origin: Louisiana
ABV: 4.2%
Price Range: $7.99-9.99 for a six-pack
Sierra Nevada Wild Little Thing Slightly Sour Ale
California's Sierra Nevada has become well-known over the years for its IPAs as well as its industry-changing Sierra Nevada Pale Ale. But recently, the brand launched a series of "Little Thing" beers. It started with a hazy, New England-style beer and now it's finally landed on a fruit-filled sour ale. This sweet, slightly tart, and sour ale gets its flavors from the addition of hibiscus, guava, and strawberry.
Origin: California
ABV: 5.5%
Price Range: $9.99-11.99
Disclosure: Clicking on these links and making a purchase may earn us a small referral fee, at no extra cost to you. Learn more here.
freestar.config.enabled_slots.push({ placementName: "gearmoose_leaderboard_btf", slotId: "gearmoose_leaderboard_btf" });