If you're looking to travel light, the slim metallic wallet may be just the gadget for you. In fact, it's nearly wrong to call this sleek item a "wallet" at all, given the back-twisting, jean stretching connotations of that old leather tradition. Made for quick access and ultra-portability, the metal wallet is a no-frills and no-fuss EDC companion, eliminating bulk and protecting your essentials. Minimalist designs typically feature one or two case plates with a thin elastic strap for security, making it smaller and more lightweight than your average smartphone.
Don't be fooled by its simple, paired-down look: the metal wallet packs a serious punch when it comes to long-term durability and safekeeping from potential RFID skimming devices. By casing your sensitive information in aluminum or titanium, you block electronic signals from passing through and keep your credit cards on lockdown. If you've been lining your wallet in tin foil for the same reason, it might be high time for an accessory update. Here's a look at the 20 best metal wallets for safe and effective carrying of your everyday bare essentials.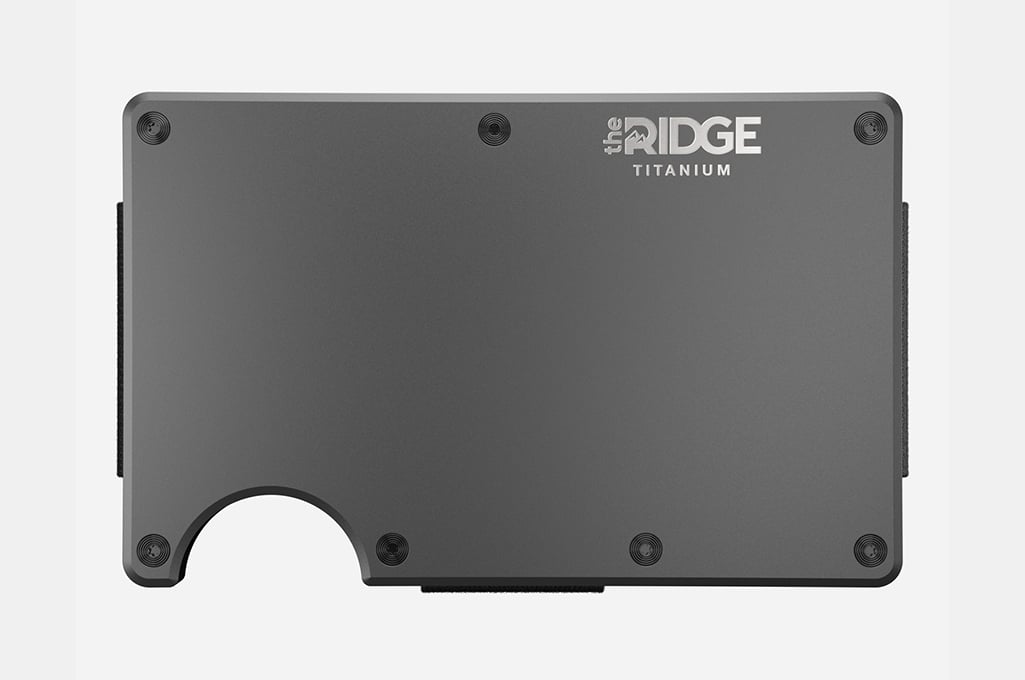 Ridge Wallet
The Ridge is a fully encased titanium (or aluminum) wallet with rear and front panels as well as an elastic safety band to keep valuables in place. To customize your item, choose between an elastic rear strap or spring-loaded steel money clip. If you get tired of your existing look, you can also customize your Ridge with interchangeable faceplates. An ergonomic thumbhole allows for easy loading and removal of 1-12 cards. The heavy-duty edge screws, elastic, and money clip all come with a 1-year warranty and an enclosed T5 Torx driver for changing your faceplates or tightening the screws. Weighs 2.0 ounces. (Hands-on review)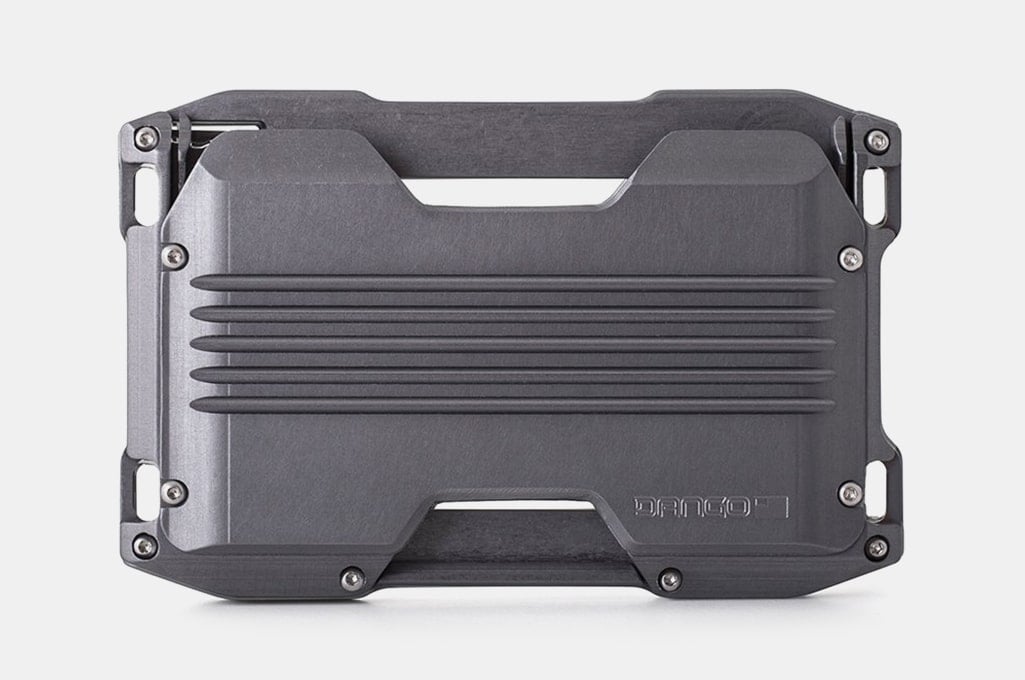 Dango A10 Adapt Wallet
The Dango A10 Adapt Wallet guarantees you'll never have to worry about your credit cards being scratched or damaged again. Not only does it provide an ultra-tough exterior body—built from 6061 aerospace grade aluminum with CNC-machined detailing—but the quick-sliding glide plate will allow for easy access to your cards in an instant. No more fumbling around for your cards; it's the innovative rapid release rail system makes the entire process utterly painless. The case will hold up to four cards on the back, with space for another on the front. At just over four inches in length, it's the perfect size and thickness to carry in any pocket. Best of all, the built-in RFID blocking will reduce the risk of credit card theft to ensure the money in your bank accounts is as safe as the cards that access it.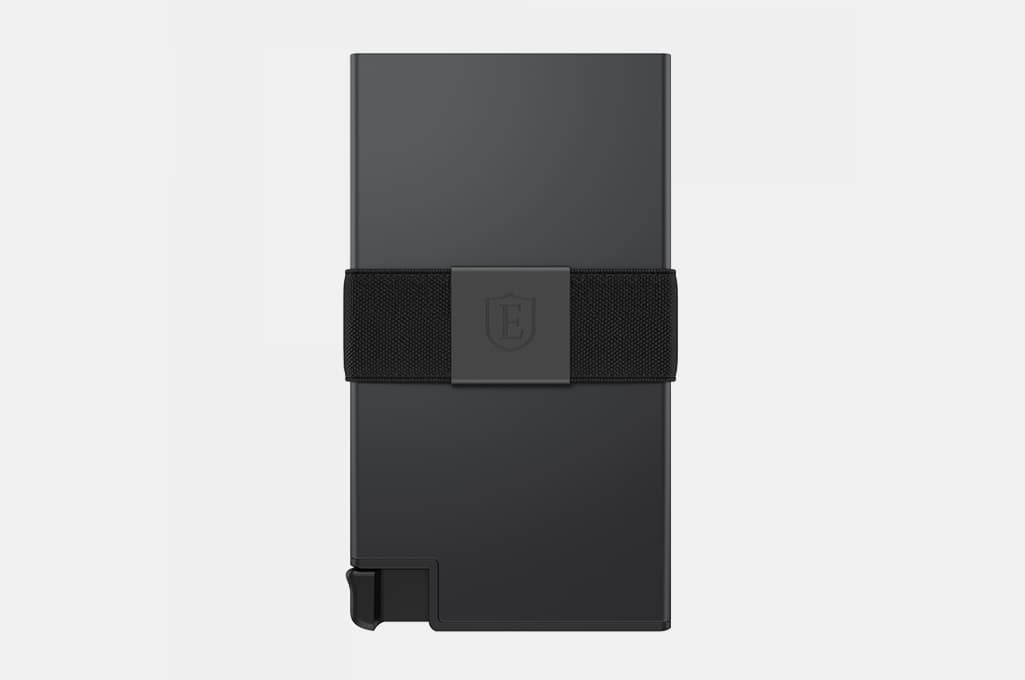 Ekster Aluminum Cardholder Wallet
Sleek, stylish, and ultra-practical: that's what the Ekster Aluminum Cardholder Wallet promises and delivers in abundance. The space-grade aluminum is incredibly rugged, but it doesn't sacrifice style for durability. The wallet looks masculine and tough, with a dark grey brushed finish that you'll be proud to show off every time you whip out your credit cards. Slide your cards into the cardholder, and at the press of a button, see all your stored cards fanned out for maximum convenience. The cardholder itself has space for up to six cards, but the expandable metal backplate makes it easy for you to carry up to fifteen cards plus cash. Now that's the kind of wallet you can definitely use.
See our hands-on review of the Ekster Wallet here.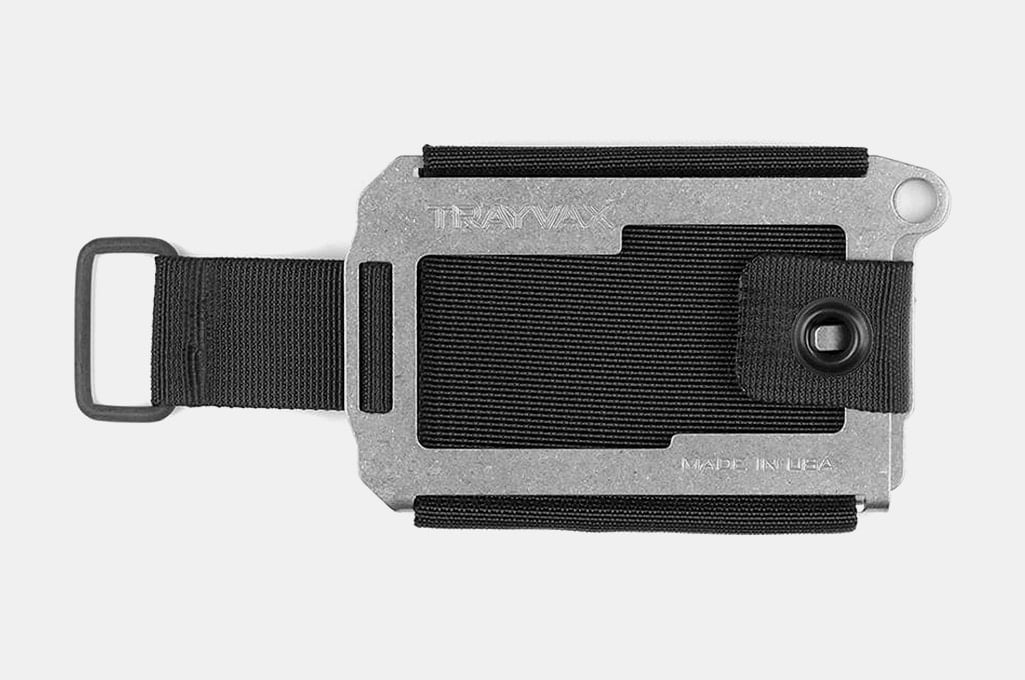 Trayvax Axis Wallet
You've never encountered a wallet quite like the Trayvax Axis. The stainless steel frame is surprisingly minimalistic, yet offers incredible protection for all of your credit cards and IDs—up to fourteen at a time. The easy access ID window is an absolute winner, and it even comes with a built-in money clip that allows you to carry cash wherever you go. The integrated hideaway pocket is perfect for carrying coins or the key to your house. Handmade in the USA, this wallet comes with a lifetime heirloom warranty that guarantees it will always securely protect your most important cards.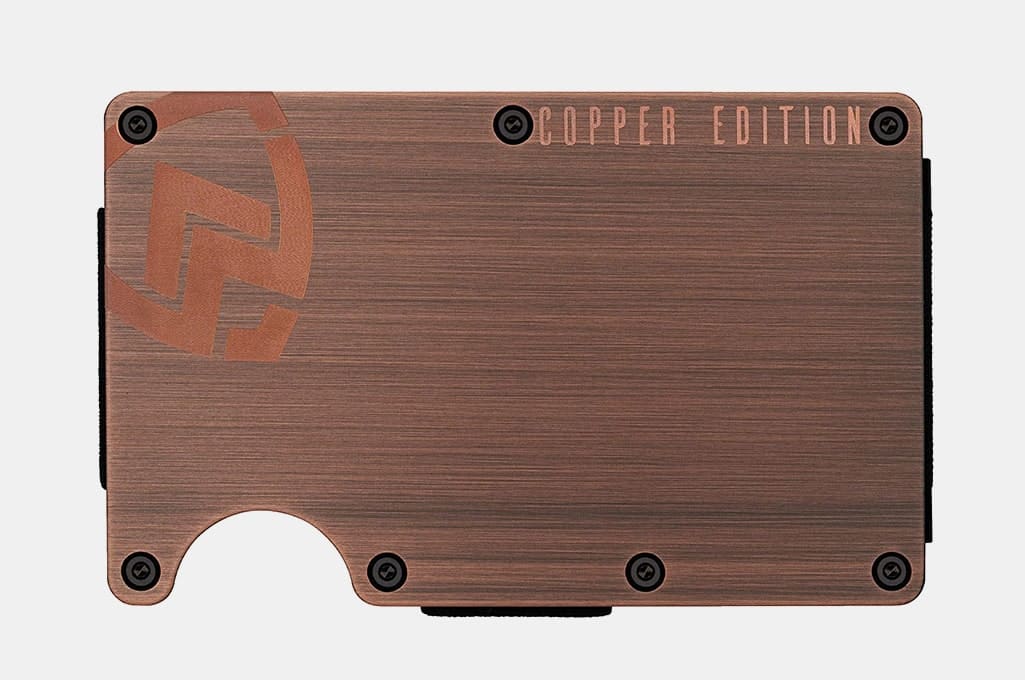 Armour Supply Co. Copper
Armor Supply Co. is a brand dedicated to quality, style, and premium products, and the Copper metal wallet definitely lives up to the reputation. The copper exterior isn't just unique and beautiful, it's also an antimicrobial lining that will kill off germs and bacteria to keep your hands clean all day long. The wallet has space for up to twelve cards, plus five folded bills in the money clip—a clip that can easily be used to secure the wallet to your pocket for maximum convenience. As if that wasn't epic enough, when you buy the metal wallet, Armor Supply Co. throws in both a multi-tool card and a key holder. It's a truly useful and ultra-versatile wallet you'll be happy to own.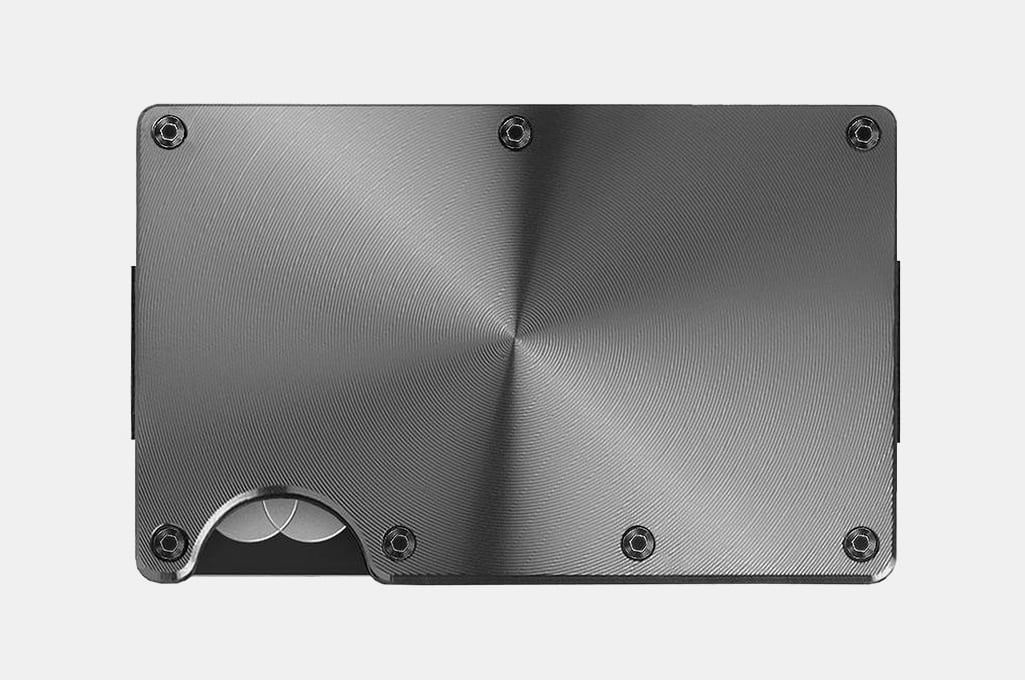 Nimalist Wallet – Titanium
You can throw anything at this Nimalist wallet—seriously, anything—and nothing is going to damage it. That's because it's made with hyper-durable space-grade titanium, a metal so tough it's used for rockets and spacecraft. Aside from its unparalleled toughness, the metal wallet is also amazingly stylish, with a beautiful textured finish that sets it apart from every other wallet around. The quick access slot holds four cards, but the wallet can accommodate up to sixteen cards and twenty bills thanks to the attached money clip. The push-button design is incredibly convenient and user-friendly, and the RFID blocking incorporated into the titanium wallet will maximize the digital security of your most important cards. Best of all, it weighs just two ounces, so you can carry it all day long without ever feeling the weight.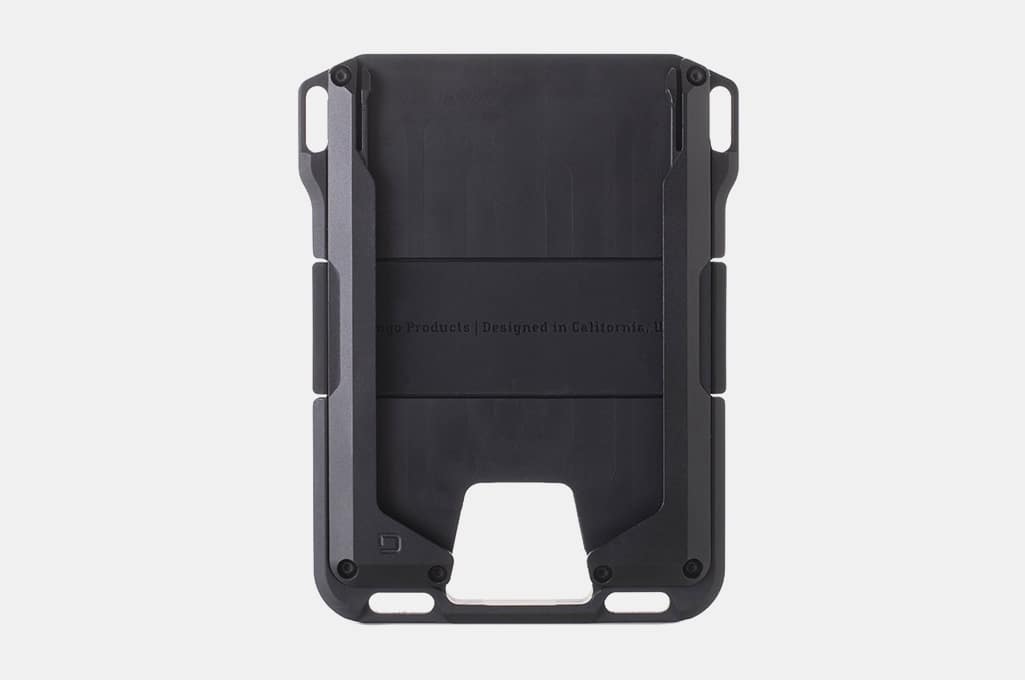 Dango M1 Maverick Rail Wallet
Dango brings a cutting-edge design to your pocket with the M1 Maverick Rail Wallet. Instead of using a button to fan out your cards, all of the cards are quickly sorted by the easy-glide rail system that allows you to slide the cards in and out without scratching or damaging the magnetic stripes or plastic surfaces. One side of the wallet is RFID protected, but the other side is RFID exposed, allowing you to quickly tap your card so you can pay your check with the card still inside the wallet. The grippy silicone band on the frame will allow you to store additional cards and cash, but you can fit a whopping nine cards inside the wallet already. With its anodized aluminum chassis, it's a wallet you can trust to protect your cards for years to come.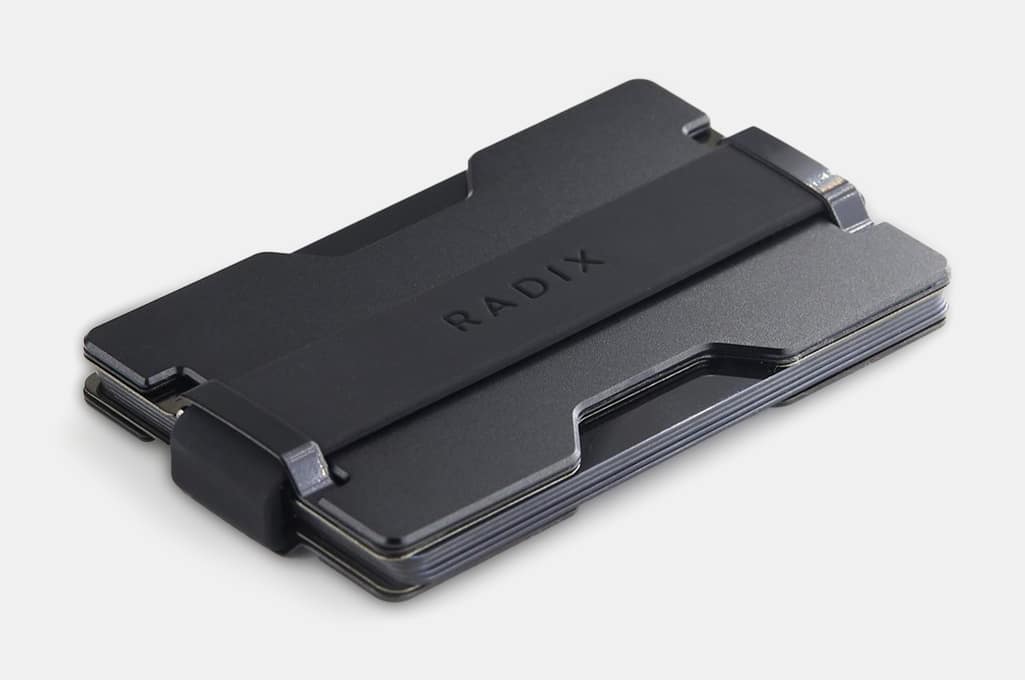 Radix Element Wallet
Radix is a brand that maximizes the quality of their products, all while promoting fair pricing, sustainable energy, and ethical sourcing. Their Element Wallet is so-named because it can handle anything the elements (water, snow, wind, sun, etc.) might throw at it, thanks to its durable aluminum body. The black finish gives the metal wallet a stylish look, but it's made with an additional layer of steel to provide RFID blocking. The wallet is just eight millimeters wide even when it's holding four cards, but if you need more carrying space, the two incorporated bands allow you to carry up to twenty additional cards. It's a minimalist product that does exactly what you need it to, and does it well.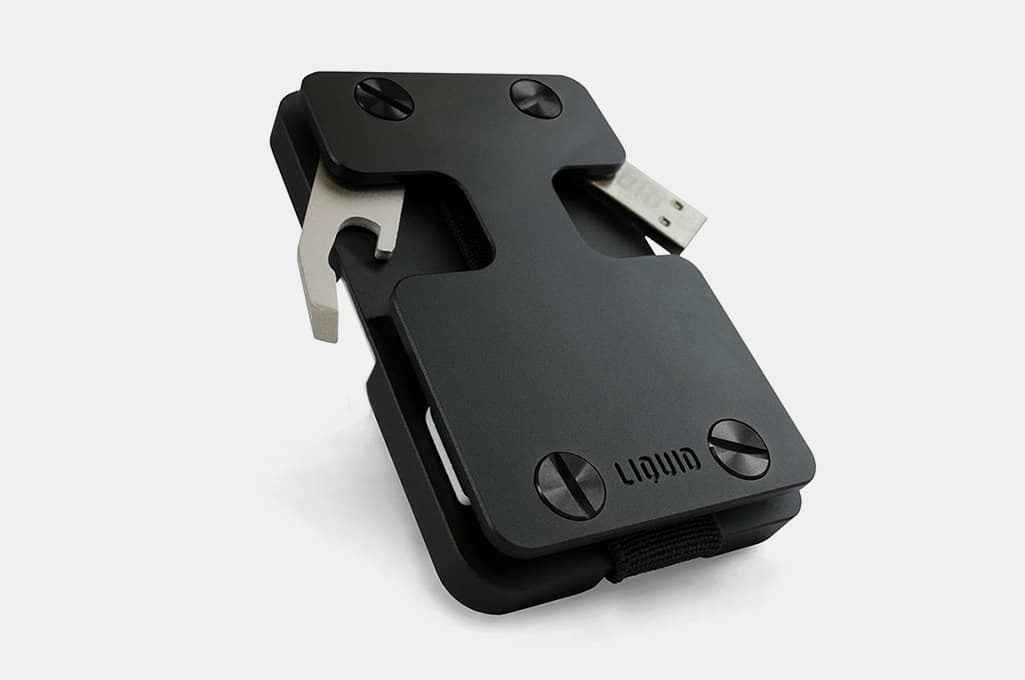 Liquid Wallet Matte Black
You'll be truly amazed by everything the Liquid Wallet can do. Not only is it built to carry credit cards (up to four), but it's got a slot for a key ring attachment that makes it ultra-convenient to carry around your keys and is compatible with Liquid's USB devices and bottle openers. The matte black finish is already gorgeous, but wait until you switch out the existing black screws for the accompanying gold ones—that gives it a truly stylish appearance you can't help but love. Made from ultra-tough titanium, it's a metal wallet that makes it easy to take all the essentials with you anywhere you go.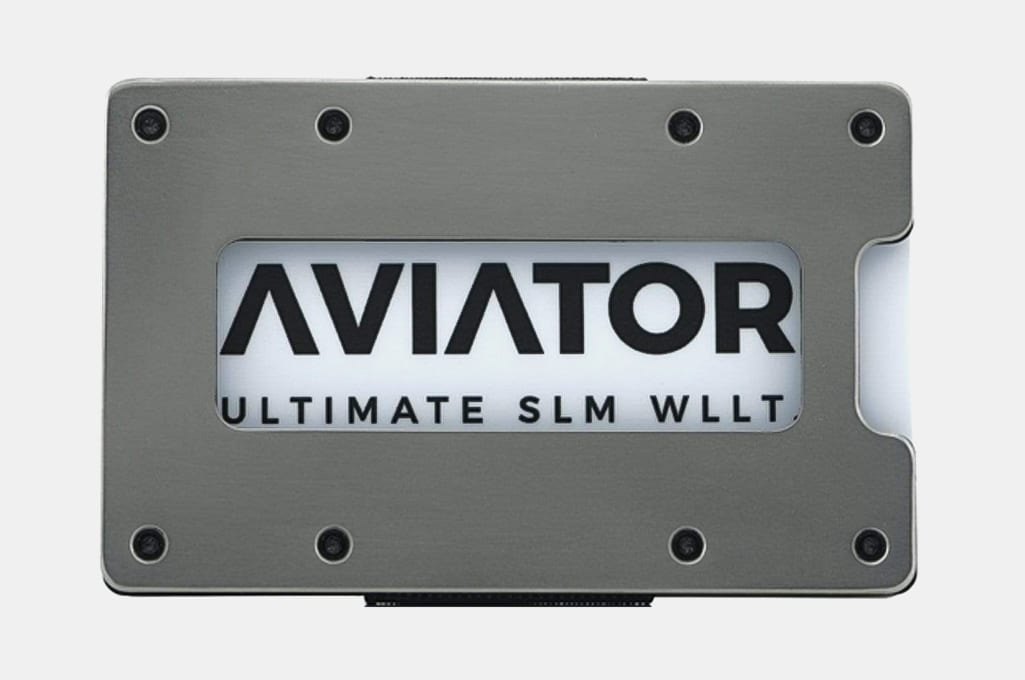 Aviator Wallets Titan One Rugged
Aviator Wallets' mission is to create innovative and convenient new solutions for men on the go, especially those who are tired of hauling around an overstuffed, unnecessarily heavy wallet. The Titan One Rugged is their flagship metal wallet, with a shell of hardcore Titanium Grade 1 that is incredibly resistant to scratches, acid, and rust damage. The wallet weighs surprisingly little (titanium is half the weight of steel), but comes with RFID blocking built into its shell and a carbon fiber cash clip that expands your storage capacity to allow you to carry up to 20 cards. It's the hyper-durable wallet designed to last you a lifetime.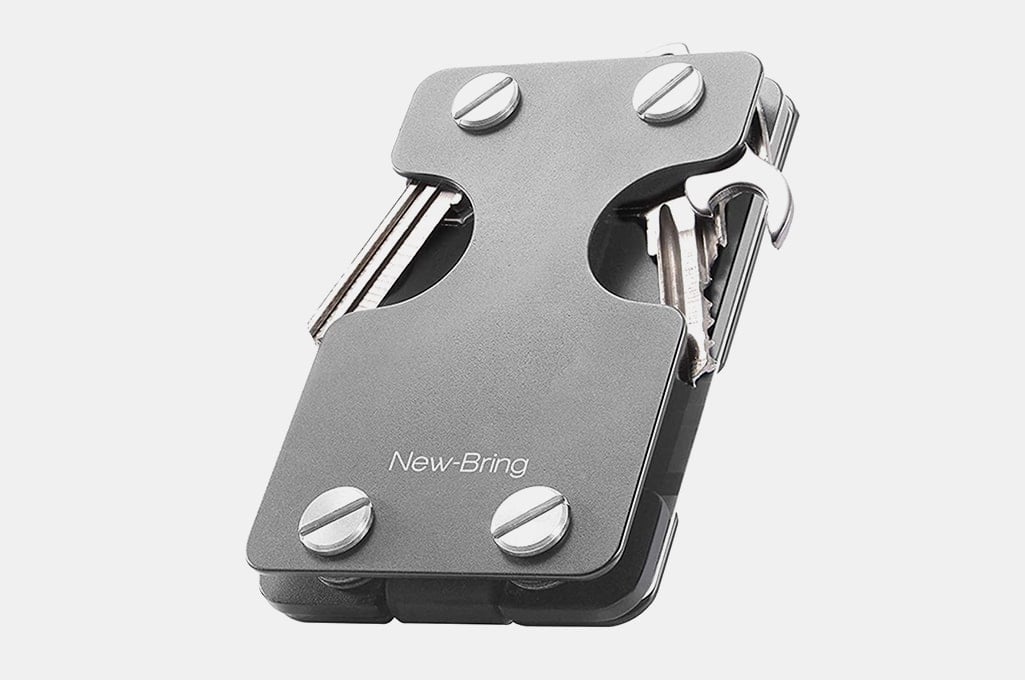 NEW-BRING Multifunction Metal Key Holder & Card Wallet
NEW-BRING delivers a truly stellar product in the form of the Multifunction Metal Key Holder and Card Wallet. True to its name, the wallet is designed to store both credit cards and standard metal keys, meaning you can carry your house, gym, or storage locker keys along with your most important cards. Made from super tough aviation-grade aluminum, the metal wallet is resistant to rust and scratches, and comes with RFID blocking to protect your credit cards. You'll never have to carry a wallet around again, because with this bad boy, you have space enough for four or five cards (depending on thickness) on the inside, along with up to six cards plus cash on the outside.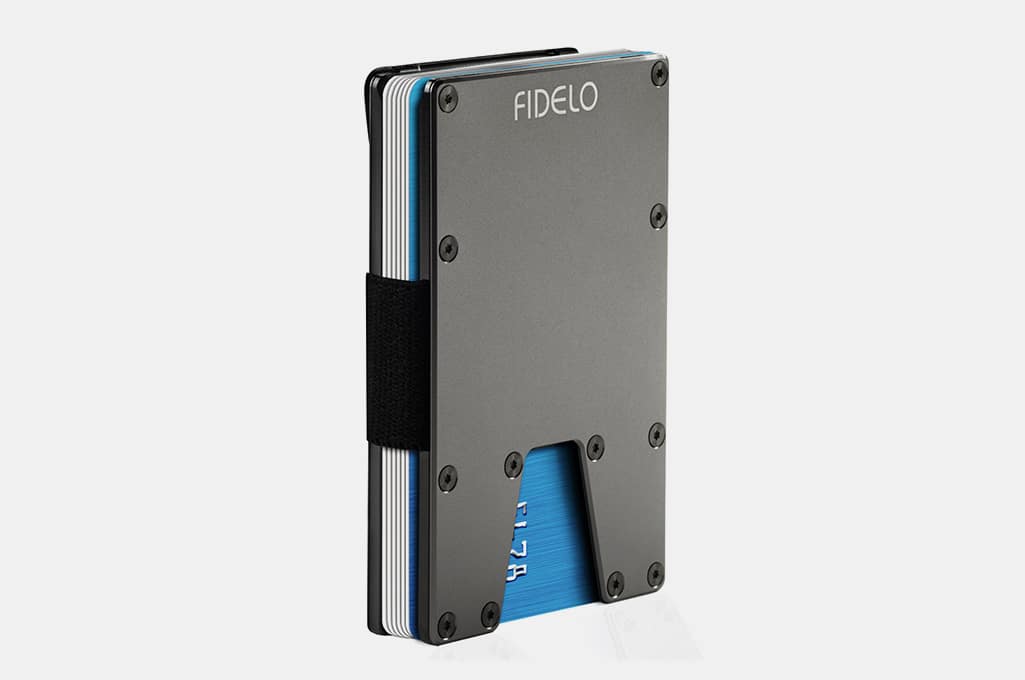 Fidelo Designs Eclipse Solo – Titanium
Fidelo Designs is a brand focused on delivering top-quality minimalist products for men, and the Eclipse Solo Titanium Wallet definitely lives up to that goal. The wallet is made with an aluminum core, titanium faceplates with a smooth finish resistant to fingerprints, reinforced steel money clips, and expandable wallet bands that allow for more than just the basic four-card storage. Though higher priced than the average metal wallet, it's designed for maximum convenience and durability, with a polished interior surface that won't damage your credit cards. With just this one wallet, you'll have everything you need right in your pocket.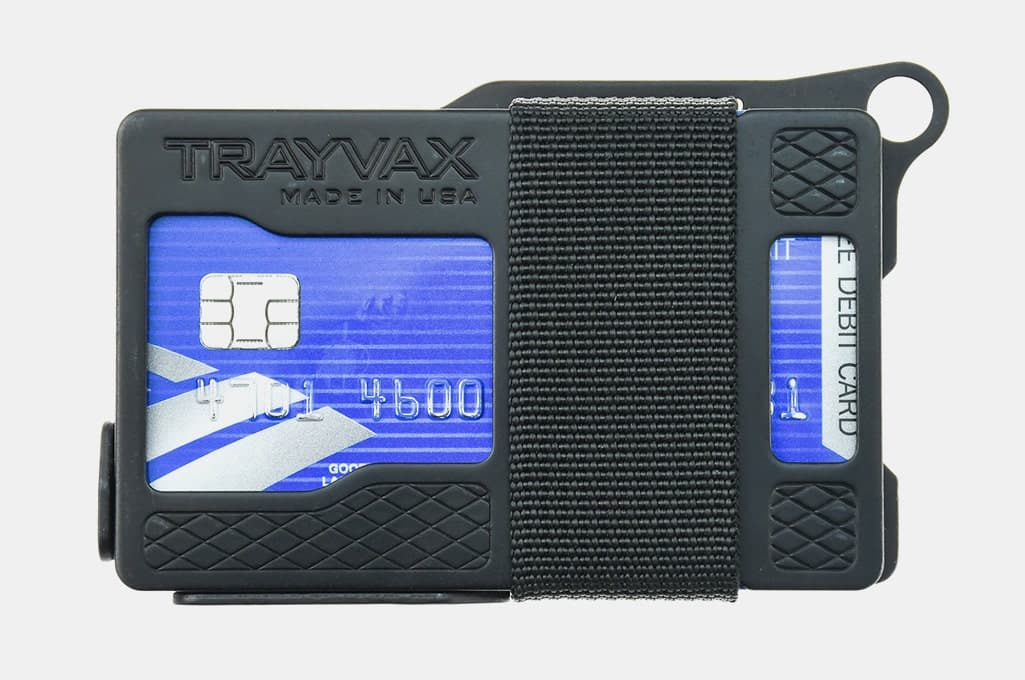 Trayvax Armored Summit Wallet
The Armored Summit is a beefed-up version of the brand's ultra-slim, all-metal Summit Wallet and features a RFID-blocking steel plate with a bottle opener integrated straight into the design. The MIL-SPEC webbing strap holds in one to seven cards while one to five bills slide into the money clip. The melonite finish will keep your wallet looking on point despite the abuse of everyday carry in your pocket with your other essentials.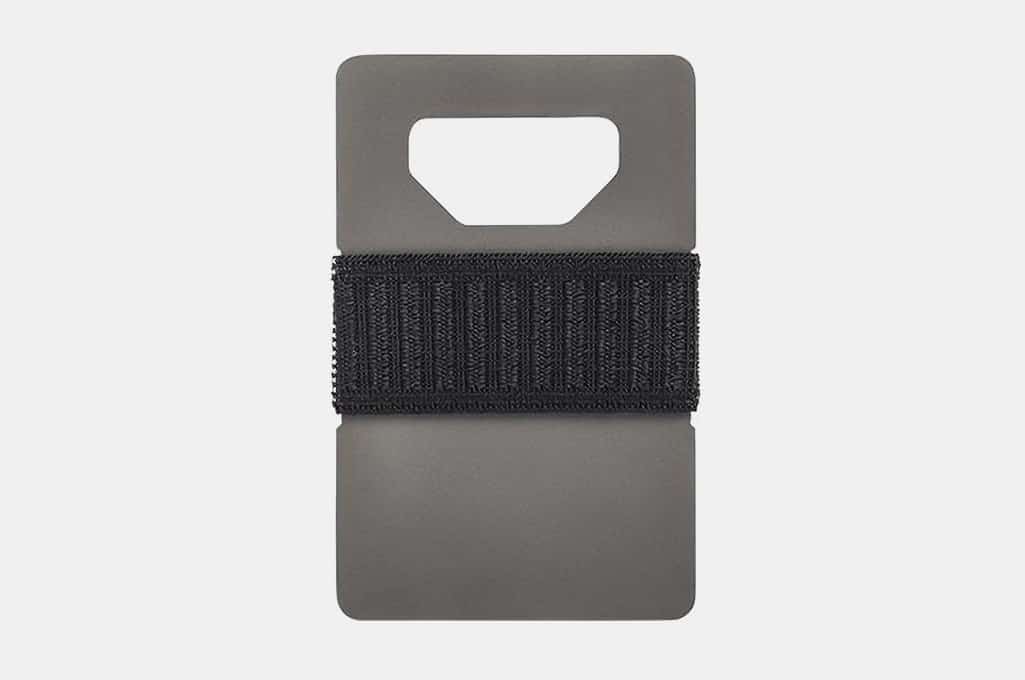 Spine Titanium Wallet
This slim single-panel wallet is made from U.S.-sourced Grade 5 titanium and fits up to 10 cards, with extra room for loose bills. Featuring an integrated bottle opener for popping bottles in a pinch, this highly functional everyday item turns your typical wallet into a dual-purpose tool. Heavy-duty elastic banding on both sides holds cards in place and allows for storage on both sides. Aside from its RFID-blocking capabilities, this titanium is also hypoallergenic, rustproof, corrosion-resistant, and non-magnetic. Measures 3.43 x 2.185 x 0.04 inches. Weighs 0.7 ounces for ultra lightweight portability.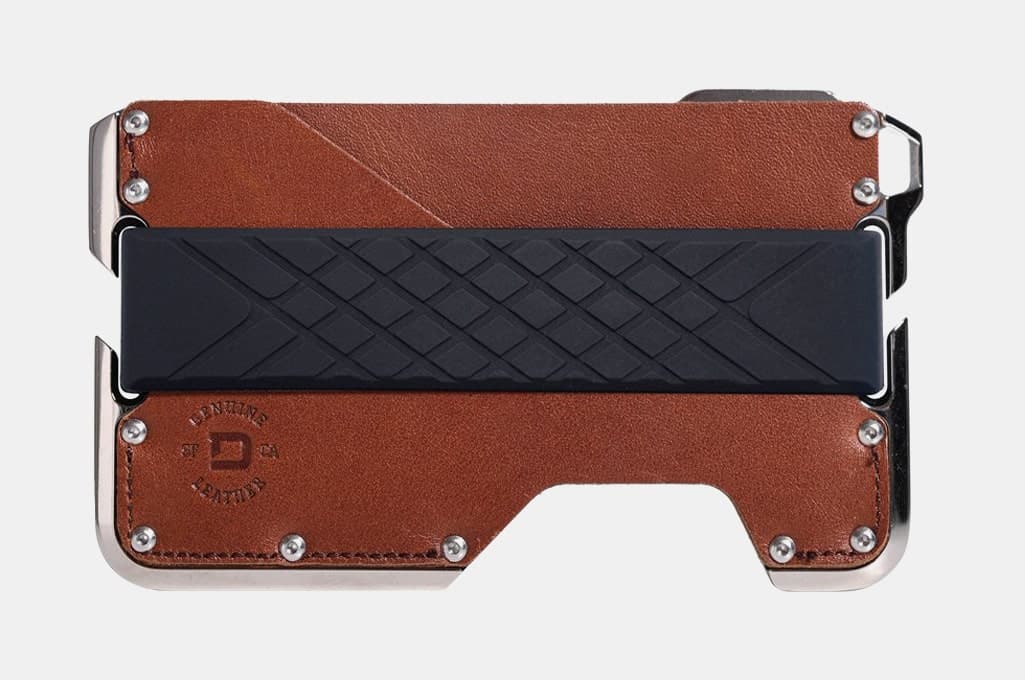 Dango D02 Dapper Wallet
This wallet is not completely metal, but you'll appreciate the attention to detail. A nickel-plated aluminum frame is polished by hand for over an hour before being shelled with a genuine top grain leather body. Sophisticated styling is paired with supreme utility, thanks to RFID tech and storage for up to 12 cards, as well as a silicone band to hold cash for quick access during purchases. Add the MT02 multi-tool, and you're good to go with a complete EDC kit at your disposal.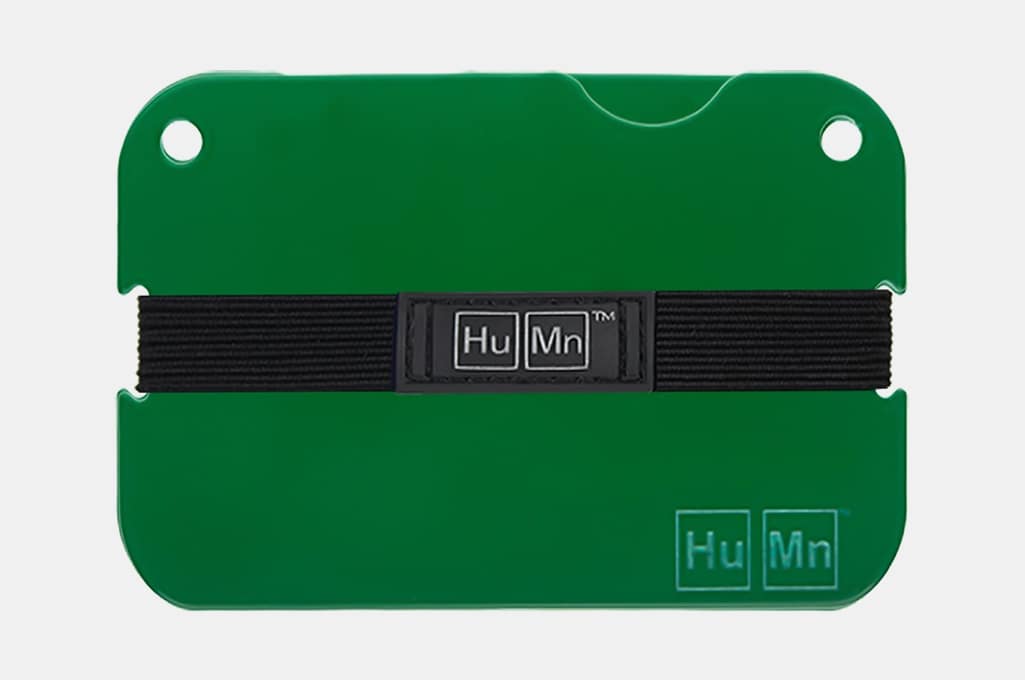 Humn Wallet Mini
If you'd rather add a bold punch of color to your everyday routine, the RFID blocking wallet by HuMn comes with 16 different color options for each of the wallet's four major components. Choose the color and material of your front plate, rear plate, expansion center plate, and elastic band for a truly unique minimalist item. Each heavy-duty piece of 6061 aircraft grade aluminum comes powder-coated in the color of your choice for a soft finish that stands up against wear and tear, as do the carbon fiber and Cerakote options. The HuMn mini holds up to 6 cards, with an additional 5-card capacity if you add your expansion plate. Measures 3.8 x 2.53 x 0.10 inches. Weighs 1.1 to 1.6 ounces.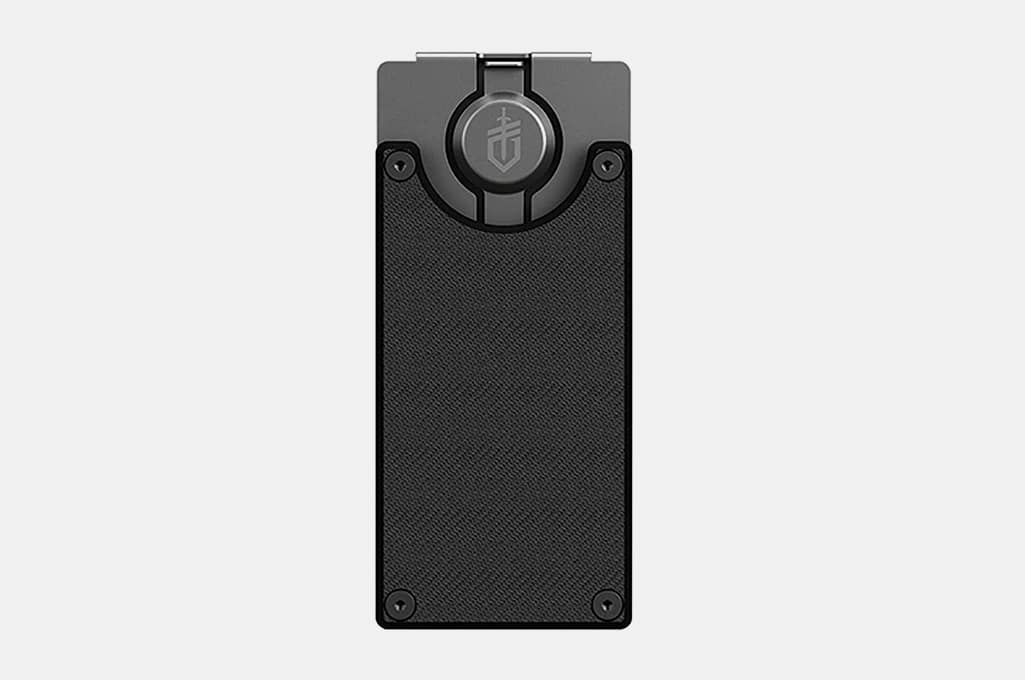 Gerber GDC Money Clip
Gerber has changed the face of the traditional money clip with their hyper-modern GDC model. One side of this panel clip features a removable grommet-handled blade with a 1.75-inch fine stainless steel edge. To remove the blade, simple press down on the Gerber emblem button, and the blade slides easily out of the integrated sheath. The blade itself also features a ridged thumb grip for comfortable use. The other side of the item features a spring-loaded money clip for secure grip and easy removal. Featuring a G-10 front plate, titanium-coated steel, and anodized features, this heavy-duty multipurpose tool. Weighs 2.9 ounces.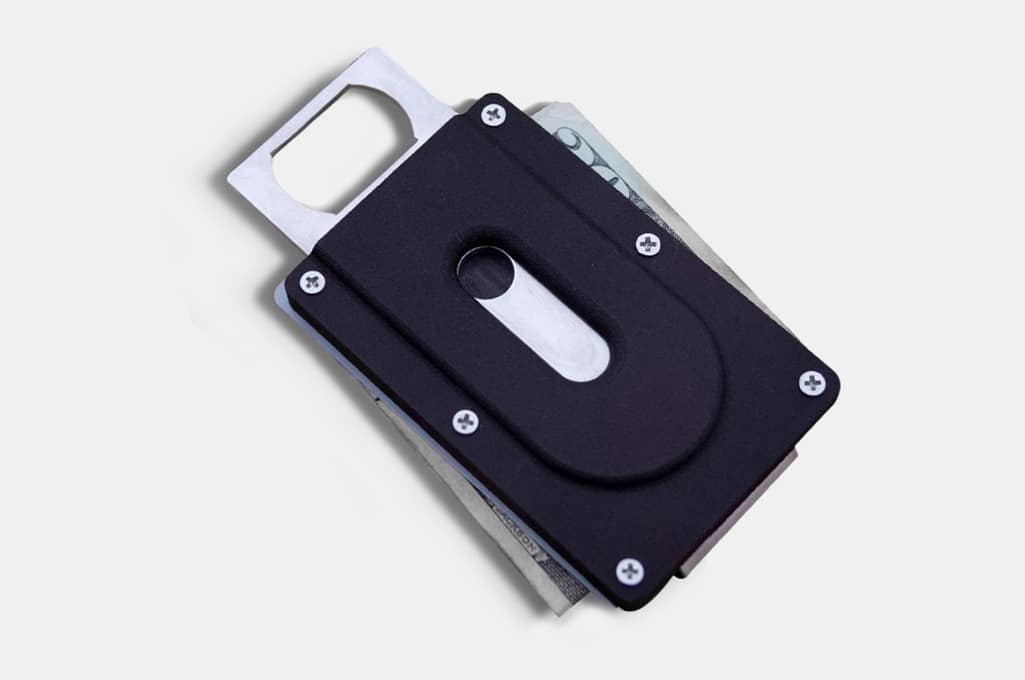 Brew Clip Bottle Opener Wallet
The rear panel, bottle opener, and money clip are made from a high-quality stainless steel while high-density black nylon front panel creates a scratch-free, lightweight surface. This nylon panel is contoured to conceal a fully retractable bottle opener for rugged use and quick solutions to your beer-time dilemmas. Six heavy-duty screws hold your wallet together and allow for full item disassembly for yearly cleaning. The Brew Clip wallet fits up to 5 credit cards or 30 bills and measures 3.2 x 2 inches.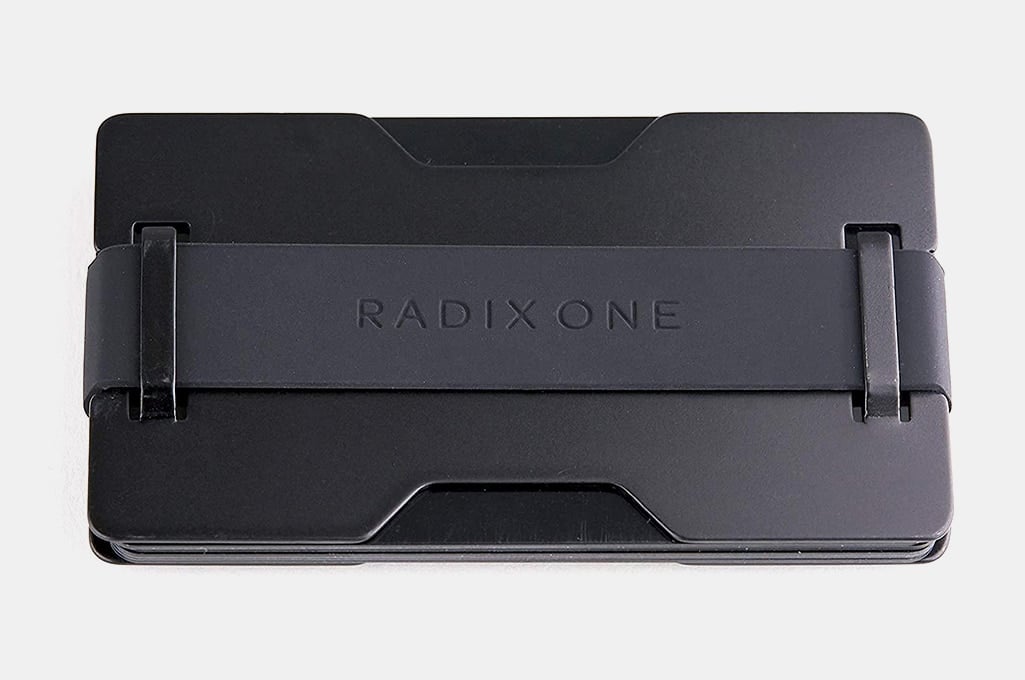 Radix One Black Steel Wallet
The two-panel Radix steel wallet replaces the traditional elastic band with a high-resilience silicone band, which is held in place by two integrated hook ports. This external silicone band can be used to store extra folded bills and has natural grip to hold your cash securely in place. To expand the band's capacity, simply unhook one of the integrated strap ports and add your extra bills or cards. The notched thumb hold allows for simple removal of cards. The Radix One holds 4 to 10 cards and weighs 4.0 ounces.
Secrid Aluminum Card Protector
Winner of the Red Dot Design award, this solid aluminum wallet maintains a minimal appearance through its smooth exterior and top-loading case design. A small lever at the base of the fully enclosed case pushes cards out from the top of the case in a stepladder mechanism so that all cards are viewable and easy to select when needed. At a stunningly slim 0.8mm in thickness, this protector can still hold up to 4 embossed cards or 6 non-embossed cards. Weighs 1.4 ounces. Measures 2.4 x 4.0 inches. Made in Holland.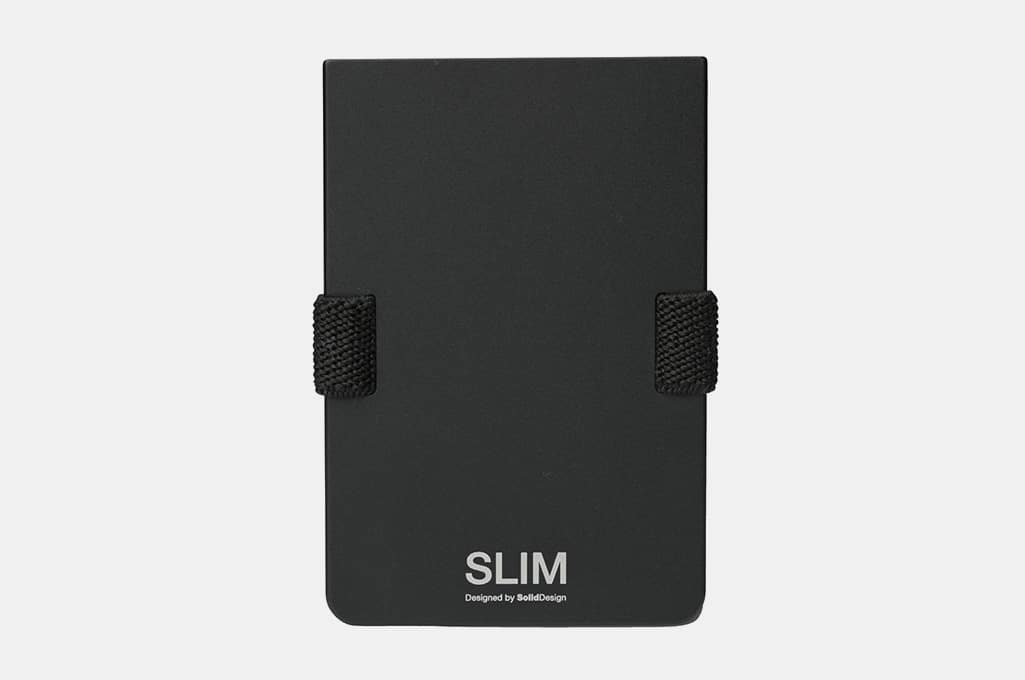 SLIM Machined Wallet
The SLIM in precision made from a solid block of 6061 aluminum for optimal durability and lightweight design. Featuring an anodized finish and raised sides, this heavy-duty single panel wallet can safely carry up to 6 cards. The elastic band sits comfortably within two recessed side grooves for added protection against unnecessary friction. For added longevity, the SLIM wallet's elastic band can be replaced to restore its fresh appearance. Made in the USA by Solid Design Studio. Measures 3.54 x 1.97 x 0.32 inches. Weighs 0.88 ounces.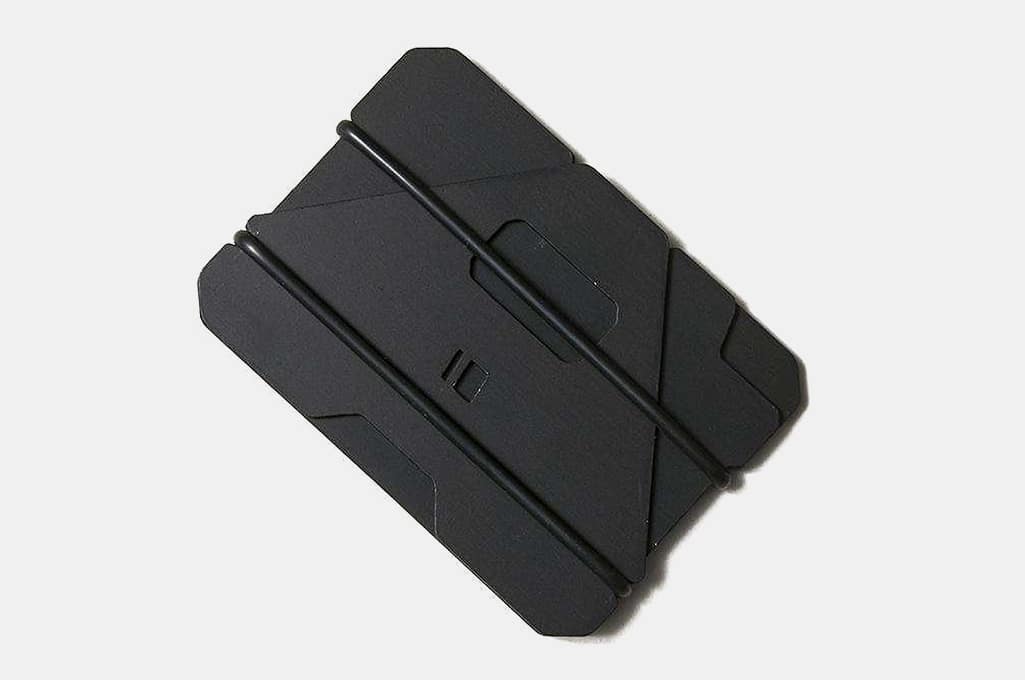 A3 Aluminum Wallet
The four-piece A3 wallet is made from solid aluminum and features an integrated bottle opener, as well as a customizable and convertible design. Three flat aluminum pieces are secured together with dual 50A-durometer Buna-N O-ring bands. Both bands are held in place with small notch fittings and measure 0.125" inches in thickness. The A3 comes in black hardcoat, raw aluminum, green, orange, and clear anodized finishes. Measures 2.75 x 3.875 x 0.0625 inches. Weighs 2.7 ounces without O-rings or 2.55 ounces with O-rings.
Disclosure: Clicking on these links and making a purchase may earn us a small referral fee, at no extra cost to you. Learn more here.
freestar.config.enabled_slots.push({ placementName: "gearmoose_leaderboard_btf", slotId: "gearmoose_leaderboard_btf" });