The 18 Best Tactical Pens
A tactical pen, much like a tactical knife or an EDC Pen, is an often overlooked piece of everyday carry gear that could very well save your life one day, or at the very least provide you with the means to jot down your ideas or notes. Tactical pens typically feature a heavy duty machined metal construction, are outfitted with pressurized ink cartridges, and fit easily in your pocket, shirt, or on your belt with your other tactical gear.
A few pens listed here feature an integrated glass-breaking tip that can come in handy in a handful of different emergency scenarios. And while fending off an attacker with a tactical pen is neither preferred nor realistic in most situations, they can and will pull double duty as a self defense weapon in a pinch if you're both trained in doing so and carrying it on your person when the time comes to need it. After all, nothing stops an intruder dead in his tracks quite like being impaled by a chunk of titanium, steel, or aluminum. For those looking to expand their carrying options, here is our list of the best tactical pens on the market today, in no particular order.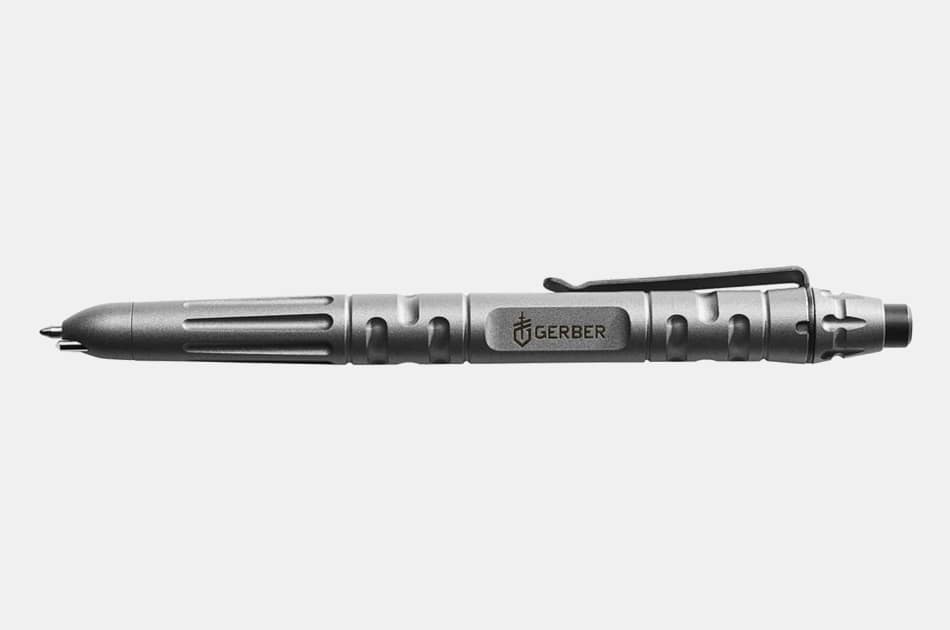 Gerber Impromptu Tactical Pen
Designed from law enforcement official input, Gerber's Impromptu Tactical Pen is truly tactical in appearance and performance. It features a simple push button mechanism that reveals an ink cartridge that can write in all positions and in wet or dry weather, a tempered steel tip window punch, and a machined steel construction that renders it heavy and sturdy enough to effectively double as a self defense weapon. This is currently our tactical pen of choice, which we carry daily with no problems.
Price: $78
Material: Steel
Length: 5.59 inches
Weight: 2.4 ounces
Notable Features: Made in the USA, push-button mechanism, glass-breaker tip, feels heavy and substantial thanks to a hardy steel construction.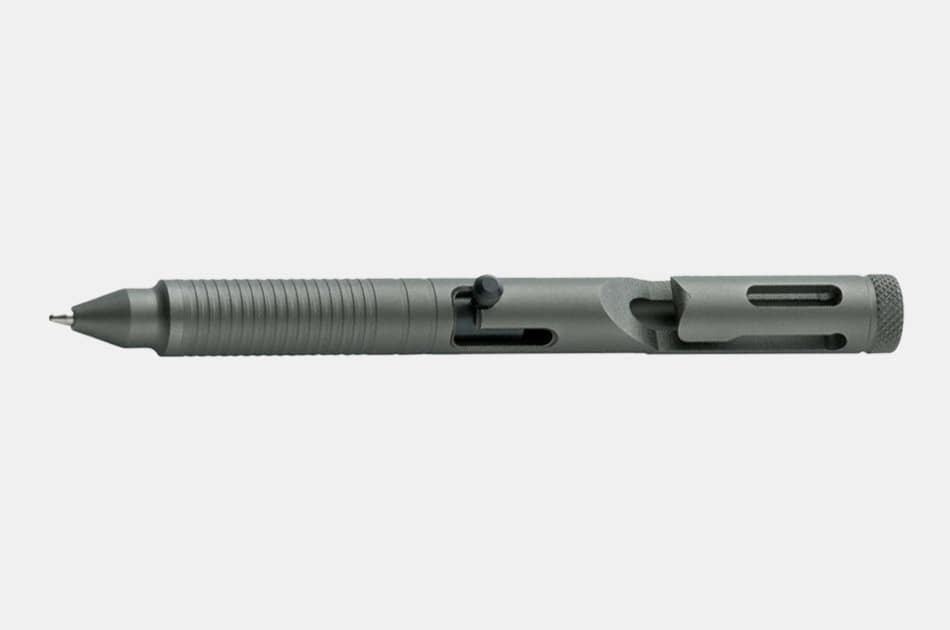 Boker Plus Bolt Action Tactical Pen
If you're stuck in the office 12 hours a day, 5 days a week, then the Bolt Action Tactical Pen may provide some mild entertainment for you while you sift through endless TPS reports and sit through pointless staff meetings. This hardcoat-anodized, aluminum-body tactical pen from German knife maker Böker features bolt action mechanics for a satisfying open and close. The integrated clip makes for a smooth draw from your pocket while the flat, notched-grip head offers no-slip thumb placement for tactical use.
Price: $73
Material: Aluminum
Length: 5 inches
Weight: 1.02 ounces
Notable Features: A unique bayonet bolt-action mechanism and a clip-integrated design means no external clip that can break or snag on clothes.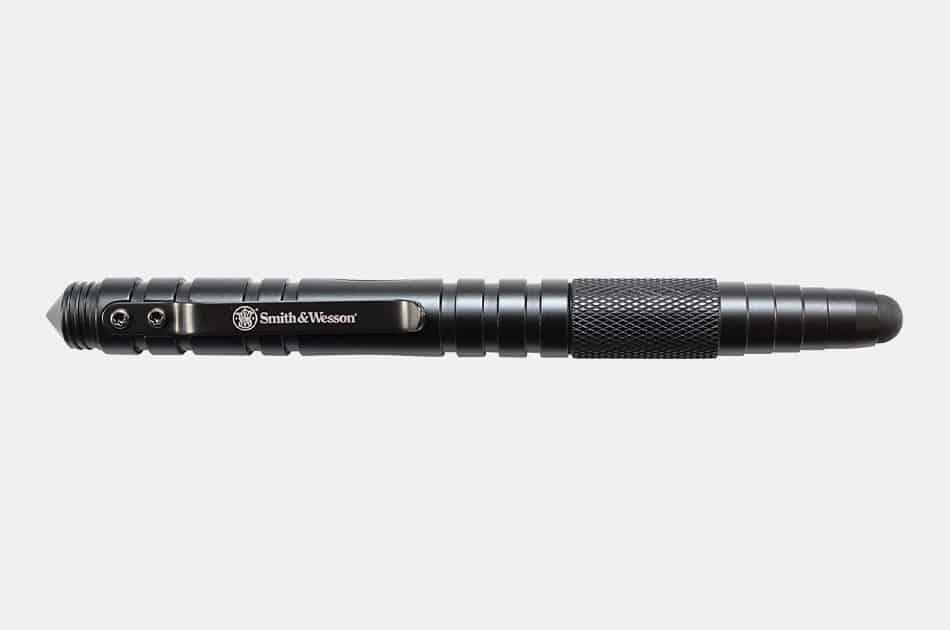 Smith & Wesson Tactical Pen With Stylus
The Smith and Wesson Tactical Pen is a perfect choice for those who rely heavily on a smartphone or tablet during the day because of its screw cap protected built-in stylus. The tactical properties of the pen is its machined 6061 hard anodized aluminum construction, black pocket clip, personal protection tip, and ball point black ink cartridge.
Price: $52
Material: Aluminum
Length: 5.4 inches
Weight: 1.6 ounces
Notable Features: An integrated stylus tip provides even more functionality for smart device users.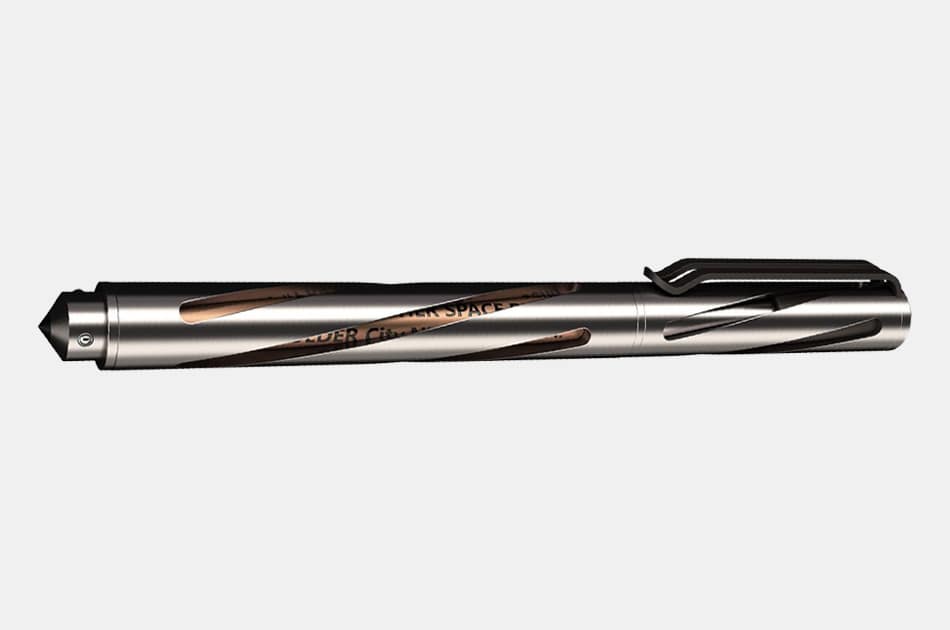 Nitecore NTP10 Tactical Pen
We're big fans of Nitecore's EDC flashlights, and the brand's NTP10 Tactical Pen appears to be just as functional. The pen is both lightweight and incredible durable thanks to a waterproof titanium construction that won't rust, won't stain, and will probably never break no matter how much abuse you try to throw at it.
The best part is how well the pen actually operates. It can write on any surface in most any weather conditions, and can even write in space — should you happen to be on the next space flight to Mars sometime this century, be sure and throw it in your pocket or pack it in your bag of choice. Additional features include a window-breaking tungsten steel tip and a deep carry pocket clip.
Price: $85-$120
Material: Titanium Alloy
Length: 4.25 inches
Weight: 0.64 ounces
Notable Features: It's shorter and lighter than other pens, rendering it more comfortable for everyday carry, a tungsten steel glass-breaking tip.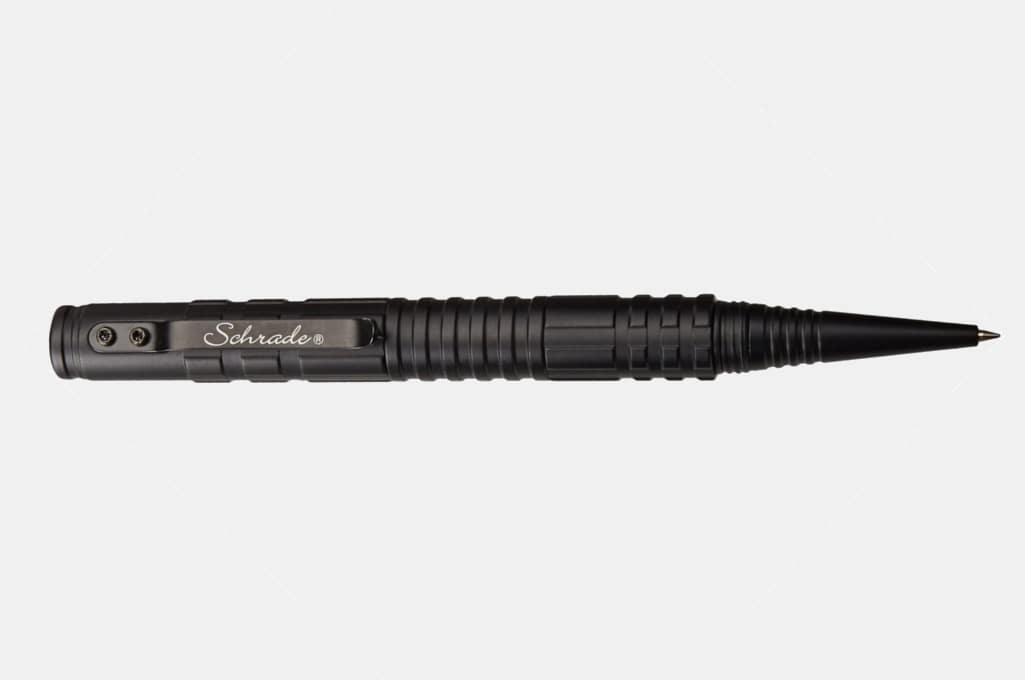 Schrade Survival Tactical Pen
One of our favorites due to how highly versatile it is for the relatively low price, the Schrade Survival Tactical Pen features a lightweight anodized aluminum body, and an assortment of integrated survival accessories for ultimate functionality. These survival features include a built-in glass breaker, an emergency whistle, and an incorporated ferro rod fire Starter, rendering this tactical pen an affordable yet solid choice for outdoor enthusiasts.
Price: $28
Material: Aluminum
Length: 5.3 inches
Weight: 1.4 ounces
Notable Features: A bevy of built-in survival features including an integrated whistle, ferro rod fire starter, and glass breaker.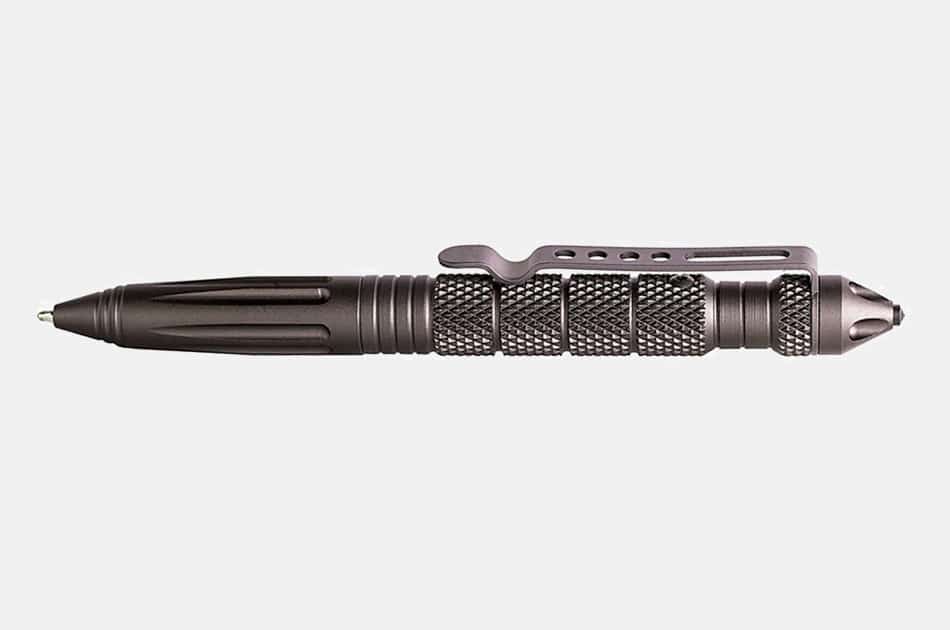 UZI Defender Tactical Pen With Glass Breaker
Don't let it's wallet-friendly price fool you. The field-tested, James Bond-worthy UZI Defender Tactical Pen has seen it's fair share of duty by the special forces elite and secret service to name a few, and features an aircraft aluminum construction, an integrated glass breaker, and a hidden handcuff key should you need to escape from the clutches of your enemies.
Price: $18
Material: Aluminum
Length: 6 inches
Weight: 1.8 ounces
Notable Features: An integrated hidden handcuff key that can come in handy in the rare situation where escaping from handcuffs is necessary and your pen hasn't already been removed from your person before detainment.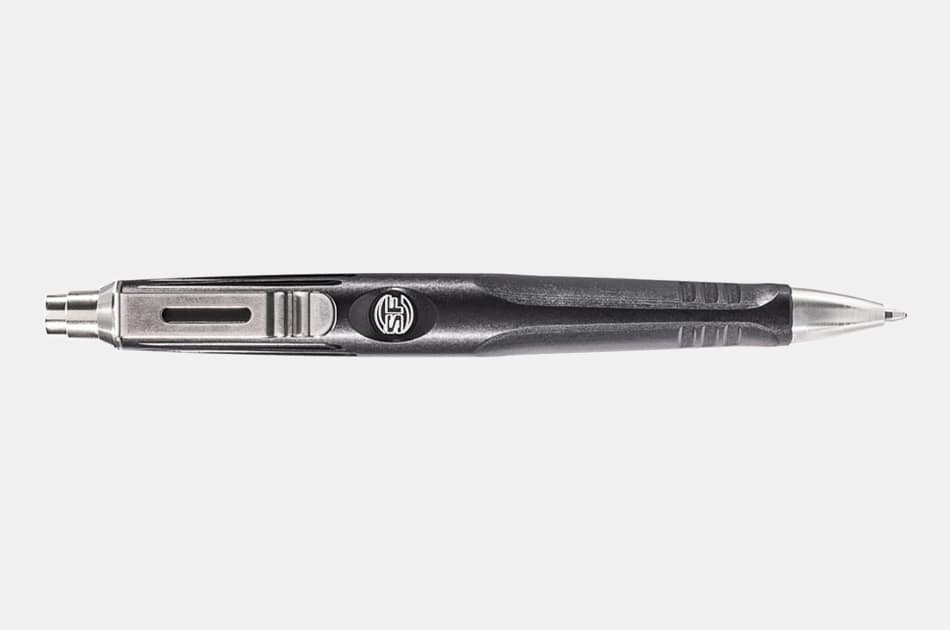 Surefire IV Pen
The SureFire Pen IV is the Mercedes-Benz of tactical pens. It is precision machined from high-strength aerospace aluminum with a hard anodized Mil-Spec black finish. the accompanying hardware on the Surefire Tactical Pen is stainless steel, including the pocket clip, nose cone, and durable retractable click button. Along with a stellar design, it utilizes and imported Schmidt easyFLOW 900 ballpoint pen cartridge for effortless writing all day.
Price: $130
Material: Aluminum, Stainless Steel
Length: 5.8 inches
Weight: 1.7 ounces
Notable Features: Strict attention to build quality, including a mil-spec hard-anodized finish on the aircraft aluminum, a Schmidt easyFLOW 9000 pen cartridge, and a tungsten DLC-coated steel pocket clip.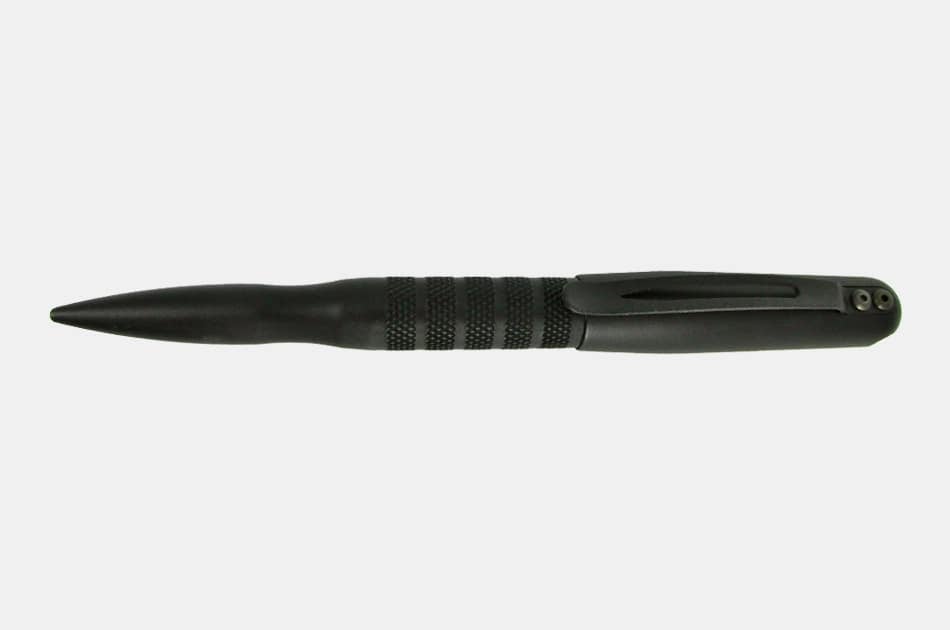 Tuff Writer Operator Series Tactical Pen
The Tuff Writer Operator Series Tactical Pen is one tough pen. It was built to operate within a temperature of -30 to 250 degrees Fahrenheit, and thanks to increase wall thickness, can withstand approximately 750 PSI of pressure before it begins to deform. Additional features include a sharp, rounded end that serves as a stylus or self defense weapon, a low slip grip, powder coated clip, and a non-reflective, non-marking surface treatment.
Price: $95
Material: Aluminum
Length: 6 inches
Weight: 1.6 ounces
Notable Features: Can operate in extremely cold and hot temperatures, and withstand up to 750 psi of pressure, making it a pen worth carrying in the worst possible environments imaginable.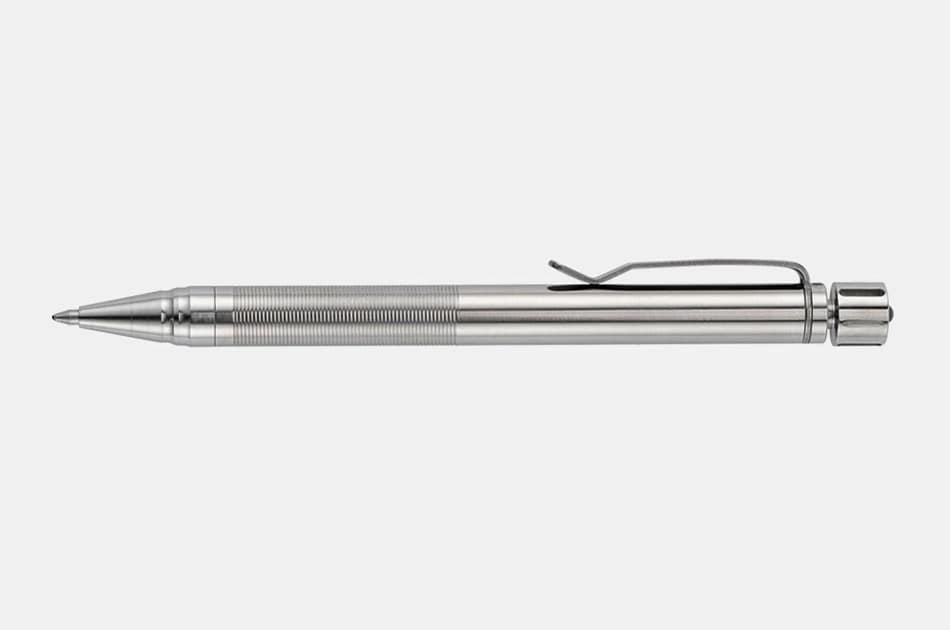 RovyVon Commander C20 Titanium Tactical Pen
This simple, sleek RovyVon pen looks simple, but don't let the appearances deceive you. The C20 Titanium Tactical Pen is made with a titanium body and precision CNC-machined components that assemble into one hardcore tactical pen. The pen is sleek, comfortable to the touch, and easy to hold no matter how much you write, and it's lightweight enough that you'll hardly notice it in your pocket. The pocket clip is also made out of titanium, so you know it will last as long as the pen itself. There's even a glass breaker built into the top to use in emergency situations. You'll always be prepared for anything with this bad boy.
Price: $69+
Material: Titanium
Length: 5.03 inches
Weight: 0.945 ounces
Notable Features: Weighing in under and ounce, the pen's titanium construction renders it extremely lightweight for a better all-day carrying experience. It also breaks glass via the glass-breaking tip.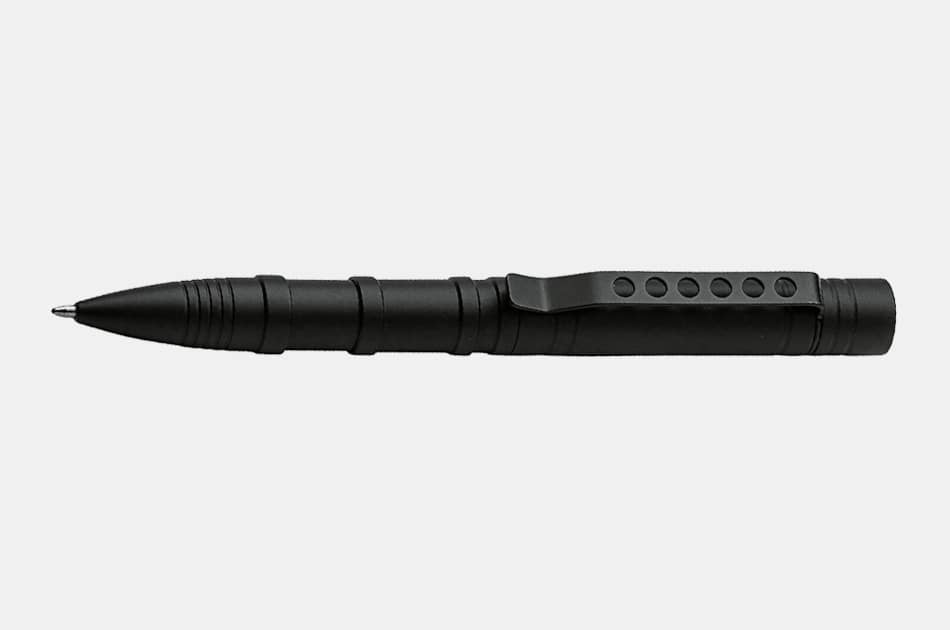 Boker Plus Quest Commando Pen
Boker Solingen prides itself on delivering premium products crafted in traditional, reliable styles, but using innovative additions that make them truly one-of-a-kind. The Quest Commando Pen certainly lives up to that mission. The six-inch pen weighs one-point-three ounces, with a lightweight aluminum body that is incredibly durable and a tactical grip that makes it easy to keep hold on your pen whether you're writing or fighting. Not only is it suitable to use as a pen, but it can store matches, needles, and other small bits of equipment. When you're out in the wild, you'll love the built-in compass to help you navigate even the densest forest or jungle.
Price: $45+
Material: Aluminum
Length: 6 inches
Weight: 1.22 ounces
Notable Features: Built-in storage for small essentials like matches, and a compass integrated into the handle are welcome upgrades. Additionally, an affordable price point makes theft or loss easier to stomach.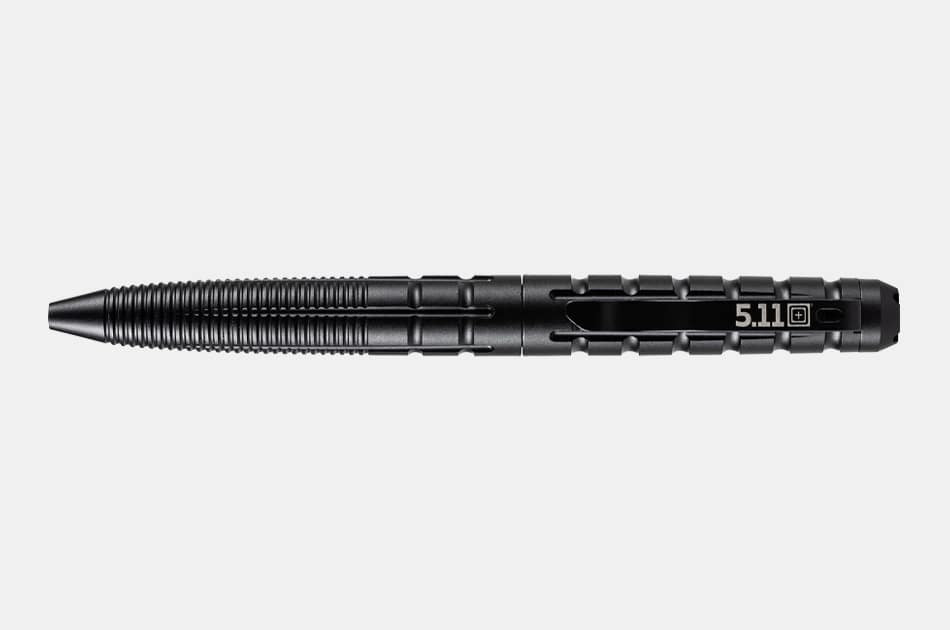 5.11 Kubaton Tactical Pen
5.11's mission is to ensure that you are prepared for the unexpected, ready to tackle any of the unknown challenges you're bound to face in your daily life. They crafted the Kubaton Tactical Pen so you've always got a defensive (or offensive) weapon handy in case you need it. The tactical grip makes it easy to grip the pen even if your hands are slick—from sweat after too much writing, or rain, mud, or blood out in the field—and you'll love how user-friendly and solid the one-piece design is. The twist-open pressurized cartridge is easy to change, always reliable, and ready to write at a moment's notice. Truly, it's the tactical man's best friend.
Price: $30
Material: Aluminum
Length: 5.4 inches
Weight: 1.17 ounces
Notable Features: Entry-level price point, textured grip for writing in wet conditions, and is compatible with a handful of popular ink cartridges, including Fisher PR series, Rite in the Rain 37R, 47R, 57R, and Schmidt EasyFlow 9000 series.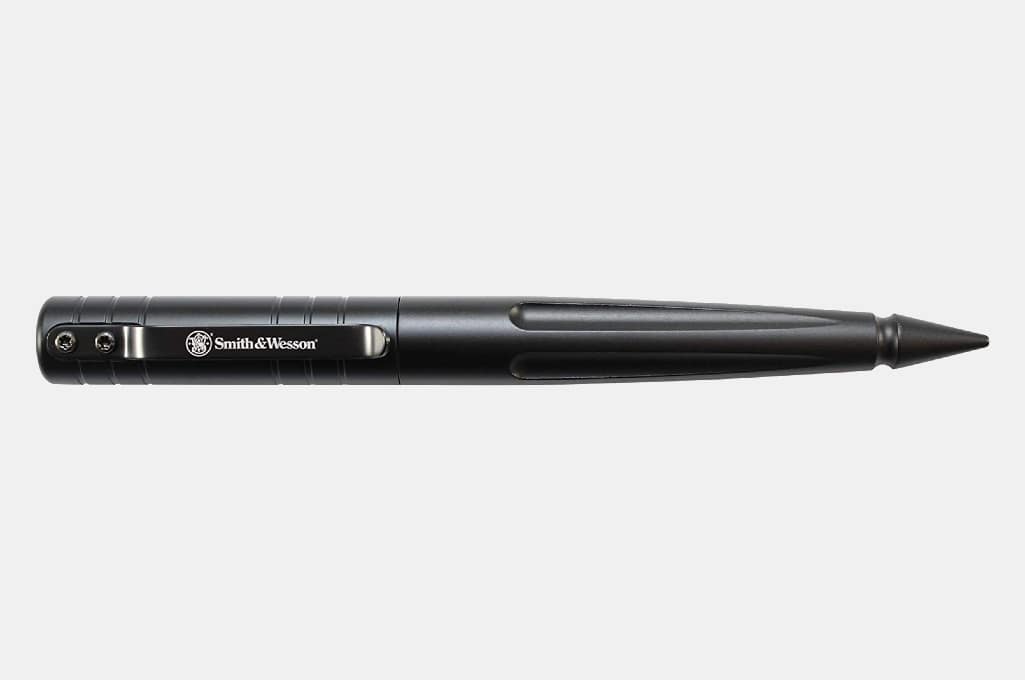 Smith & Wesson Tactical Pen
Who better to make a tactical pen than Smith & Wesson, the brand behind some of the best, most reliable firearms in history? This tactical pen is made using CNC-machined aircraft-grade aluminum with a beautiful black finish, with a pocket clip that will keep the pen securely on your person at all times without ever snapping or bending. No need to fuss over twisting or clicking the pen just right; this tactical beast has a screw-on cap to protect the pen nib, but is durable enough that it makes for a beautifully effective weapon in combat. This is a pen that, like the S&W firearms, will always be ready for instant use.
Price: $35+
Material: Aluminum
Length: 5.7 inches
Weight: 1.4 ounces
Notable Features: Everything you need and nothing you don't. The no frills design is durable and clean, and is a nice chunk of metal to defend yourself with if it's all you've got on your person.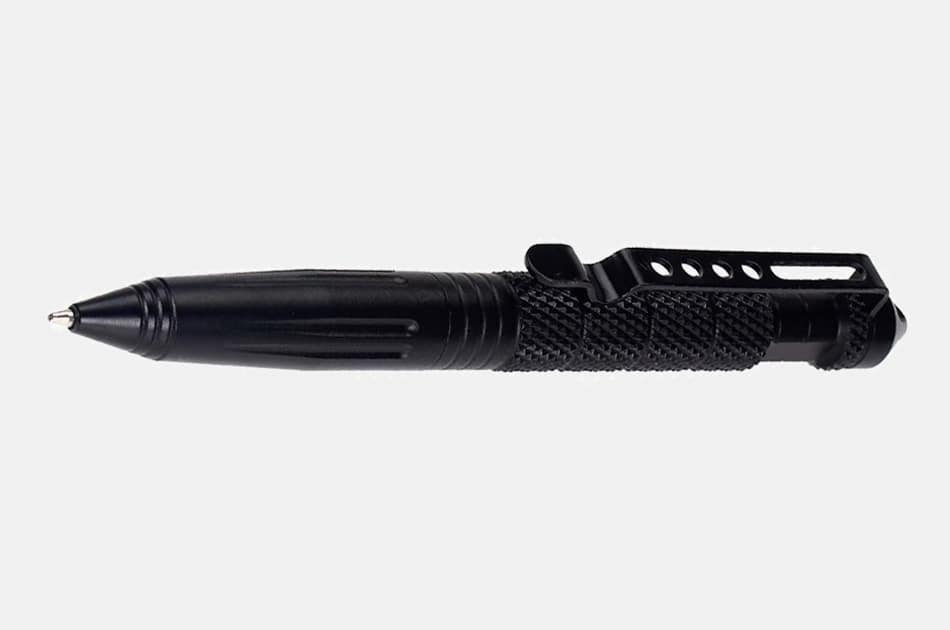 LORJE Tactical Pen
If you're looking for durability and ease of use, look no further than the LORJE Tactical Pen. Made with heavy-duty aircraft aluminum, this pen is designed for maximum tactical action and convenience both. It's incredibly durable but weighs far less than you'd expect, making it easy for you to write comfortably or fight with ease. The ultra-durable carbide tip actually doubles as a glass breaker in emergency situations, and the pen is ergonomically designed so you can grip it without straining your wrists or fingers. Slide in your pocket or hook it onto your backpack—it's a pen you can truly carry with full confidence.
Price: $10+
Material: Aluminum alloy
Length: 6 inches
Weight: 0.32 ounces
Notable Features: A lot of pen for super cheap, this version includes a lightweight aluminum construction, an ergonomic grip, and a carbide tip glass breaker that, you know, breaks glass in an emergency.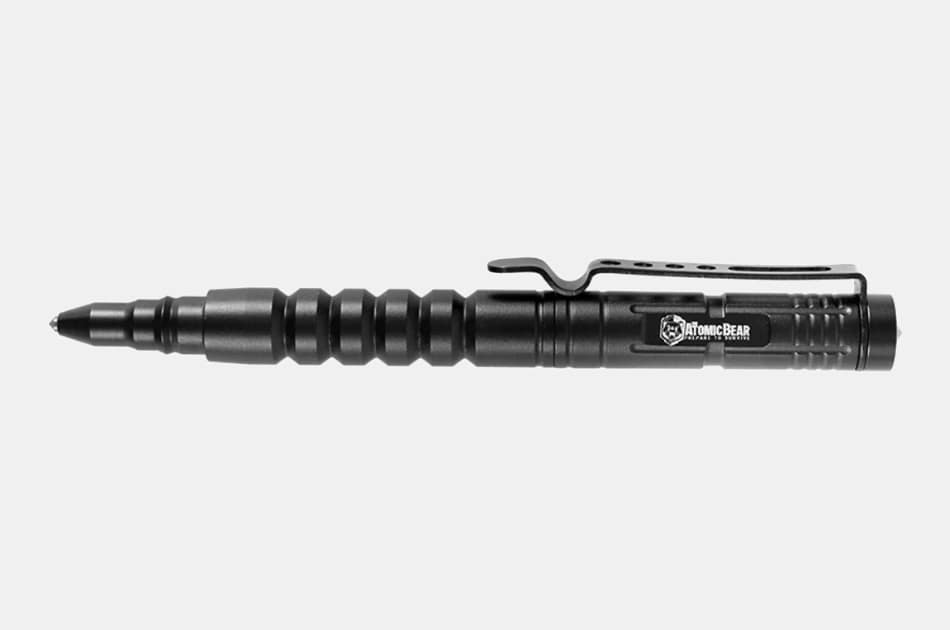 The Atomic Bear The SWAT Pen
The motto for this SWAT Pen by The Atomic Bear is "The tactical pen that can take a beating," and boy does it live up to its name. The body of the pen is made using military-grade aluminum, and it's designed to resist rust, direct impact, even the jaws of a pit bull. It's got a solid heft but is balanced beautifully—really, it just feels right in your hands. The textured grip will never slip, and for those who intend to use it as a self-defense weapon, you'll find it delivers a truly impressive strike. The Atomic Bear even offers an online class that will teach you to use the pen to its maximum, devastating potential.
Price: $17+
Material: Aluminum
Length: 6.1 inches
Weight: 1.7 ounces
Notable Features: A heavily-knurled, anti-slip design for a superior grip, lifetime warranty, a tungsten carbide tip for breaking glass, and purchase includes an Atomic Bear tactical pen self-defense online class.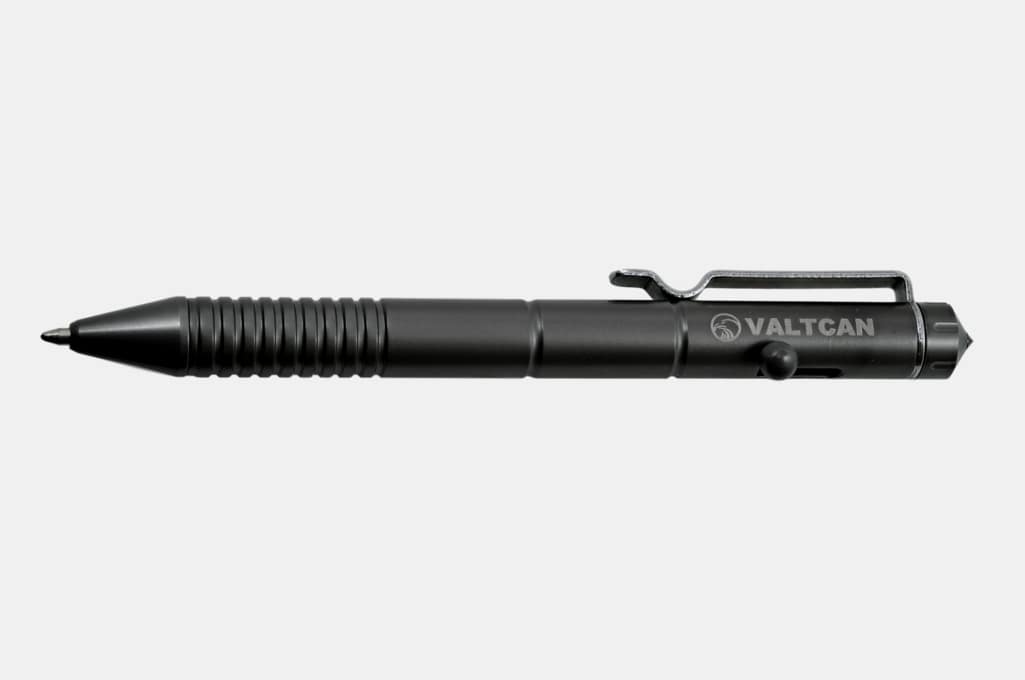 Valtcan Titanium Bolt Military Pen
Get ready for hardcore bolt-action with this top-of-the-line Valtcan pen—not just a tactical pen, but a military pen. The Titanium Bolt Military Pen is made with a durable titanium body and matte finish that looks rough-and-tough without compromising your grip on the pen. The tungsten tip will shatter any car window, making for a useful escape tool in emergency situations. It's truly the rugged military pen you'll want to carry anywhere you go so you're always prepared.
Price: $60+
Material: Titanium
Length: 5.5 inches
Weight: 1.55 ounces
Notable Features: An ergonomic grip with CNC-machined finger grooves, a bolt-action mechanism that makes using the pen a fun experience, and a titanium construction keeps the pen light yet more durable than its aluminum counterparts.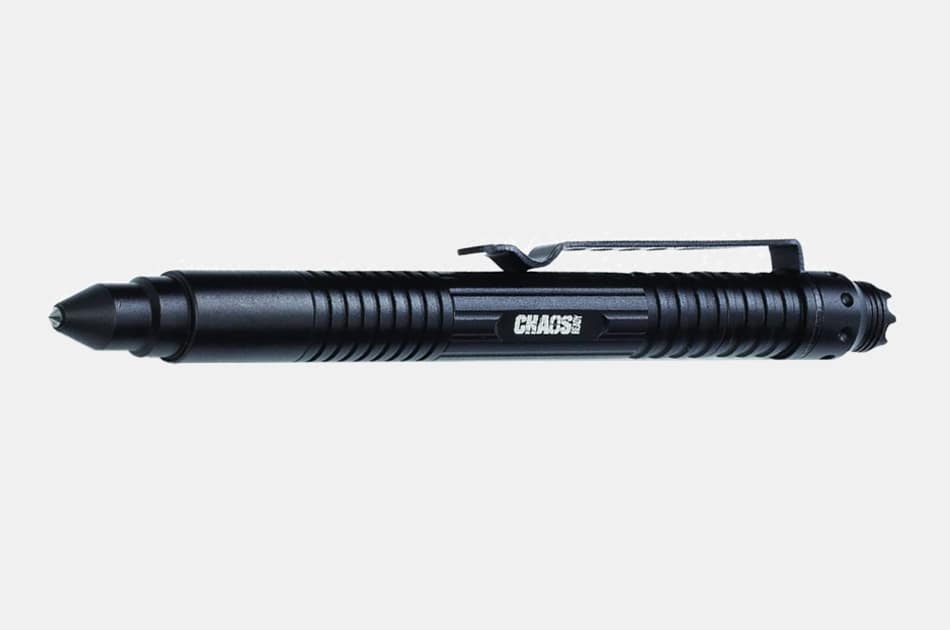 Chaos Ready Tactical Pen
You will be truly amazed by everything the Chaos Ready Tactical Pen can do. Not only does it come with a built-in LED flashlight, but the tungsten steel tip is a solid glass breaker and the cap is spiked to serve as a DNA catcher. Plus, the Fisher space pen cartridge will write even upside down, in the rain, or in extreme heat and cold. With its precision-machined aerospace-grade aluminum body, you know it's going to last you a long, long time no matter what you use it for.
Price: $16+
Material: Aluminum
Notable Features: This pen provides a lot of bang for your buck thanks to an integrated tungsten carbide glass breaker, a 60 lumen LED flashlight, and a multi-edge sharpened crown that serves as a weapon should you need one.
5.11 Vlad Rescue Pen
With the 5.11 Vlad Rescue Pen, you'll always be prepared to rescue yourself in case of a vehicle emergency. If you find yourself trapped inside your car, simply remove the cap and use the carbide tip to shatter the glass and escape to freedom. The non-slip texturized finish on the aerospace-grade aluminum body will provide a truly solid grip even in wet or muddy situations, and when it comes to writing, you'll find the pen nestles perfectly in your hand.
Price: $40
Material: Aluminum
Notable Features: A non-slip knurled grip, carbide glass breaker tip, and an overall tactical appearance we've come to expect from 5.11.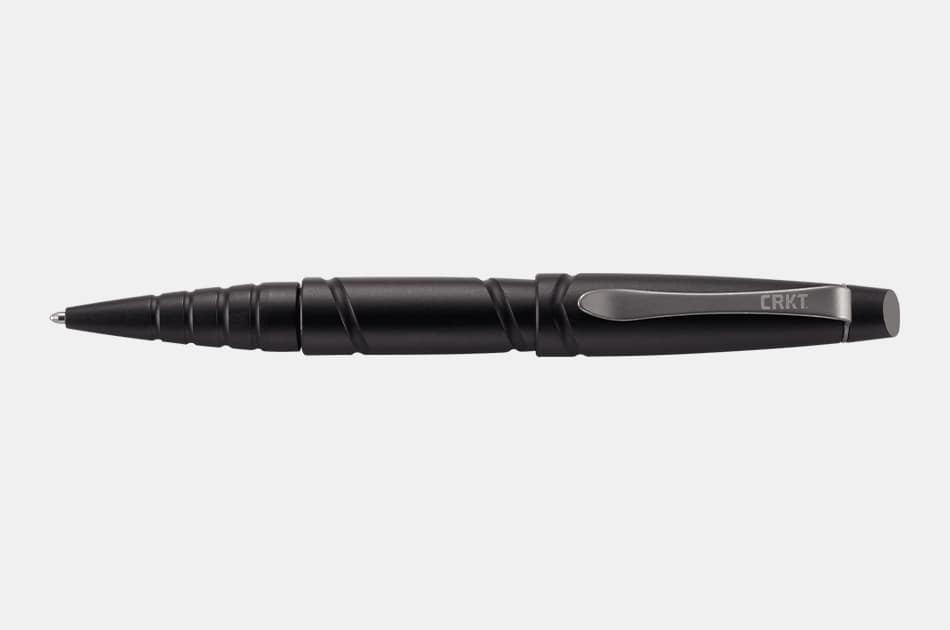 CRKT Williams Defense Pen II
Columbia River Knife and Tool is a brand dedicated to innovation and integrity, committed to crafting only the best knives and tools for your everyday use. The CRKT Williams Defense Pen II is built to their exacting standards of excellence, with an incredibly durable aluminum body and scratch-resistant finish that will stand up to even the most rugged use. Weighing just one-point-four ounces and just shy of six inches long, this pen has a low profile that makes it look discreet, but it can be instantly turned into a weapon of self-defense thanks to its sleek, sharpened tip. Designed by a former Army officer and martial arts instructor, it's definitely the tool you want to carry into dangerous situations.
Price: $52
Material: Aluminum
Length: 5.94 inches
Weight: 1.4 ounces
Notable Features: An anodized finish resists scratches, while a blunted end serves as a last-ditch-effort weapon. Built with the same pedigree as the brand's knives and tools that should make this pen last for generations.
Disclosure: Clicking on these links and making a purchase may earn us a small referral fee, at no extra cost to you. Learn more here.
freestar.config.enabled_slots.push({ placementName: "gearmoose_leaderboard_btf", slotId: "gearmoose_leaderboard_btf" });