The 10 Best Travel Watch Cases
There are a few cardinal rules when it comes to traveling with watches. For example, it's wise to bring two timepieces, just in case. Another rule, perhaps one of the most important and overlooked, is having proper storage for them. Each of the 10 best travel watch cases we've rounded up here ensure your wristwatches stay working, unblemished, and at your disposal.
Consider a few of these nightmare situations. You fall asleep on the train and you wake up to a watch-shaped tan line where your chronograph used to be. Or, you get back from a business trip, and you can't find the dress watch that you swaddled with a protective barrier of soft sweaters in your suitcase—only to find it a year later in the bag's lining.
Of course, our curation of travel watch cases here represents a range of personal styles and price points.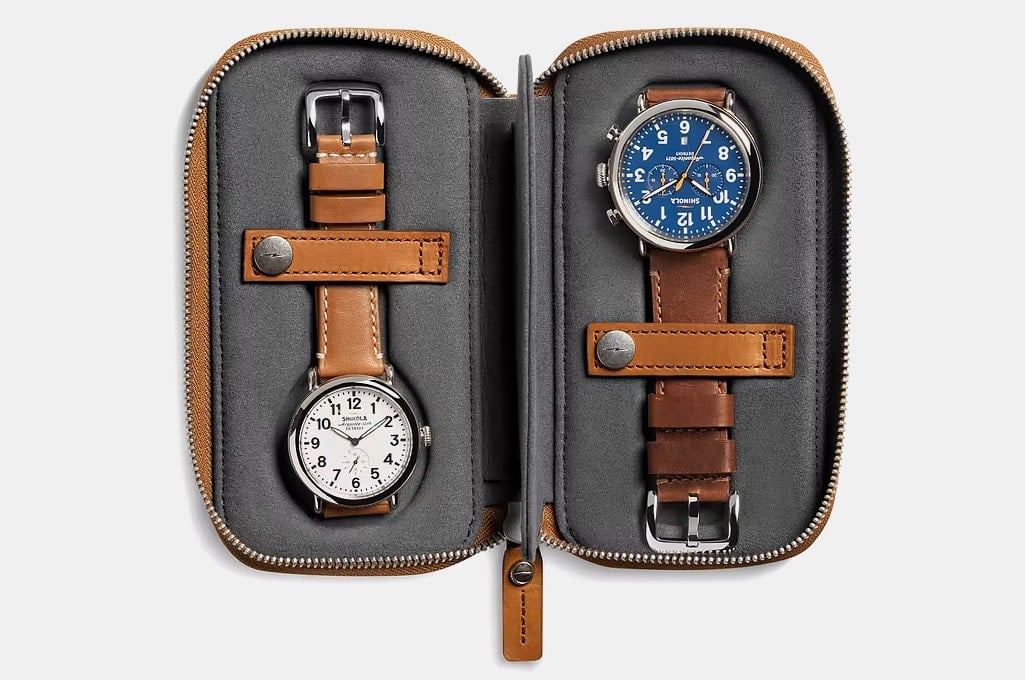 Shinola Travel Watch Case
The Shinola Travel Watch Case is so unobtrusive, it can go in almost any pocket, nook, or cranny in your suitcase or backpack. Part of that is thanks to its flat design, making slipping it into your bag as easy as slipping a folder into a file cabinet.
It's also because the leather keeps your watches protected on the outside, while the microsuede two-watch capacity interior ensures they stay put inside. Shinola also goes with some dapper Italian leather here. It comes in black, navy, or tan vachetta, and is vegetable tanned, meaning it will patinate beautifully as it ages.
Price: $250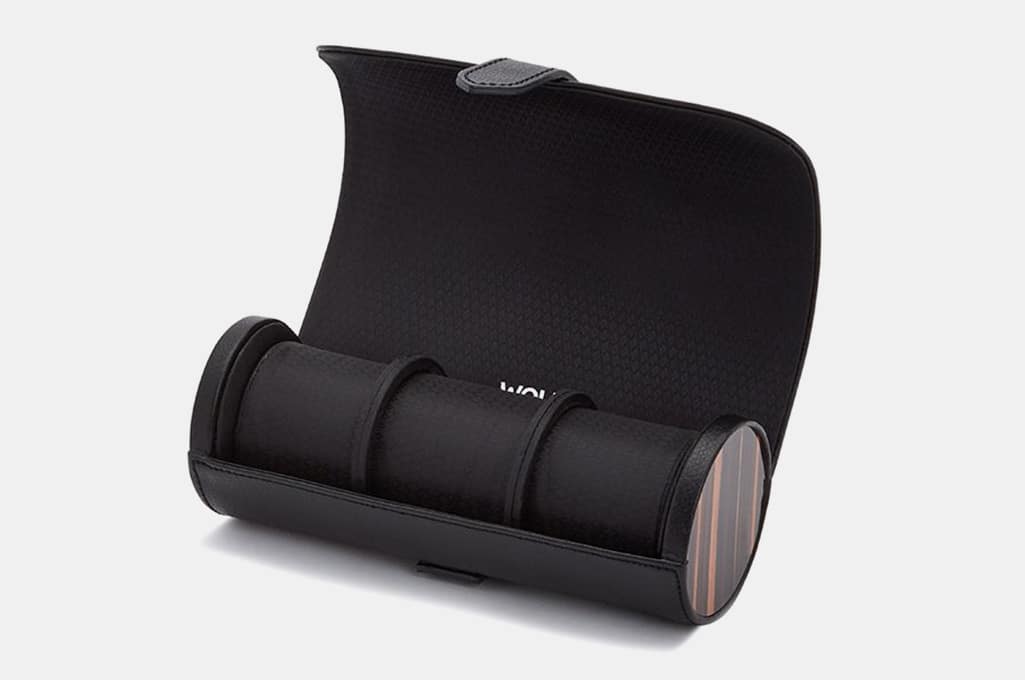 Wolf Roadster Watch Roll
The Roadster Watch Roll from Wolf takes its design cues straight from British sports cars like Jaguar and Aston Martin. This is showcased in its clean lines and macassar ebony end panels that look like they came right out of the interior of a vintage Rolls-Royce.
The three-seater is lined with diamond satin and protected by patented watch guards that keep your passengers from banging around in there. The interior role even doubles as a jewelry capsule. The box itself is made of exquisitely pebbled vegan leather and is vegetable-tanned using a non-toxic process.
Price: $245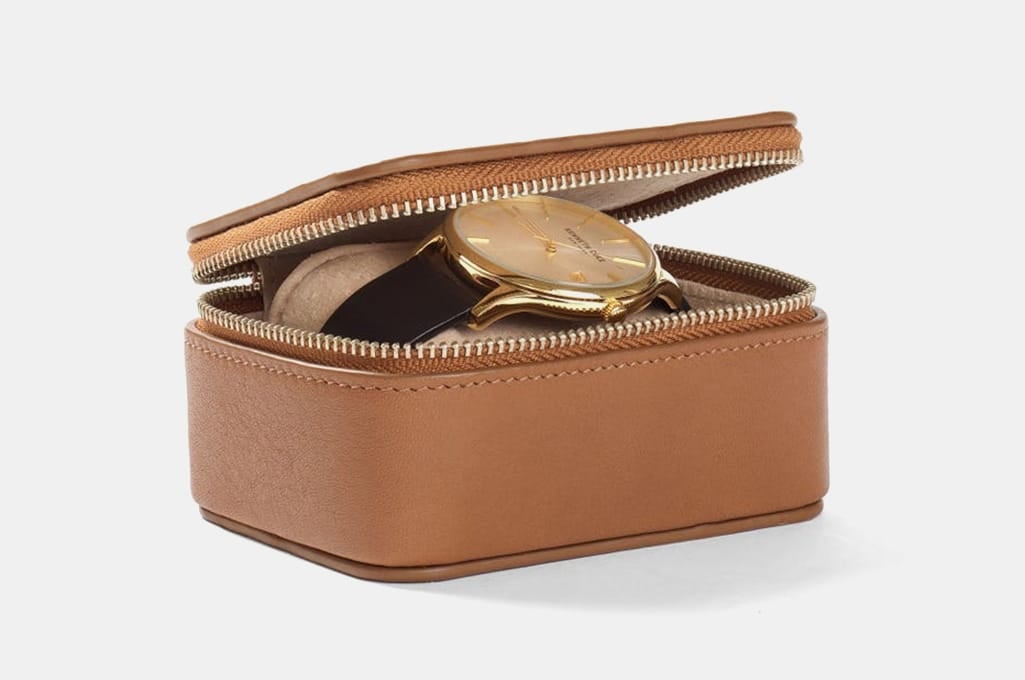 Leatherology Travel Watch Box
A bona fide two-in-one, Leatherology's Travel Watch Box is so elegant, it's like a display box that you can take around with you. The exterior is supple full-grain leather accented with stately nickel hardware, while the interior is lined with beautiful pig tan suede, giving your watch a luxe background as it sits on the removable cushion. Still, it's compact and secure enough to travel with you. Moreover, you can store small items in the elastic swede pocket along the interior.
Price: $85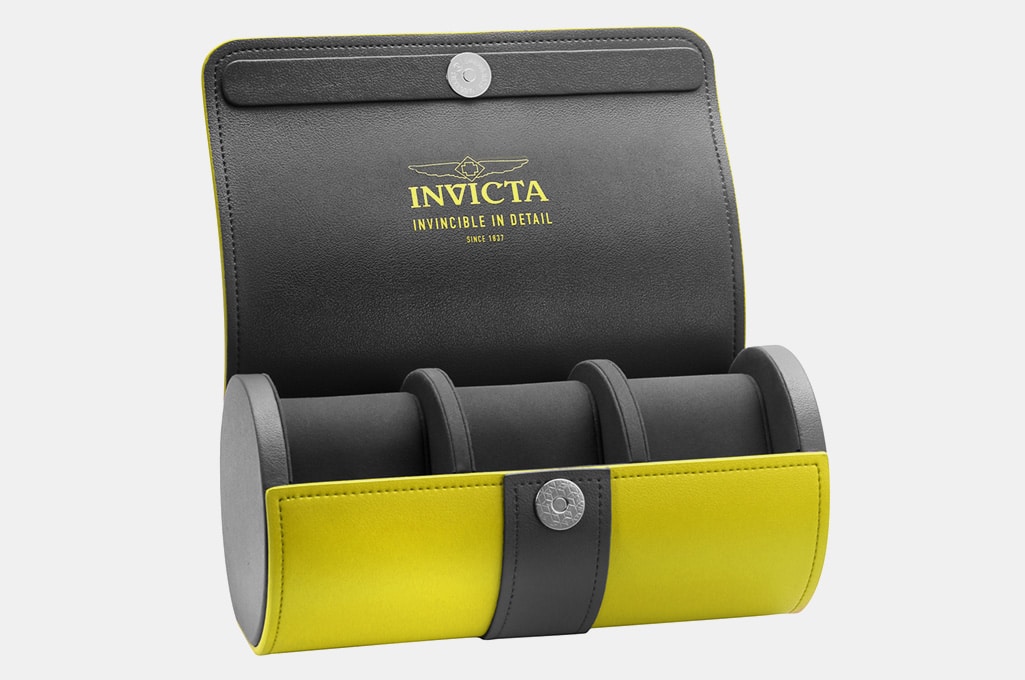 Invicta Watch 3-Slot Watch Roll
The thing I like about watch rolls is that they're often solid enough that you can just throw them in your travel bag. Not only is that the case with the super protective Invicta Watch 3-Slot Watch Roll, but this guy also has a lot of personality. The watches sit flush and safely inside. Design-wise, it flaunts a bright racing yellow shade with gunmetal gray accents, and an ornamental dragon mask cluster. This also serves as a doorknob of sorts, giving you something to grab, making it easy to open and shut the roll.
Price: $50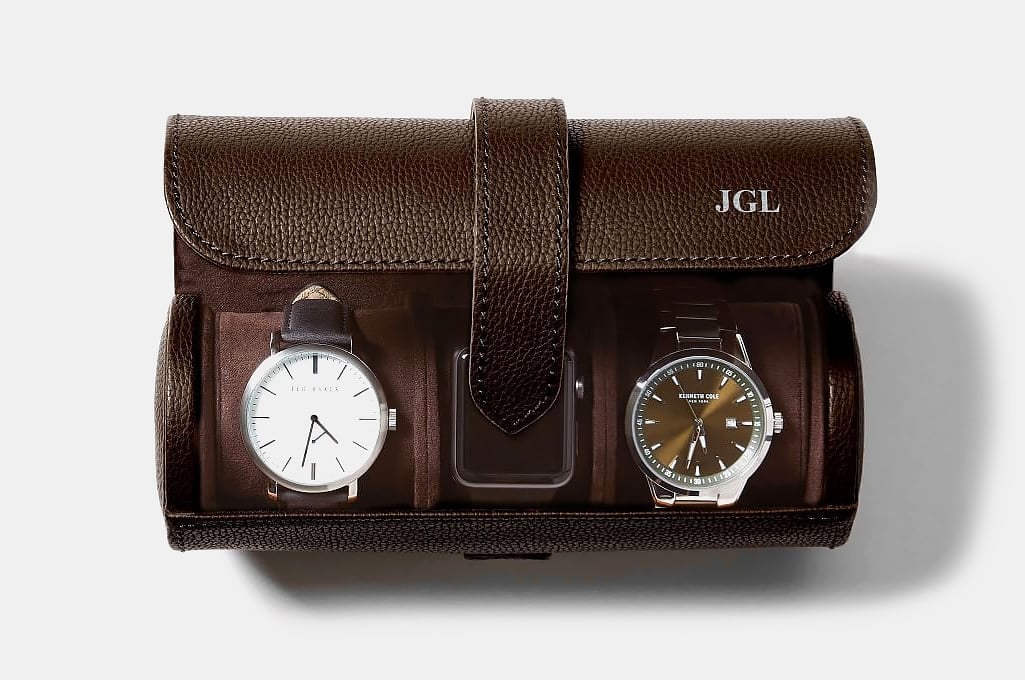 Mark & Graham Travel Watch Roll
Avoiding theft is one of the reasons to keep your watches in a case while traveling, and nothing tells a would-be thief "not yours" than the personalized Travel Watch Roll from Mark & Graham. You can get this polyurethane roll, which by the way is resistant to water, oil, and tears, monogrammed with foil debossed letters. The double snap closure is tight yet easy to use, while the hidden compartment inside is perfect for small accessories like rings, or cufflinks for you fancy gents.
Price: $119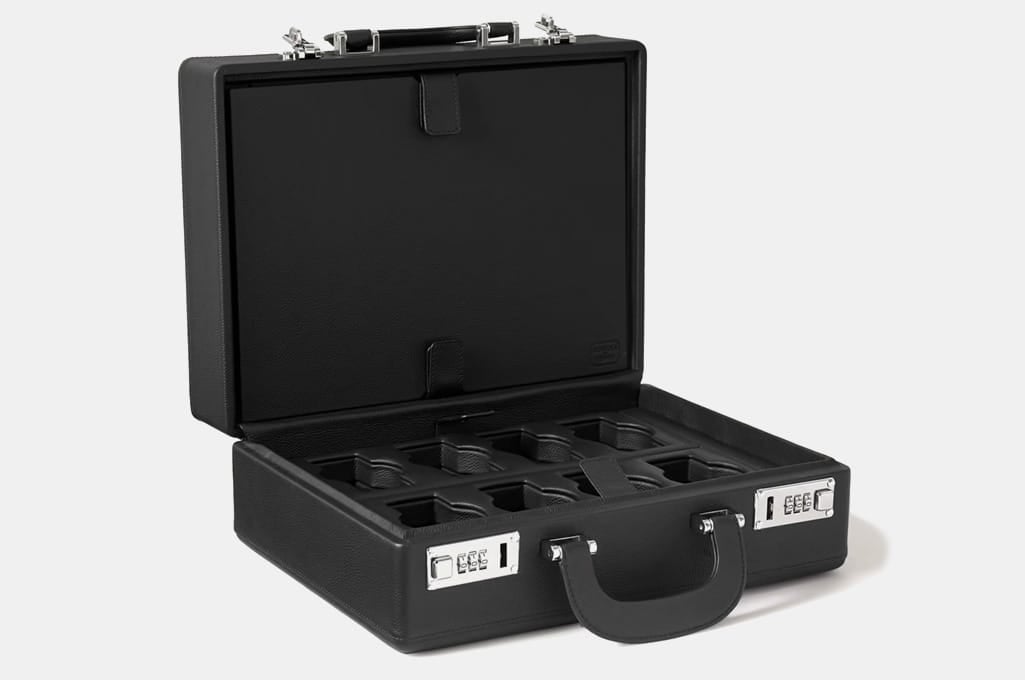 Scatola Del Tempo 16-Piece Travel Watch Case
The Scatola Del Tempo Travel Watch Case holds 16 whole watches, and is basically a traveling vault in the shape of a handsome suitcase. If you've got a long trip ahead of you, this is the case to go for. It's crafted from full-grain black cow leather, embossed with the Scatola Del Tempo logo (in the corner for subtlety), and fortified with attractive silver-toned hardware.
One of the pieces of hardware? The combination-lock fasteners on each side of the handle. It's leather-lined and can hold any wrist accessory, including bracelets, which means you can share the storage space with the missus.
Price: $1,930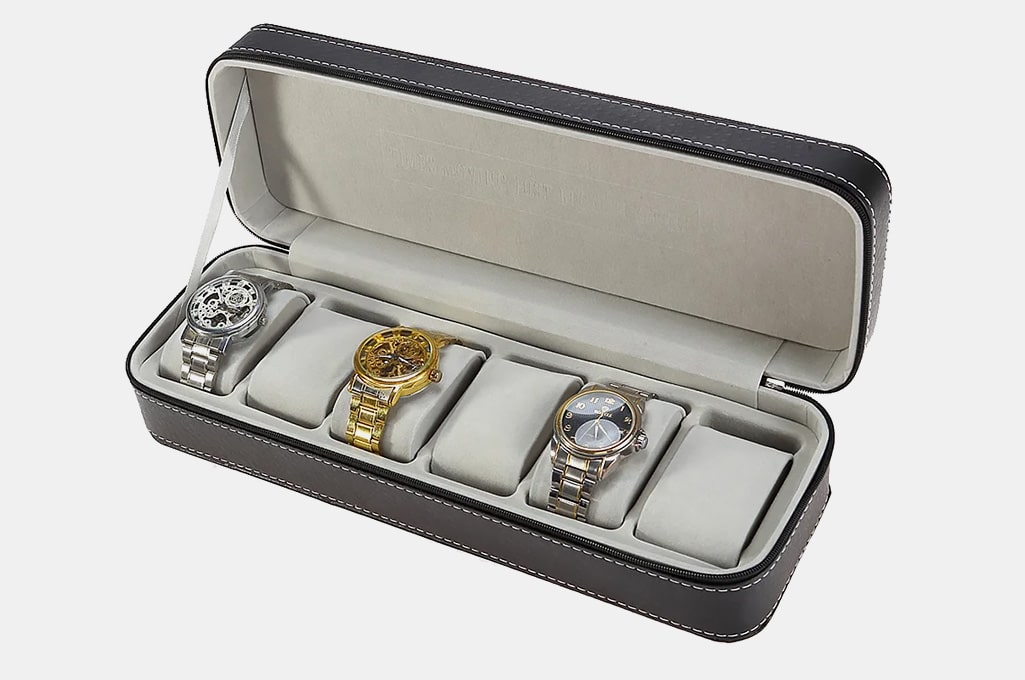 Red Barrel Studio 6 Watch Travel Case
With its velvet seating and tough leather construction, the Red Barrel Studio 6 Watch Case boasts a protective construction. It's waterproof and dustproof, ensuring your watches are safe in any weather or travel conditions, as well as from accidental drops. It's designed to fit inside your suitcase's inner pockets, but has the capacity to survive falling out of it, regardless of how loosely packed it is. This case also gets points for convenience, since it's so easy to clean.
Price: $39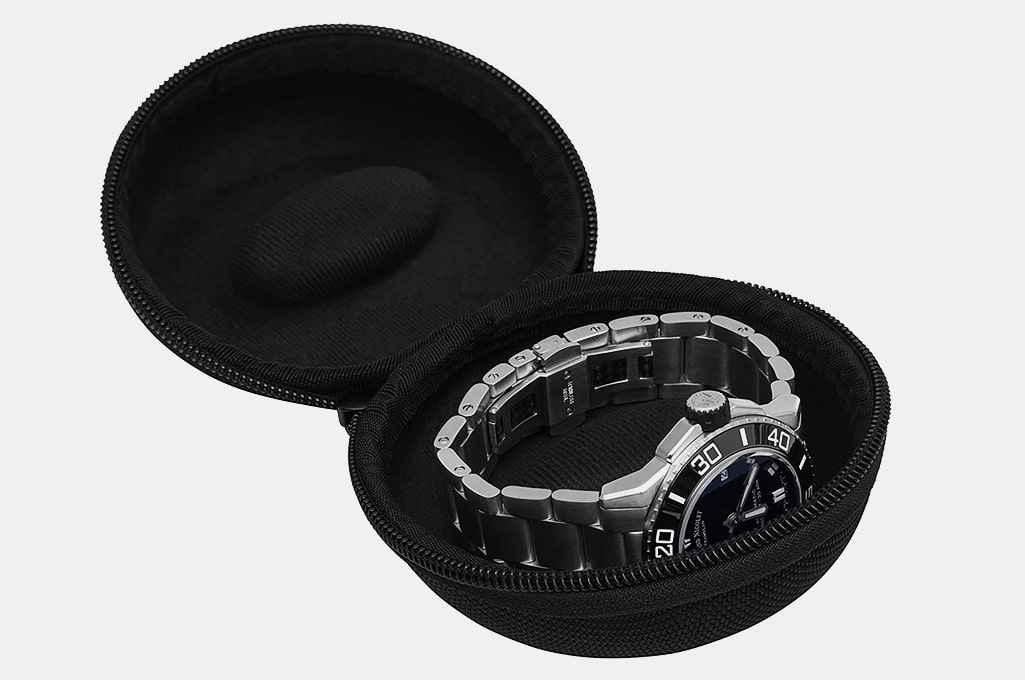 WATCHPOD Travel Watch Case
What the WATCHPOD Travel Watch Case uniquely offers is easy placement and removal. No cushion case to pull out, attach it to, then put back in. No extra pieces beneath or above the watch's seat. You can literally just pop the watch in place, or out of place, before you zip it up, because the case's doughnut shape keeps it secure during travel. Plus, it's made out of nylon, which is lightweight, strong, and waterproof.
Price: $15+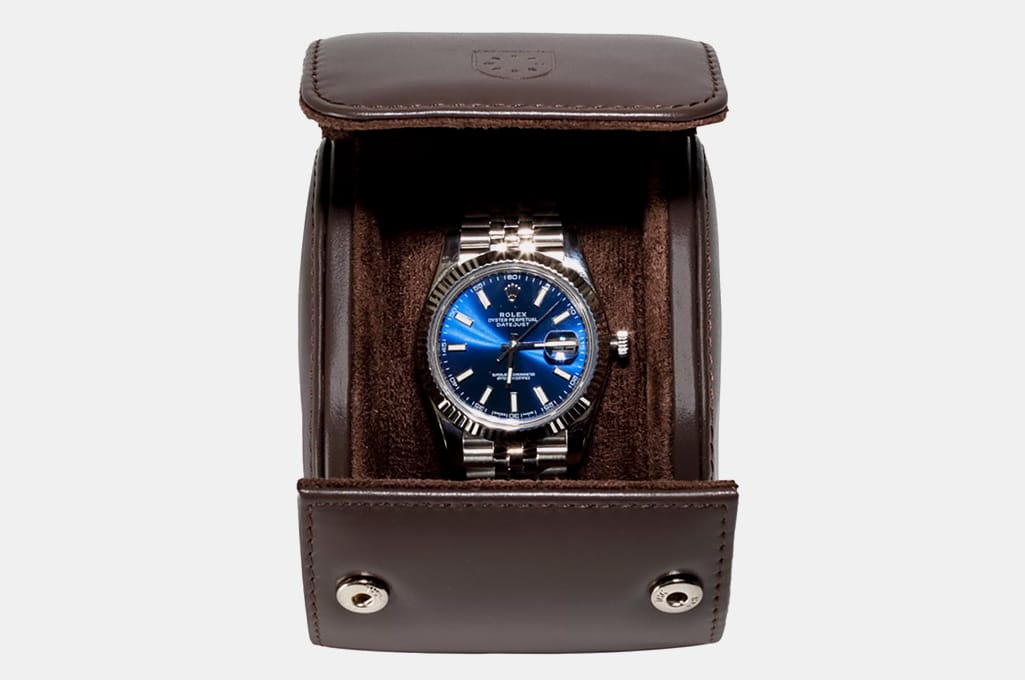 Billstone Voyager Watch Travel Case
Like a spaceship escape hatch, the Billstone Voyager Watch Travel Case features a top door and bottom door, which secure your watch by buttoning to each other. It also looks pretty cool when it's fully opened up. The stout and round-edged shape of this case sits well in your travel bag, especially if you use the rolled clothes technique when packing. It's so sturdy, it'll protect your timepiece even if your suitcase is at the bottom of a heavy pile.
Price: $75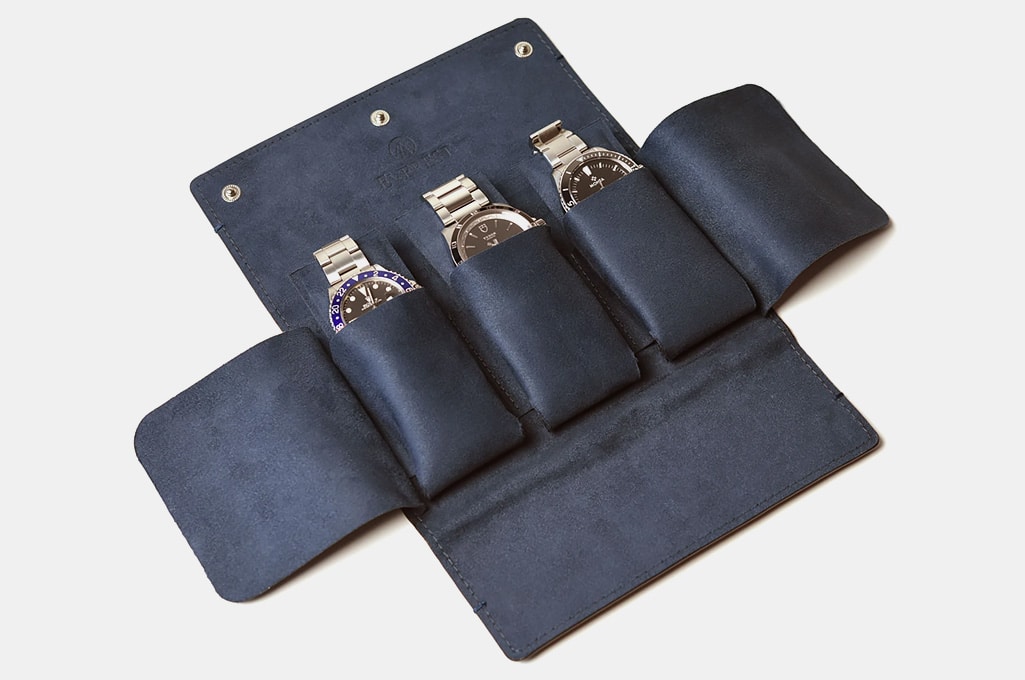 Everest Leather 3 Watch Wallet
The Leather 3 Watch Wallet from Everest is a conveniently-sized, one-inch thin pocket book with individual built-in pouches for three timepieces. This way, the watches won't rub up on each other. Overall, the entire pouch is sleek and easy, both in its design and packability. The unaltered Italian leather is springy and strong, while the Swiss microfiber interior is soft against your watches, but durable enough to protect them. Each wallet is hand-crafted, giving it an arty street cred.
Price: $195
Disclosure: Clicking on these links and making a purchase may earn us a small referral fee, at no extra cost to you. Learn more here.
freestar.config.enabled_slots.push({ placementName: "gearmoose_leaderboard_btf", slotId: "gearmoose_leaderboard_btf" });