The 25 Best Men's Polo Shirts
It's been a style choice that's undergone a lot of changes through the years — from the brightly colored iterations of the '90s and '00s to its resurgence as a style favored by James Bond, so there's a great case for stocking your wardrobe with one of the 25 best men's polo shirts.
The polo shirt is a summer style essential that can be both breezy and casual or dressed-up and refined. Today's best polos are cut slim, made with breathable, versatile fabrics and available in colors that are subtle, stylish, and definitely not too bright or loud.
A great polo shirt can upgrade your style where a simple T-shirt wouldn't (although a slim-fitting T-shirt can even work with a suit nowadays); you can rock a polo on its own with chinos and white sneakers, or you can pair with pieces like your favorite pair of slim chino shorts. Grab one, grab two, or grab all 25 — there's plenty of time this spring and summer to wear them on repeat.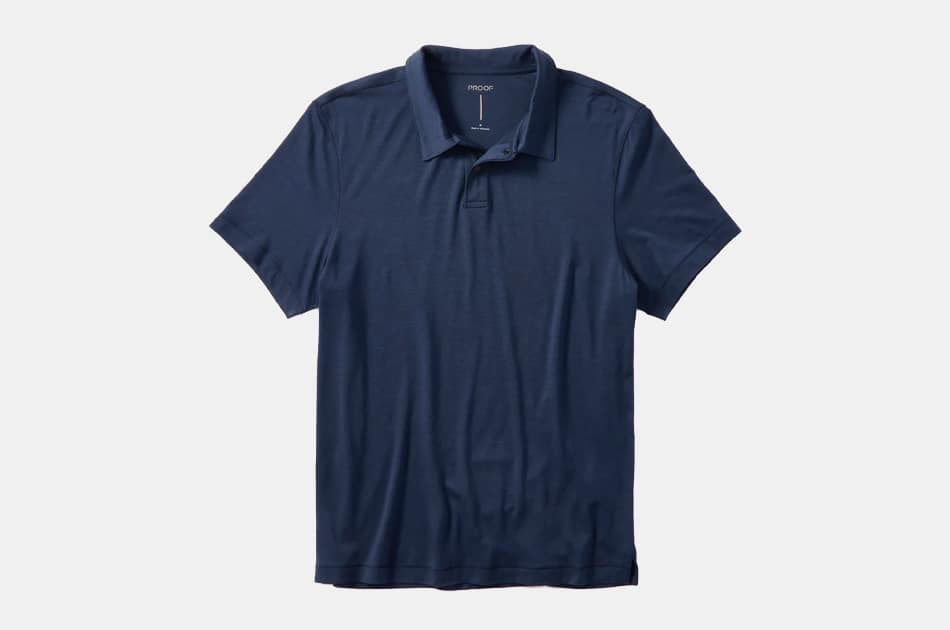 Proof 72 Hour Merino Polo Shirt
Most polo shirts are now a cut above the rest — forgot the baggy, overly stuffy polos you might have worn back in high school or college. No sir, the Proof 72-Hour Merino Polo is one of the best men's polo shirts you can spend your money on, made with versatile merino fabric for extra breathability and moisture-wicking qualities. From the links to the runway to an evening on the town, the Proof 72-Hour Merino Polo just gets the job done. Plus, the two-button placket is visually interesting and subtly stylish — in short, this has all the qualities you should look for in a summer weight shirt.
Price: $88
Materials: 89% 16.5 micron merino wool, 11% nylon
Notable Feature: Odor-resistant, temperature-regulating, and moisture-wicking.
Rhone Delta Pique Polo
It's ideal when you find a menswear essential that you can wear in more than just one situation — take the normally humble polo, for instance. Rhone has flipped the traditionally preppy style staple on its head with its Delta Pique Polo, a crisp and fresh polo shirt made to cool your body while maintaining its fit and feel. All of that is to say, this is a new modern classic, made to wear for 18 holes on the course and then just as stylish and durable to wear to drinks afterward. We'd pick up one in every color if we could.
Price: $88
Materials: Lightweight pique mesh fabric with cooling yarn technology
Notable Feature: Flatlock stitching; seams never rub or chafe
Relwen Jersey Stripe Polo
Relwen is a brand that focuses on delivering heritage-quality items, each painstakingly crafted and designed to ensure you are clothed in the latest fashions and longest-lasting materials. Reliability meets comfort in the Jersey Stripe Polo, a shirt made from a lightweight cotton jersey that can stand up to the summer heat and the fall/spring cool. The smile-shaped collar will frame your neck and accentuate your jawline, while the split-tail side seams give you more room to move easily and tuck in the shirt at the back if you prefer. Thanks to its garment-washed finish, it's comfortable and beautifully soft from the first day you wear it.
Price: $98
Materials: 100% cotton, yarn-dyed finespun jersey, 4.3 oz
Notable Feature: Designed for reliability and durability; should last 10+ years.
Todd Snyder Fine Pique Polo
The polo's sporting origins are channeled into modern style by one of our favorite menswear designers, NYC's own Todd Snyder. The polo is a classic-yet-modern menswear staple that's far from stuffy or overdone when designed by Snyder. In fact, this particular take on the polo gets a breezy fabric upgrade thanks to the use of Turkish cotton-tencel for stretch, comfort and breathability. This is an all-day polo to wear as often as you can this season (in any colorway you like).
Price: $156
Materials: 51% Cotton 47% Tencel 2% Lycra
Notable Feature: Sophisticated style, great for pairing with a sports coat.
Rhone Commuter Sport Polo Shirt
The thing about the best men's polos these days is that so many brands are going beyond the typical in terms of fabric, design and construction. In fact, many polos these days are downright modern and stylish — such as, for instance, the Rhone Commuter Polo Shirt. Four-way stretch fabric — fabric that just so happens to be moisture-wicking and quick-drying — sets this polo apart from the average, and it's also available for a very affordable price at the moment.
Price: $98
Materials: Unspecified "Italian fabric"
Notable Feature: Beautifully lightweight and flexible
Forty Five Supima Polo
Kick it old-school with this vintage-inspired polo shirt by Forty Five. Named after the 45 RPM record that forever changed music, the brand blends the classic and modern in an age-defying style that suits every body type and personality. The Supima Polo is made using tough, soft Supima cotton grown in the USA, and the result is a hard-wearing shirt that holds its shape while still being breezy-soft and cool. The simple design highlights the classic look to accentuate your physique, and it's roomy enough to wear on its own while still being sleek and suited to wear beneath a jacket. Wear it tucked or untucked, it'll still look amazing. Thanks to its garment-dyed treatment, it will always have the vintage look that will make you stand out from the pack.
Price: $68
Materials: 100% USA-grown Supima cotton
Notable Feature: Tailored sleeve length and opening for a modern fit.
Olivers Venture Polo
Looking for a polo to wear out on your next beach day or lake trip? Olivers' Venture Polo is an amazing choice to stay cool even under the heat of the summer sun, thanks to the "CoolMax" cotton and synthetic fabric. It's both quick-drying and moisture-wicking, and you can take it hiking, playing tennis, or lounging around town in equal comfort. You'll love how durable it is, made to last for years of athletic and active use, but it's still silky-soft against your skin. Look your best and stay cool and comfy all day long in this sleek and stylish polo.
Price: $108
Materials: 63% cotton and 37% CoolMax fibers
Notable Feature: Moisture-wicking and quick-drying fabric; great for athletic and active use.
Wellen Newport Polo
There's just something striking and bold about the Wellen Newport Polo. Though its colors are simple and the design your standard polo, the pattern is eye-catching and the shirt looks as soft and comfortable as it feels. Pair it with light-colored jeans to really turn heads, or wear it beneath a sports coat for a night out on the town. It's just an easy-wearing shirt you'll love using year-round, and it's both lightweight and breathable enough to serve as a base layer in cold weather and on its own in summer. Best of all, it's a paragon of sustainability, made using tough hemp and organic cotton. Now that's a shirt you'll be proud to own.
Price: $68
Materials: 55% hemp, 45% organic cotton
Notable Feature: Subtly stylish striping is a nice change from standard solid colored polos.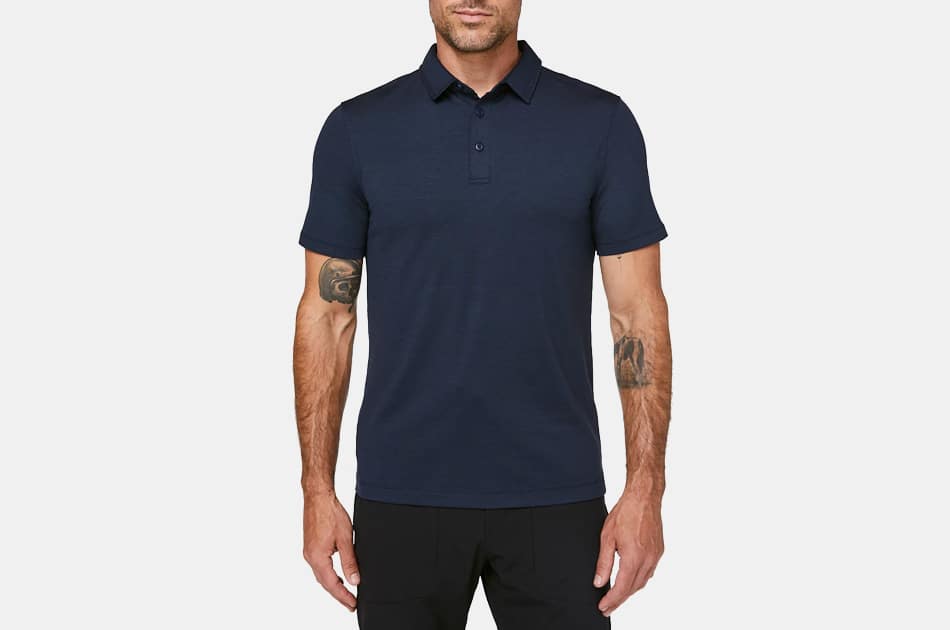 Lululemon Evolution Polo
It's time to give lululemon menswear a shot if you haven't in the past, and that's as true for its hard-wearing and durable workout gear as it is for off-duty staples like the Lululemon Evolutionn Polo. In a clean silhouette and in smart colors like a versatile shade of navy, this polo, as the brand says, is "anti-stink" and made from soft, four-way stretch fabric for all-day comfort.
Price: $88+
Materials: 82% Polyester, 10% Lyocell, 5% Lycra elastane, 3% X-static nylon
Notable Feature: Slim fit for athletic physiques, sports-friendly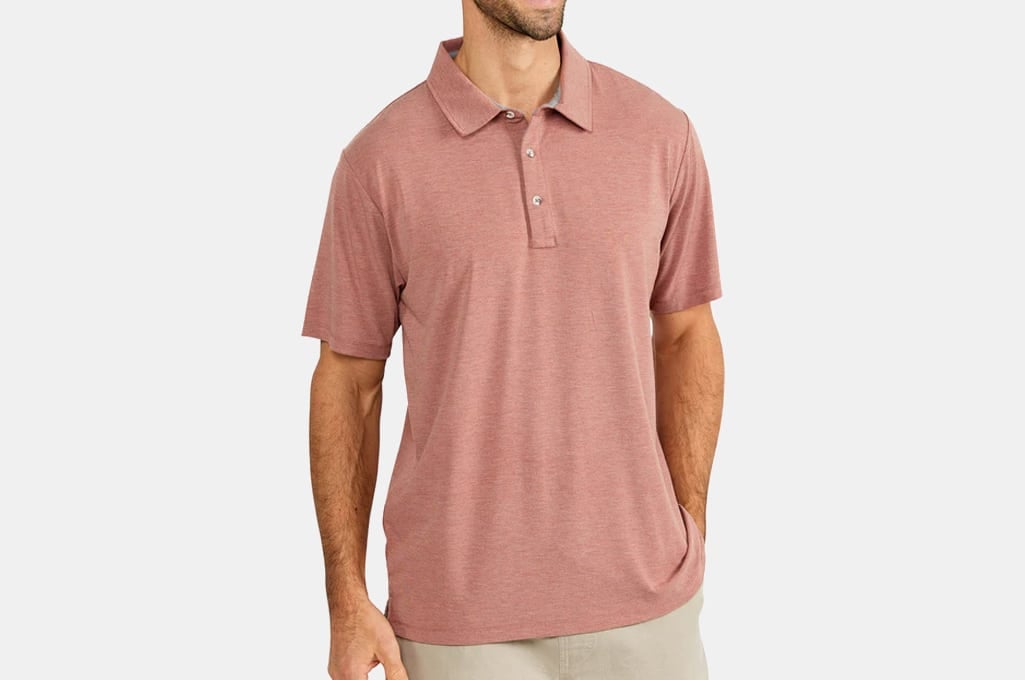 Free Fly Men's Bamboo Flex Polo
Dress this polo up with a sport coat or jacket, or dress it down with your favorite board shorts or Bermudas—however you wear it, it'll always keep you looking your best. The Free Fly Men's Bamboo Flex Polo is made using viscose derived from bamboo, a fabric that is both sturdy enough to withstand active use and cloud-soft. It's beautifully flexible, with all-way stretch that will keep you moving easily through any sport or outdoor activity. Best of all, it comes with UPF50+ integrated into the fabric to keep your skin shielded from the sun. The premium-weight polo just feels right on your body all day long.
Price: $68
Materials: 64% Viscose from Bamboo / 28% Polyester / 8% Spandex
Notable Feature: UPF50+ protection
KÜHL AIRKÜHL Polo Shirt
Whether you're hiking, kayaking, or playing a round of golf, the KÜHL AIRKÜHL Polo Shirt is a great option to keep you cool and comfy. Made using a blend of polyester and spandex, it's soft and stretchy, perfect for flexing with your tennis or golf swing. It's also hardy and durable, capable of withstanding use out in the forest, mountains, or on the campground thanks to its abrasion-and snag-resistant fabric. Pair UPF50+ sun protection with an odor-resistant treatment and peerless breathability, and you have the ultimate polo shirt for any adventure-loving guy.
Price: $69
Materials: Fabric: 85% Ultra-soft premium Polyester 15% Spandex
Notable Feature: Odor-resistant treatment, excellent breathability.
Vuori Strato Tech Polo
If it's the laidback comfort of your favorite T-shirt that you want as you search for your new favorite polo, you're in luck. Although that combination seems darn near impossible to get right, Vuori has managed to do so with the Strato Tech Polo, a highly affordable and highly stylish take on the modern polo shirt. Wear it with tan chinos or the brand's famed joggers for relaxed and comfortable style this season.
Price: $54
Materials: 96% Polyester, 4% Elastane
Notable Feature: Stylish but still workout-friendly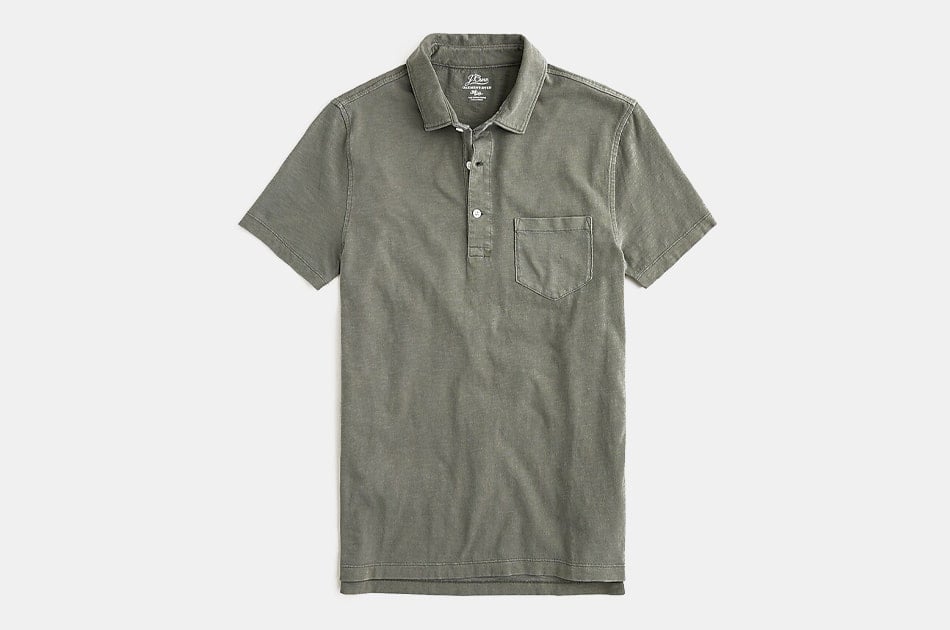 J.Crew Garment-Dyed Slub Cotton Polo Shirt
Is it any wonder that J. Crew makes one of the best men's polos — and does so at an agreeable price, for that matter? The Garment-Dyed Slub Cotton Polo Shirt is a menswear staple you'll want (and need?) to wear all season, made with classic J. Crew quality and the easygoing feel you  only get from garment-dyed knitwear from the brand. Wear it with some expertly cut chinos from J. Crew for a warm spring or summer evening.
Price: $45
Materials: Garment-dyed slub cotton
Notable Feature: Color will soften over time for a uniquely "imperfect" look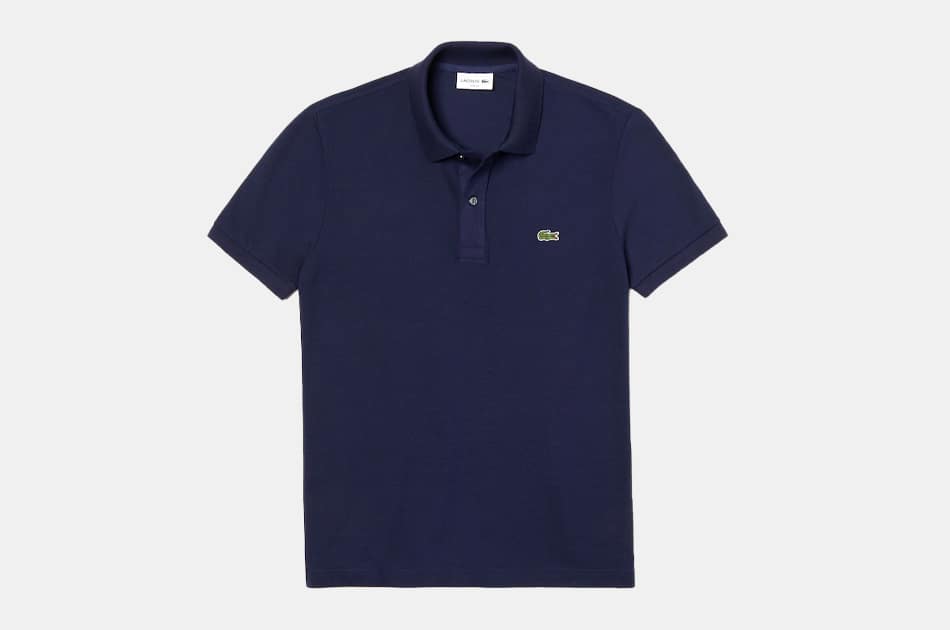 Lacoste Slim Fit Piqué Polo
It really wouldn't be a list of the best men's polos without including a pick from the brand that pioneered the form and function of this now-legendary silhouette, would it? The Slim Fit Pique Polo is an iconic take on the style, one that never fails to impress or to match up with everything from slim light wash denim and leather loafers to tan chinos and sharp grey leather sneakers. Wear it as often as you can, in as many ways as you can, this spring and summer.
Price: $98
Materials: 100% cotton petit piqué
Notable Feature: Classic styling with a modern fit make it the perfect all-season addition to your wardrobe.
Under Armour Tech Polo
Whenever you want hard-wearing, athlete-friendly sports clothing, Under Armour is always a brand to consider. This Tech Polo is the perfect choice for a day on the tennis courts, golf course, or even the soccer pitch. The pure polyester shirt is textured for comfort, breathability, and softness, and does an amazing job of wicking moisture away from your skin to keep you dry and cool no matter how hard you sweat. The 3-button placket keeps it classy (even for an athletic shirt), and the cut will hug your broad shoulders just right to accentuate your best physical attributes. Get active and still look your best in this shirt.
Price: $39
Materials: 100% Polyester
Notable Feature: Material wicks away sweat and dries insanely fast.
Mack Weldon Vesper Polo Shirt
Perhaps the best polo introduced this summer season comes from a brand who draws on style inspiration from 007 himself. The Vesper Polo — named for 007's original martini — uses a micro-mesh fabric for extra breathability, and comes with modern details like a slim fit & a two-button collar that stands on its own underneath a suit or a lightweight summer jacket. It's available in four neutral and very versatile colors — the navy shade would be ideal to rock as Bond does, with a pair of beige chinos and brown suede chukka boots in warm weather. It's perfect secret agent summer style made easy.
Price: $78
Materials: 47.5% Combed Cotton / 47.5% Modal / 5% Polyester
Notable Feature: A breathable micro mesh keeps you cooler during the hotter months, while a stay put collar resists rolling.
Fair Harbor Atlantic Polo
Looking for a "greener" polo shirt? The Fair Harbor Atlantic Polo sets out to make the world a cleaner place by using 9 recycled bottles for the polyester content of every shirt, and blending it with just enough organic cotton that it's insanely soft and comfortable for even the hottest days. The cut is modern and trim, great for wearing out on a boat or to a fancy restaurant, and the bold color choices will turn heads everywhere you go. It's soft, breathable, and resistant to sweat and damp, so you can wear it even in the rain.
Price: $64
Materials: 52% Organic Cotton and 48% Recycled Polyester
Notable Feature: Each shirt is made using the plastic from 9 recycled bottles.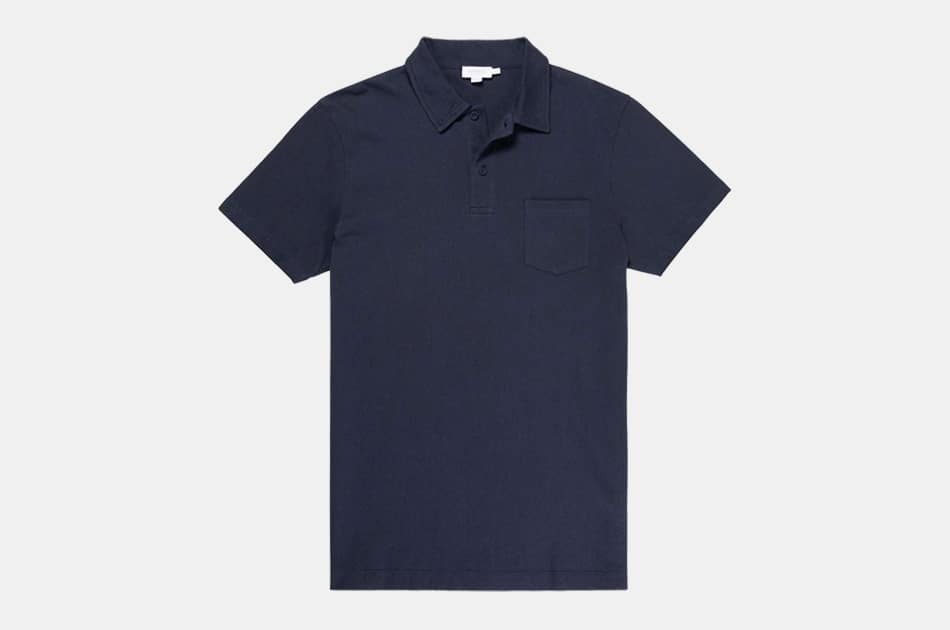 Sunspel Riviera Polo Shirt
As if the above homage to the polo worn by James Bond wasn't enough, this list wouldn't be complete without the style pioneered by the secret agent in the groundbreaking film Casino Royale. The Riviera is a timeless classic, cut with a modern fit and a two-button collar for a breezy-yet-tailored feel. The Navy color is the same shade worn by 007 in the film, and while the price is definitely an investment, it's one that's worth making if you want to channel seriously killer style — that holds true if you're heading to a casual patio date or out on the town.
Price: $150
Materials: Lightweight cotton mesh
Notable Feature: Originally tailored for Daniel Craig in Casino Royale, it's the embodiment of James Bond's effortless cool.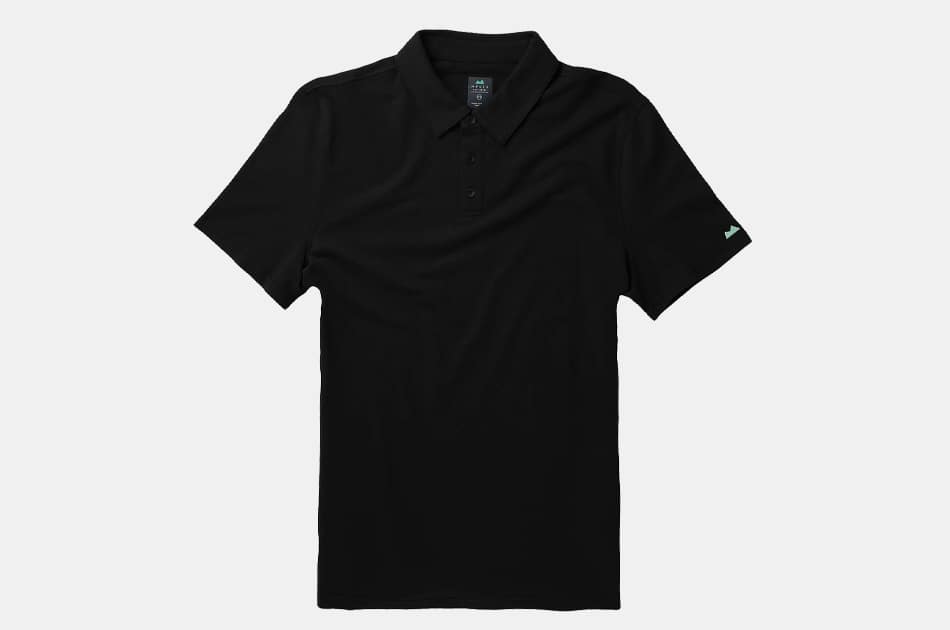 Myles Apparel Tour Polo
We love the crisp color and innovative fabric on display with the Myles Apparel Tour Polo, and we think you'll feel the same way. After all, every guy needs a sharp polo, and it helps if said polo is unlike the old-school number in your closet now. It's the soft performance fabric that's the real kicker here, blending cotton, spandex, and modal for comfort, stretch, a smooth feel, and a great wearing experience. Make it your go-to spring and summer polo.
Price: $68
Materials: 48% Modal / 48% Organic Cotton / 4% Spandex
Notable Feature: UPF 50+ sun protection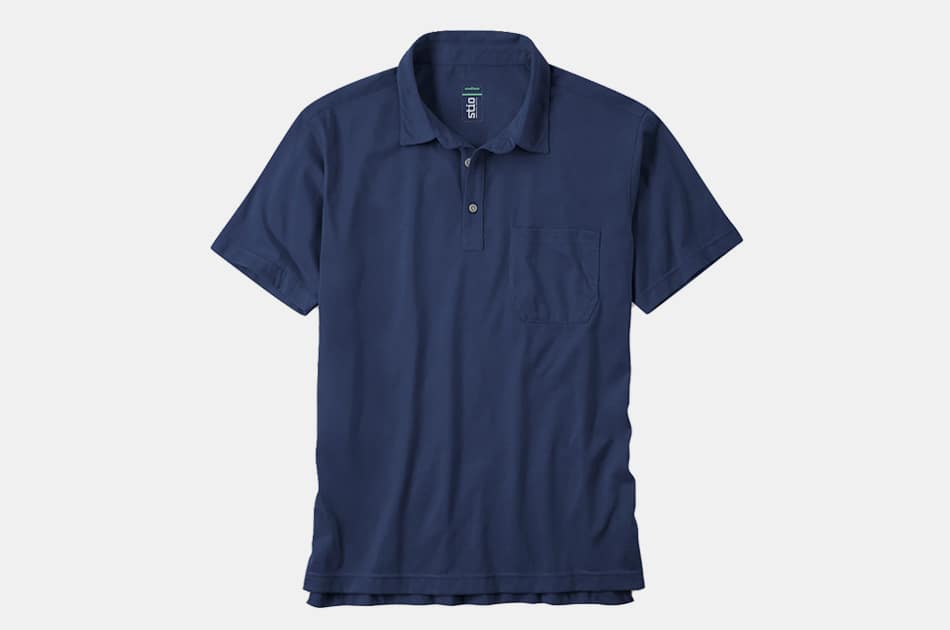 Stio Men's Divide Polo
Finding one of the best men's polo shirts is tricky enough as it is, and even trickier is the fact that it's often tough to find one for a bargain. Those days are long gone if you make the right call, though. By that, we're talking about the fact that the Stio Men's Divide Polo can provide expert style and comfortable fabrication for a stellar, sub-$70 price. Make it your new go-to shirt for spring and summer.
Price: $69
Materials: 85% Recycled Polyester 15% Organic Cotton
Notable Feature: Neutralizes odors and dries quickly
Travis Mathew Zinna Polo
What sets the Travis Mathew Zinna Polo apart from the crowd? Could it be the effortless simplicity and modern style of its cut? Or the lightweight and flexible blend of polyester and cotton? The wrinkle-resistant fabric that stretches and bends with your every movement? The subtle yet striking choice of soft pastel colors? All of the above, and then some. It's the perfect polo to wear out and about when the days are hot, but it still looks incredibly classy when dressed up with a jacket or coat during the cooler months. Everything fits just right and holds its shape even after years of regular use, so you never have to worry about sagging or over-stretching. It's just the right mix of form and function, as suitable for an evening night out with friends and a day lounging on the couch.
Price: $85
Materials: Cotton/Polyester Blend
Notable Feature: Wrinkle-resistant; you'll rarely have to iron it, even fresh out of the washing machine.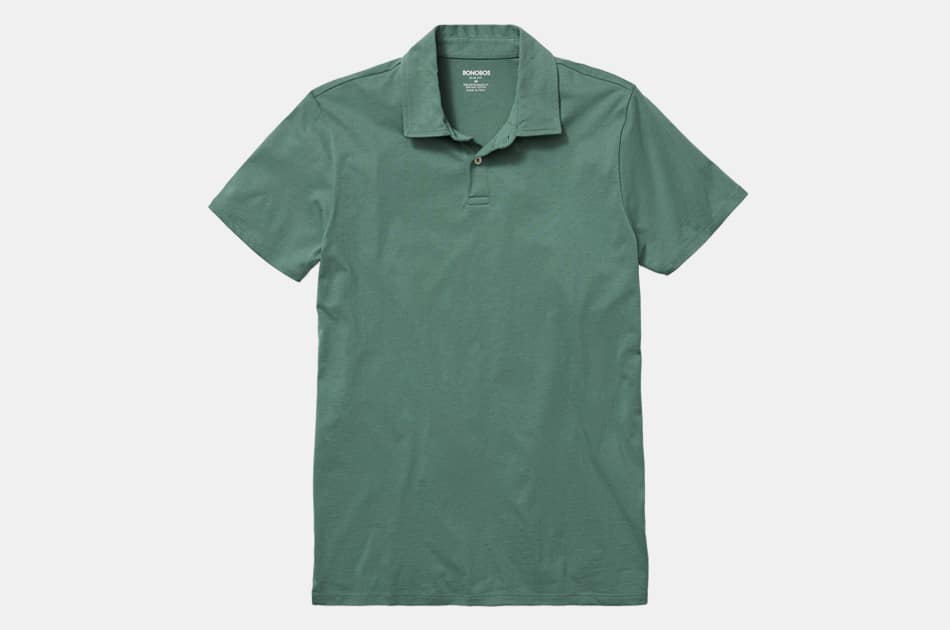 Bonobos Jetsetter Performance Polo
For expert style alongside your expertly designed Bonobos chinos or tailored shorts, we've got just the proper pick. The Jetsetter Performance Polo is designed to go anywhere you want to go, and to work as hard as you work. It's the right blend of comfortable fabric and a tailored fit that makes it a winner in our book, and it's the kind of polo you can even wear with a blazer for dressy summer days.
Price: $69
Materials: 50% Pima Cotton | 50% Drytex Acrylic
Notable Feature: DRYTEX fiber offers wicking, moisture management, UV protection (UPF 35) and breathability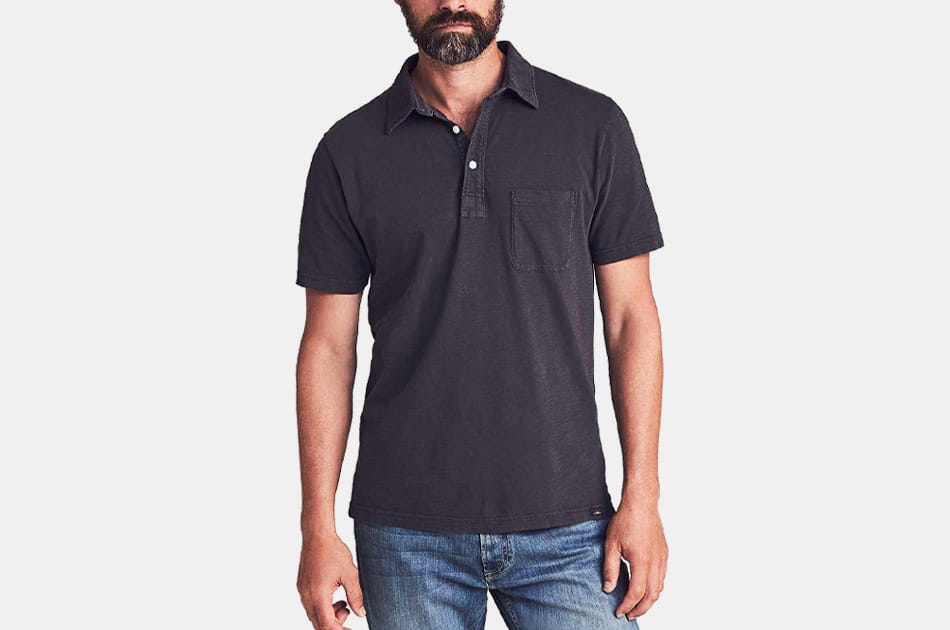 Faherty Sunwashed Polo
The mission of the family-driven team at Faherty is simple, and it starts with the right gear for the big and small moments in life. That's a lofty goal, but when you're wearing the right pieces, like this perfectly made polo, it's a lot more simple to achieve. Speaking of simple: Be sure to wear this polo as you man the grill at your next get-together, because that's exactly what it's made for.
Price: $98
Materials: 100% Organic Cotton
Notable Feature: A versatile, worn-in look is great for night and day, weekdays and weekends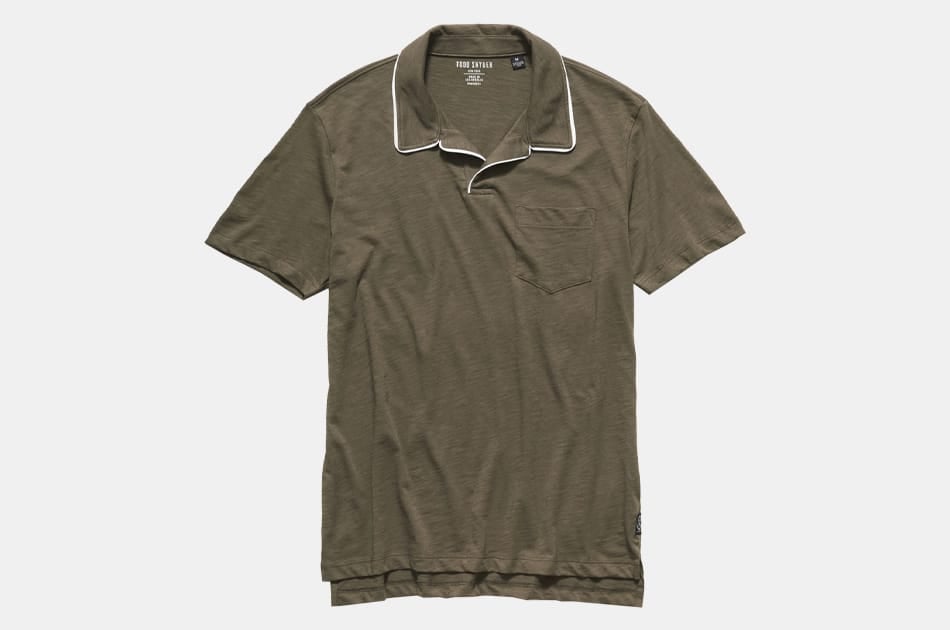 Todd Snyder Made in LA Tipped Montauk Polo in Olive
Maximize the "laid back vibe" in this super-comfy Todd Snyder polo! The LA Tipped Montauk Polo is made in Los Angeles in true L.A. style, with a slub-spun cotton jersey that feels incredibly soft on your skin and is cool enough for even the hottest summer day. The relaxed style makes it ideal for lounging on the beach, poolside, or enjoying your vacation abroad while still dressing to the nines.
Price: $129
Materials: 100% garment dyed cotton
Notable Feature: Garment-dying gives it a rich color and texture that softens over time
Smartwool Men's Merino Sport 150 Polo
If you want a beautiful blend of comfort and ultimate performance, Smartwool's Merino Sport 150 Polo has exactly what you're looking for. The Merino wool is hyper-durable, odor-resistant, moisture-wicking, and breathable enough to keep you feeling chill through the worst summer heat wave. Smartwool even doubled down by adding mesh vents to help you cool off, and incorporating UPF 20+ to shield your body from the sun's radiation. Whether you're strolling around town or kicking back a few drinks at the bar, this slick, stylish polo will fit in anywhere, with anyone.
Price: $80
Materials: 56% Merino Wool, 44% Polyester
Notable Feature: Strategically placed mesh vents keep you cool and dry
Psycho Bunny Men's Classic Polo
Stand out from the crowd in this bright, stylish polo. Psycho Bunny is all about making your mark on your world, dressing different from the rest, and incorporating brightness and boldness into your life. The Classic Polo goes loud and proud, using colors like fuchsia, orange, lime, and teal to proclaim to everyone around you that you dress how you like, and look darned good doing it. It's made in Peru using pure Pima cotton and mother-of-pearl buttons, with taped seams that will defy wear and tear with ease. It really is as close as it gets to the "perfect polo" for big guys like me (Andy), who want a comfortable, durable shirt we can wear over and over again for years to come.
Price: $85
Materials: 100% Pima cotton
Notable Feature: Collar doesn't roll, always holds its shape.
Orvis Signature Polo
The Orvis Signature Polo was always one of the top favorites among polo-wearing guys, thanks to its comfortable cut and breezy fabric. But it's just gotten a major upgrade that turned it into a truly game-changing summer polo. Not only is the pure cotton fabric beautifully soft, but the shirt now comes with UPF50+ solar protection, an odor-resistant treatment to keep smells and sweat at bay, a permanent FUZE treatment that shrugs off dirt and stains so you can wash it less, and reinforced stitching to maximize its lifespan. All that, and it still looks stylish, thanks to its soft knit box collar and banded sleeves. You'll love stepping out on town wearing this bad boy.
Price: $89
Materials: 100% organic long-staple Peruvian cotton
Notable Feature: Features a utility loop perfectly placed for hanging your sunglasses
Linksoul Anza Dot Print Polo
Wear this shirt all summer long, and you'll stay easy-breezy and cool as a cucumber no matter how bright the sun shines. Linksoul crafts clothing specifically to wear out on the golf course, and the Anza Dot Print Polo is one of the all-time best polos you could wear when playing a full round of eighteen holes. Soft, sleek, and stylish, with eye-catching colors and a dot pattern that sets it apart from the plain-patterned polos most guys prefer. Thanks to the blend of organic cotton, recycled polyester, and lycra jersey, it's a versatile shirt that will wick away moisture and keep you from overheating between golf strokes.
Price: $90
Materials: 56% organic cotton, 40% recycled polyester, 4% lycra jersey
Notable Feature: Effortless style and athlete-friendly performance all rolled into one.
Disclosure: Clicking on these links and making a purchase may earn us a small referral fee, at no extra cost to you. Learn more here.
freestar.config.enabled_slots.push({ placementName: "gearmoose_leaderboard_btf", slotId: "gearmoose_leaderboard_btf" });