The 20 Best Men's Pocket Tees
When the weather starts warming up and you to start to shed layers, don't make the mistake of being left without an undershirt for daily wear. Yes indeed, even transitional spring style situations call for nothing but the best — that's especially true of the best men's pocket tees.
Much like the humble V-neck tee, a stylish pocket tee is just the way to upgrade your everyday T-shirt without trying too hard or spending too much money. In a variety of textures — from slub cotton to heavyweight blends and beyond — today's pocket tees look both subtly stylish and yet essential.
This crop of the men's pocket tees can be worn with your favorite denim jacket or underneath a rugged chambray shirt — or crucially, all their own. And that's as great as it gets in terms of a T-shirt. Again, it's tough to go wrong with one of these men's pocket tees. Here are the 25 best, just in time for the dog days of summer.
Proof 72-Hour Merino Pocket Tee
Proof's 72-Hour Merino Pocket Tee is the perfect shirt to keep you comfortable and cool all weekend long. It gets its name because it's designed specifically to wear for up to three days (72 hours), with the comfort, durability, and most important of all, odor-resistance to stay looking and smelling good to Hour 72.
Made from tough New Zealand Merino wool with just a hint of nylon, it's tough, cloud-soft, moisture-wicking, and capable of regulating your temperature. It may very well be the only shirt you'll need to take on your weekend summer camping trip.
Price: $78
Material: 87% 16.5 micron merino wool, 13% nylon
Mack Weldon Pima Crew Neck Pocket T-Shirt
Mack Weldon's Pima Crew Neck Pocket T-Shirt is the ultra-simple shirt you'll always want to have in your drawer for the days when you prefer to keep your outfit low-key. Whether you wear it alone, under a jacket, or complementing a blazer, it'll match to perfection and draw just the right amount of attention.
And it doesn't just come in all the usual color suspects—you can get a variety of striped patterns, as well as two fit choices (regular and pocket). Thanks to the softening enzyme wash used to treat the pure Pima cotton, it's soft enough to be comfortable while still being resilient to hard wear.
Price: $38
Material: 100% Pima cotton
Forty Five Slub Pocket Tee
Named in honor of the 45 RPM record that forever changed music—and the culture of the day—this pocket tee embodies the "rebel" spirit and style. The pure cotton textured slub jersey fabric has the vintage, worn appearance you love, which makes it feel like your favorite shirt from the moment you slide it on.
It's soft, breezy, and ultra-cool, perfect to keep you from overheating on those bright summer days. It's both garment-dyed and pre-shrunk, cut to just the right length so you can wear it tucked in and untucked as desired. For the price, you won't find many better.
Price: $35
Material: 100% cotton using textured slub jersey fabric
Relwen Pique Pocket Tee
Keep it light as air and soft as a cloud with the Relwen Pique Pocket Tee! This beautifully comfortable shirt is built to last, using sturdy pique cotton to ensure it can withstand all your daily use. Though it's a simple T-shirt, it's stylish enough you can wear it around town, at the airport, or on holiday and still look your best.
The midweight cotton makes it just the right heft—not so thick it constricts you, but sturdy and solid enough you'll feel secure in the shirt. With woven cotton reinforcement tape on the neck and shoulder seams and blind-stitching on the split-tail bottom hem and sleeves, you can trust this shirt will last you for years of hard wear and look good doing it.
Price: $78
Material: 100% pique cotton
Bombas Men's Pima Cotton Pocket Crew Neck T-Shirt
If loose and airy are your features of choice, you're going to love the Bombas Men's Pima Cotton Pocket Crew Neck T-Shirt. It's sized to hang loose with more than ample room to move and stretch, perfect for lounging on the couch on a warm day.
Thanks to the Pima cotton used to make it, it feels insanely soft against your skin and will flow with the breeze to ensure you stay cool as a cucumber. It will never pill, stretch, sag, or fade, and it will be a comfy choice all year round. Pair it with a jean jacket for the ultimate "cool" look and feel.
Price: $36
Material: 100% Pima Cotton
Bonobos Garment Dyed Pocket Tee
Bonobos has a way of making clothing that become "instant favorites", and this garment-dyed pocket tee is no exception. The pure cotton jersey slub fabric is incredibly soft to the touch and insanely comfortable against your skin even on hot summer days, but the bold color choices and athletic fit will showcase your personal sense of style in all the right ways.
It will look and feel broken in from the first wear, but never fade, sag, or stretch no matter how many times you take it out on the town.
Price: $39
Material: 100% Cotton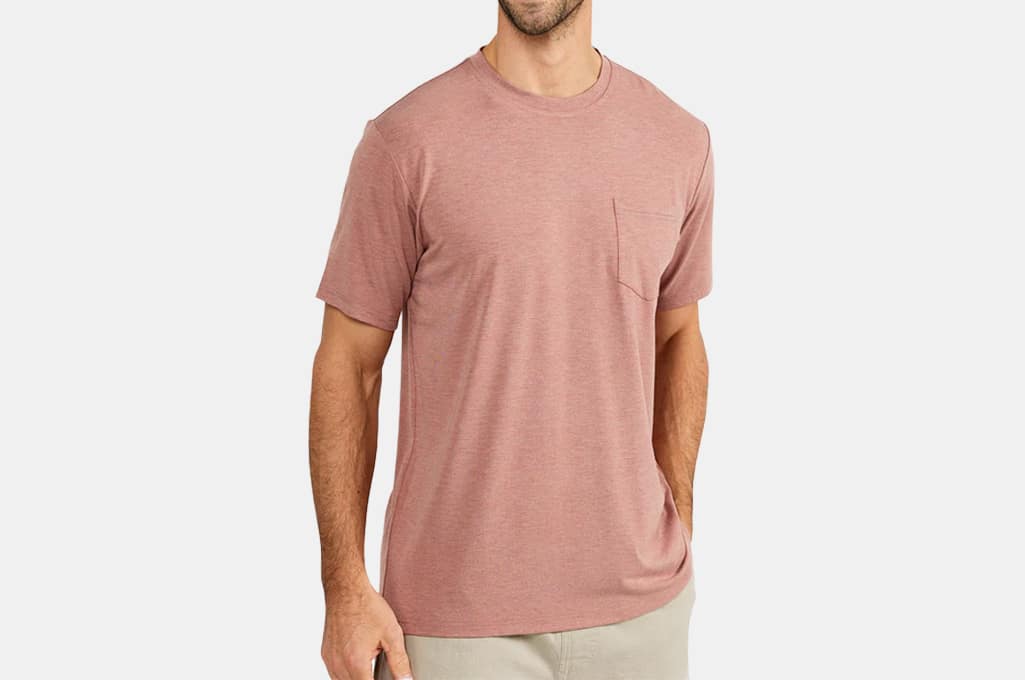 Free Fly Men's Bamboo Flex Pocket Tee
You've never felt fabric quite like the blend of bamboo and synthetic fabrics used for the Free Fly Men's Bamboo Flex Pocket Tee. It's soft, has just the right amount of elasticity, is "technical" enough to use for sports and athletic activity, but it keeps you comfortable all day long in any weather.
It's sized for guys with athletic builds, complementing your muscular physique in all the right ways. And for those occasions when you want to draw attention, the left chest pocket with pop stitch detail and wave woven label will stand out from the crowd. Pair it with your favorite chinos for a night out on the town, or throw it on with comfy board shorts to hit the beach. However you wear it, it's up to the task.
Price: $54
Material: 46% Viscose from Bamboo / 46% Polyester / 8% Spandex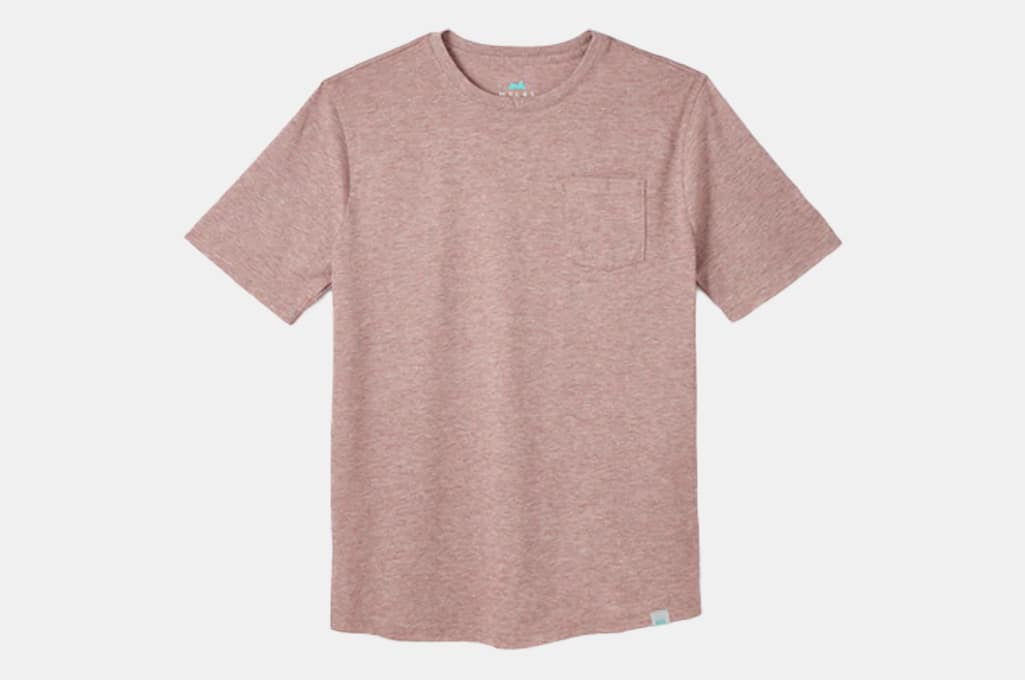 Myles Apparel Everyday Tee With Pocket
Once you try on this Myles Apparel shirt, you really will want to wear it every day. No fluff or frills with this shirt, just the sleek, simple classic design that will make it your go-to shirt of choice whenever you don't want to think twice about your outfit.
It's made using a marvelous blend of organic cotton and drirelease E.C.O. recycled polyester that is durable, soft, and quick-drying to keep you cool on the hottest summer days. It has even been treated with an odor-resistant finish so you can always smell your best, no matter how hard you sweat. Thanks to the shaped hemline, it will accentuate your physique in all the right ways.
Price: $48
Material: Drirelease E.C.O. recycled polyester & organic cotton
Lululemon Fundamental Pocket T-Shirt
With this shirt in your closet, you'll be ready for any occasion. Wear it under a collar shirt when it's time for business or formal events, throw it on for a weeknight out at the bar, or pair it with a jacket when the nights turn chilly. It's an athlete-friendly shirt that will keep up with you no matter how active you get, but you'll find it's cottony-soft on the days you just want to lounge indoors. The abrasion-resistant fabric will hold its color and shape for years, so you can wear it over and over again without worrying it'll break or sag on you. Thanks to its relaxed fit, you'll move easily through life, trusting that this shirt is the right choice for your personal style.
Price: $68
Material: 40% Pima cotton, 37% Nylon, 13% Lyocell, 10% Lycra elastane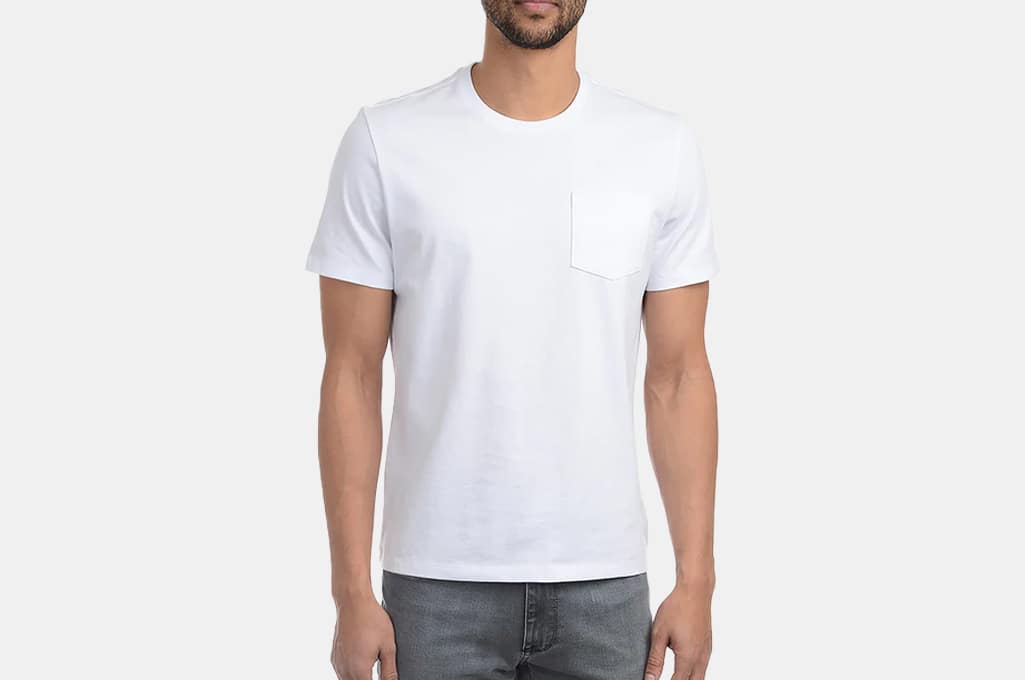 Mott & Bow Heavyweight Carlton Pocket Tee
Mott and Bow doesn't need to jack up its prices to let you know that they're a brand that builds quality clothing, which is why the Heavyweight Pocket Tee Carlton in White is one of the best and still most affordable options on our list. The heavyweight fabric hugs your body securely and keeps you warm on those chilly nights, but it's not so thick it'll stifle you come summer time. The Peruvian combed cotton feels luxurious on your skin, and it's comfortable in every way it can be, all the way down to its tagless design and no-friction hems. The crew neck shirt fits just right, neither too loose nor too constricting, and the addition of a pocket makes it the perfect fashion choice for every casual outing.
Price: $35
Material: 100% Combed Cotton
Flint and Tinder Heavyweight Pocket Tee
For those days you want a sturdier, thicker shirt, you'll find the Flint and Tinder Heavyweight Pocket Tee makes for the perfect choice. The heavyweight cotton feels as tough and rugged as your favorite pair of jeans, and pairs great with denim (on both the top and bottom). The garment-dying process gives it that lived-in look you'll love right out of the package, but the reinforcement at the collar, sleeves, and hem ensure it never stretches or sags. Wear it on its own when the weather's hot, or use it as a base layer when the chill sets in—you'll be ultra-comfortable either way.
Price: $48
Material: 100% cotton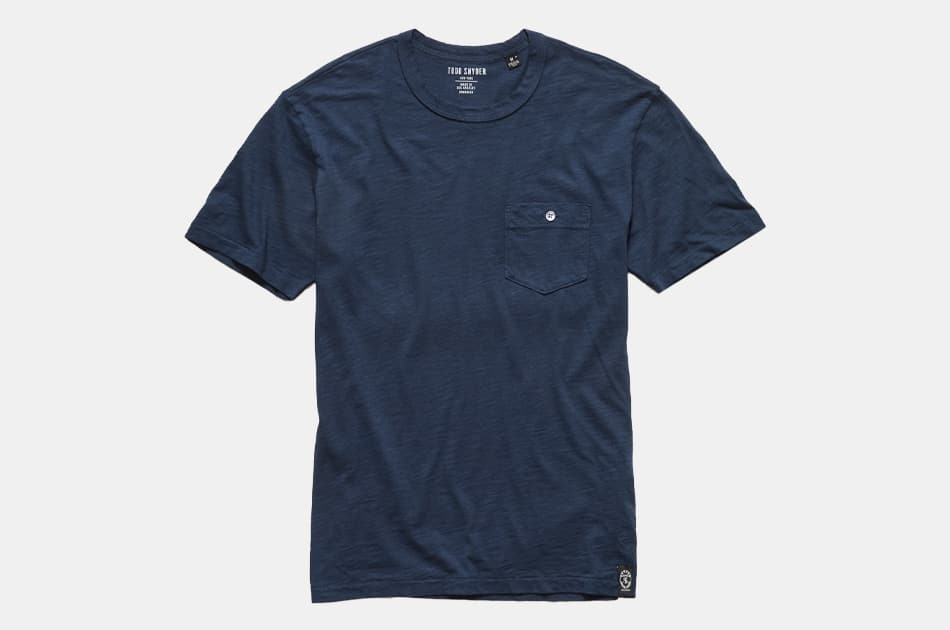 Todd Snyder Made In L.A. Slub Pocket T-Shirt
Gear from Todd Snyder simply exemplifies the best of the best when it comes to rugged, versatile and classic style — even with the lauded designer's T-shirts. Take the brand's Garment-Dyed Pocket Tee, made in L.A. featuring California fabric.
This isn't just any normal T-shirt — it's well-crafted and thoughtfully constructed, featuring a slim fit that makes you look like you've been hitting the gym — even if you haven't. Yet, you can also team it with a light linen blazer and slim denim for easygoing office style. You can't ask for much more from a stylish tee.
Price: $68
Material: 100% garment dyed cotton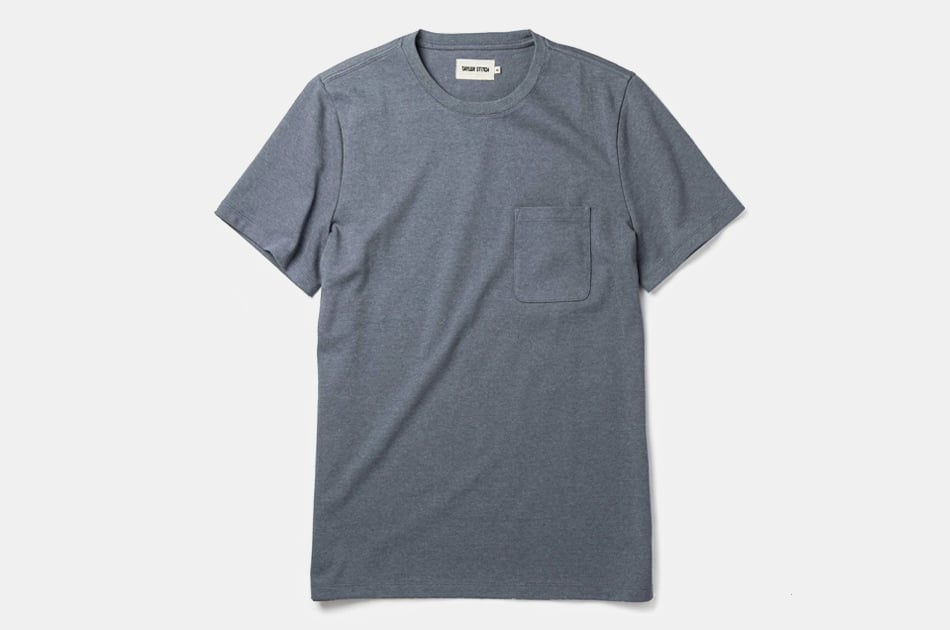 Taylor Stitch Heavy Bag Tee
In short, there's really no reason you shouldn't consider adding a stylish pocket tee from Taylor Stitch to your summer T-shirt rotation — particularly when it comes from the brand's lauded Heavy Bag line. Made in part with upcycled cotton and featuring (in some cases), limited-edition graphics, these pocket tees are substantial and stylish enough to more than stand on their own with rugged Cone Mills denim and leather chukka boots. The tailored fit is also applause-worthy — it's exactly the kind of cool tee to wear to the bar this summer.
Price: $45+
Material: 52% upcycled cotton, 48% recycled polyester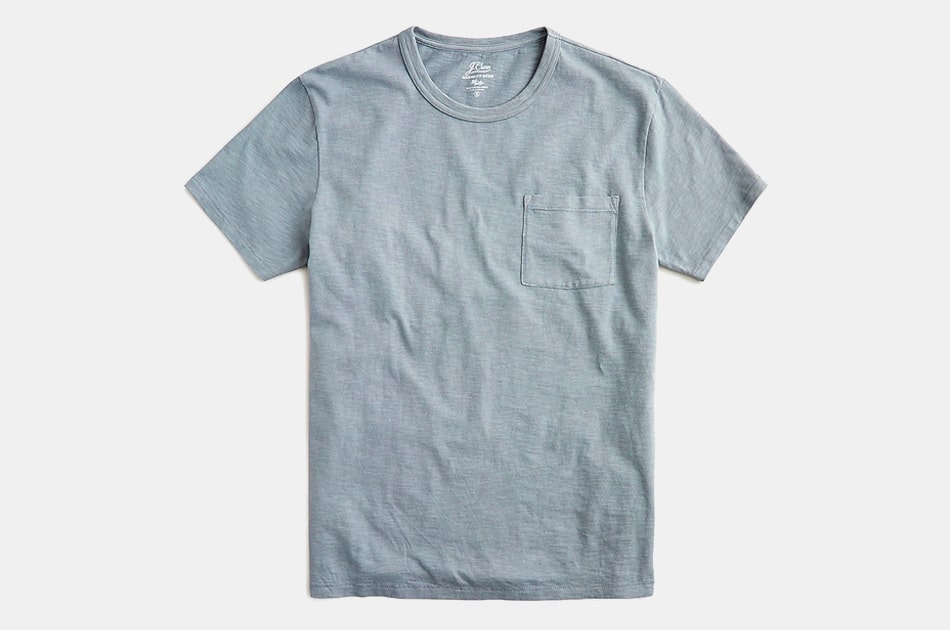 J.Crew Slub Cotton Pocket T-Shirt
If there's any brand that can make you want to effortlessly style a clean and simple pocket tee, it's J. Crew. Through a blend of fabric quality, stellar fits and agreeable pricing for style staples, the brand has the market cornered when it comes to guys who want to look good. And picking up a classic piece from the brand — the Broken-In Pocket T-Shirt — should help you achieve that aim nicely. Available in a huge array of colors, you should certainly stock up with more than a few of these cotton jersey tees.
Price: $20+
Material: 100% cotton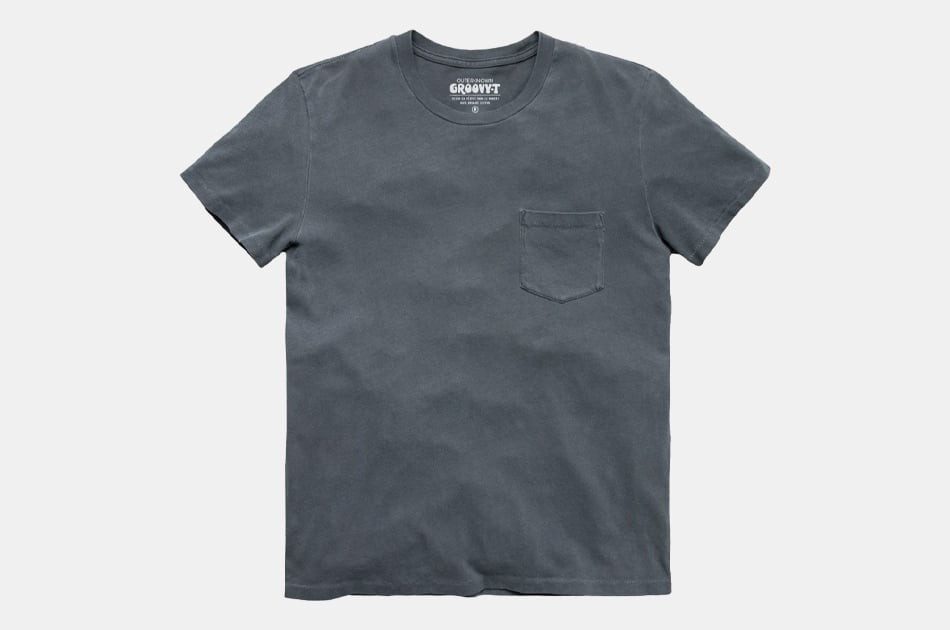 Outerknown Groovy Pocket Tee
Outerknown is known for sustainable style embodied in a loose, casual, super comfortable style. Their Groovy Pocket Tee is a perfect example of this "do good, look good, feel good" ethos. It's made of 100 percent organic cotton, effectively cutting out the fabric processing chemicals that are so harmful to the environment. That doesn't mean you'll be short on options for colors, though — this one comes in 10 muted tones that will work well with any type of outfit.
Price: $58
Material: 100% organic cotton
RicherPoorer Men's Pima Pocket Tee
The type of cotton used for your t-shirts makes the difference between comfortable and durable clothes, or scratchy garments that are easily misshapen. RicherPoorer's pocket tee is made of a super durable and comfortable pima cotton, with longer fibers that give it a stay-fast shape. If you're tired of your collars and sleeves getting stretched out after a few wears, upgrade to one of these pima cotton tees for a better fit.
Price: $40
Material: 50% Polyester, 38% Standard Cotton, 12% Viscose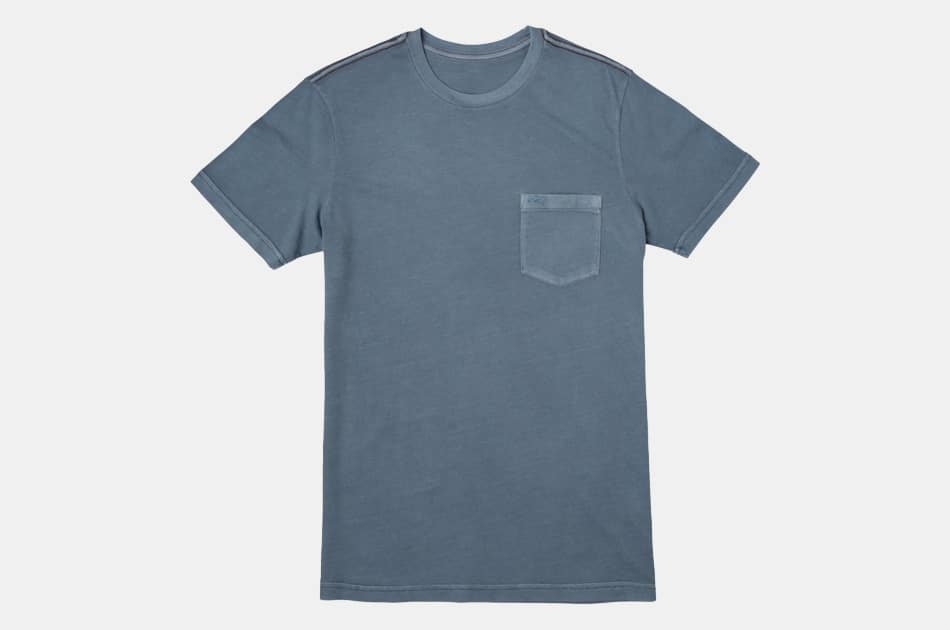 RVCA PTC II Pigment Short Sleeve Tee
You can get a piece of vintage style without having to rummage through the racks at your local thrift shop. Just pick up one of RVCA's Pigment Tees, and save yourself the trouble of searching through hand-me-downs. They're made of a premium cotton that's carefully distressed to give that old school look and lived-in feel. All 13 of their colors are pigment-dyed, too, meaning that they'll stay fast through tons of washes. And it's made with a particularly slim fit that really completes the vintage look and feel.
Price: $30
Material: 100% Cotton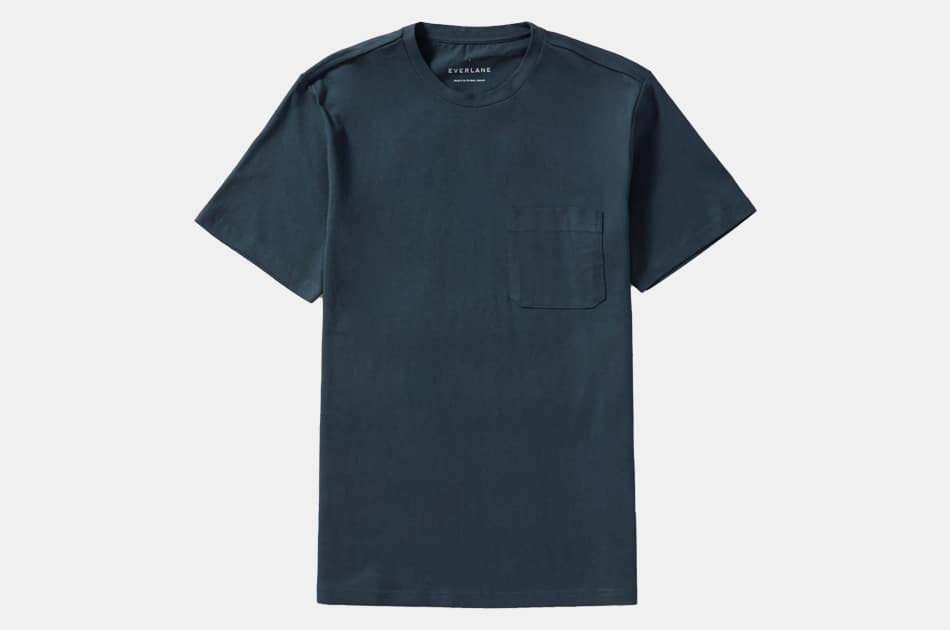 Everlane The Premium-Weight Pocket Tee Uniform
Everlane's Uniform collection is the perfect way for guys to find their signature style. Every one of the pieces, including this pocket tee, is covered by a 365 day guarantee — so you can wear them confidently and get them perfectly broken in. The Premium Pocket Tee is made with a beefy 6.2 ounce cotton, too, so it's great to wear solo rather than layering it up. Give it a few months of hard wear, and this t-shirt will become the softest piece you have in your closet.
Price: $45
Material: 100% cotton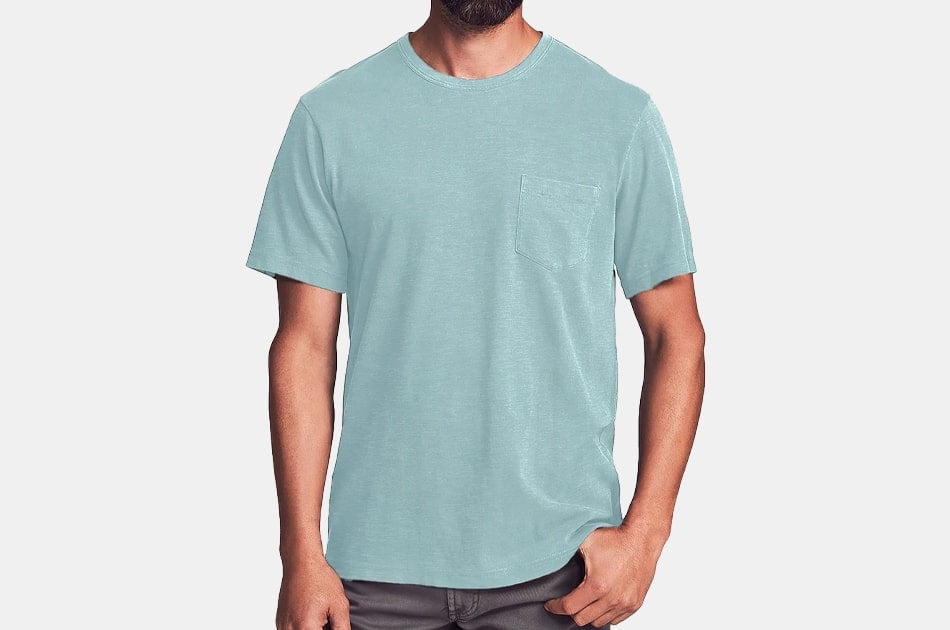 Faherty Sunwashed Pocket Tee
This pocket tee from Faherty is a masterclass in attention to small details. The fit is spot on, with a slim but not too slim cut that's flattering for most body types. The cotton is thin but not too thin, making it breathable but not see-through. And the weave is strong, but not bulky, letting the shirt move seamlessly with you. Top that all off with a printed label instead of a tag, and you have what might be the most comfortable pocket tee ever made.
Price: $58
Material: 100% Organic Cotton
Volcom Solid Short Sleeve Pocket Tee
This pocket tee is the front runner for Volcom's "Farm to Yarn" project — a plan to be able to trace every bit of organic cotton from where it was grown, to where it's sold to you. Along the way, they uphold the highest ethical and environmental standards, making these clothes great looking and great for people and the planet.
Price: $28
Material: 100% ringspun organic cotton
Disclosure: Clicking on these links and making a purchase may earn us a small referral fee, at no extra cost to you. Learn more here.
freestar.config.enabled_slots.push({ placementName: "gearmoose_leaderboard_btf", slotId: "gearmoose_leaderboard_btf" });